NFL's Head Of Officiating Addresses Referee Controversy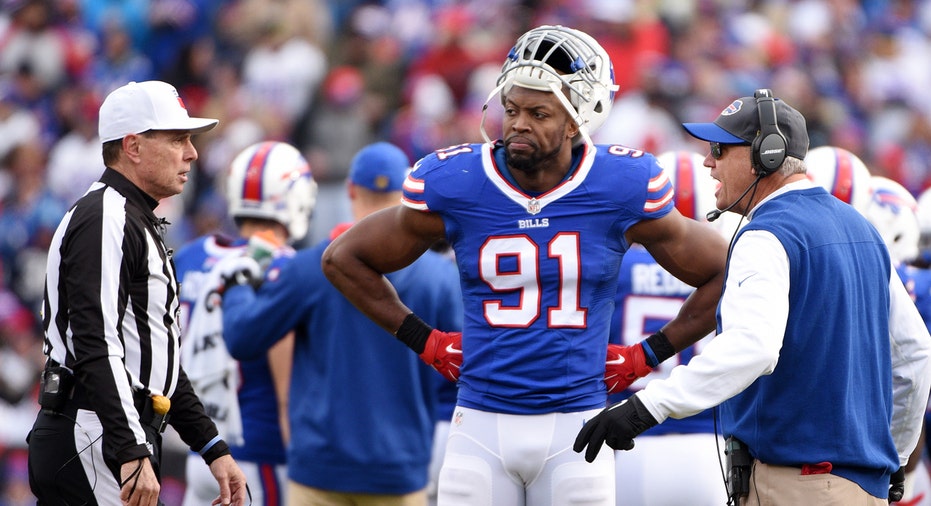 As the 2015 NFL season enters its home stretch, the performance of the league's officiating crews is generating as much conversation – and criticism – as the efforts of its players. A series of gaffes during high-profile games this season has drawn unprecedented backlash from key NFL figures and sparked questions about how the league trains and evaluates its referees.
In any given week, NFL games draw tens of millions of television viewers and near-constant coverage on major media outlets. That level of attention is inarguably responsible for the NFL's skyrocketing revenues and massive presence in American culture. It also ensures that football fans, who have constant access to high-quality instant replay and social media, are unwilling to accept a blown pass interference call or incorrect catch ruling.
"The overall interest in the NFL and football is at an all-time high. Ultimately that's a good thing, and officiating is part of that, it's something for people to discuss and debate," Dean Blandino, the NFL's head of officiating, told FOXBusiness.com. "I think some of it is a result of mistakes that we've made in high-profile situations and those are things that we have to correct, whether it's a clock mistake or a penalty enforcement that occurred in a primetime window, a lot of people see it, a lot of people then comment on it and it becomes part of the narrative."
NFL representatives say the rate of officiating mistakes isn't any higher this season than it has been in previous years. About 160 plays occur in the average game, and officials were making 4.3 correctable mistakes per contest through Week 11, with an accuracy rating above 95% an NFL spokesman said.
But for a growing number of fans, NFL players and even some coaches, those numbers don't tell the entire story. Debates are underway on everything from whether the league should employ referees on a full-time, rather than a part-time basis, to whether the league's officials are too inexperienced due to high turnover rates.
The NFL's Process
The road to becoming a permanent NFL referee doesn't unfold over a single offseason. The league employs multiyear scouting and development programs, reviewing applicants from all levels of football around the country and training candidates deemed suitable for the pro level. The league works closely with its scouts and executives from the college football ranks to find standout referees.
Once selected, applicants are put through the NFL's officiating clinics. They start out as by working training camps and preseason games. Eventually, top candidates are invited to observe the league's crews during late-season games and take part in pre-game meetings. The entire process, from application to working an NFL game, typically takes about two to three years, Blandino said.
A total of 10 first-year referees are working NFL games this season. Blandino said that the NFL has had to replace departing officials at an abnormally high rate in recent years, for a variety of reasons.
"We've had more retirements, we've had staffing changes that were due to performance, and we've also identified on-field officials where we feel they can help us in a supervisory role," he said.
Discipline
While Blandino and other league executives maintain officiating crews aren't any less accurate this season than in years past, Blandino acknowledges that crews have made some key mistakes during high-profile games.
Some say a few of those mistakes occurred during the New England Patriots' Week 12 loss to the Denver Broncos, when a pair of offensive pass interference calls against Patriots tight end Rob Gronkowski were among several polarizing officiating decisions that contributed to the team's first defeat of the season. After the game, Patriots quarterback Tom Brady, who infamously battled the NFL during the "Deflategate" scandal last offseason, admitted to being upset about how the referees had handled the game.
Blandino admits it's "possible" that public criticism from major figures like Brady is contributing to the backlash against league officials.
"I think with just the way everything is today with social media, everybody has a voice, everybody has a way to get a message out. Certainly people are going to listen to what high-profile players say and may then repeat it or talk about it. It certainly may have an effect," he said.
Officiating crews are evaluated every week on both a group and individual basis. Overall performance is later used to determine which crews will work playoff games. Earlier this month, the NFL reassigned referee Pete Morelli and his crew to an early afternoon game just days after their handling of a Week 12 matchup between the Arizona Cardinals and the San Francisco 49ers drew widespread criticism.
Blandino said the NFL isn't reassigning crews any more often this season than they have in years past.
Potential Changes
Much of the public criticism has centered on the league's much-maligned "catch rule." Referees have struggled to maintain consistency on what does and does not qualify as a catch, even with the benefit of high-definition, multi-angle instant replay. Others have questioned the enforcement of subjective penalties, such as pass interference and facemask, which are left to the discretion of individual referees and cannot be overturned by replay.
Commissioner Roger Goodell has already announced the creation of a "catch committee," which will meet this offseason in a bid to sharpen the NFL's definition of what constitutes a catch. Part of their efforts will include a review of calls that generated a high level of criticism. One such instance occurred last October, when Detroit Lions wide receiver Golden Tate was awarded a touchdown despite questions about whether he ever had full control of the football.
Blandino says the NFL will also consider a change to which plays are reviewable under the current instant replay system. At present, so-called "subjective" plays, such as facemask or pass interference penalties, are unreviewable. Critics argue it's often impossible for a referee to accurately administer those flags, given the lightning-fast pace of the NFL.
In one example earlier this month, a Lions defender was called for a facemask penalty against Green Bay Packers quarterback Aaron Rodgers on the final play of regulation. That call, which television replays later showed to be inaccurate, gave Rodgers and the Packers an additional play from scrimmage, which they converted into a game-winning touchdown.
"That would certainly be something that could be added to the list of reviewable plays – that judgment call, whether it's a facemask or pass interference that currently isn't part of the review process, but there are some that believe that it should be. That's something the committee will have to discuss during the offseason," he said.
Some of the discussion this season has centered on whether NFL officials would be more accurate if they were full-time employees, rather than part-time referees with day jobs. The NFL is exploring that possibility, but there's no timetable for its implementation.
"We have that negotiated in the CBA with the referees' union. We have the ability to hire full-time officials. We have had some issues with the union on some of the finer details, so we're trying to work through that right now," Blandino said. "But that is something that we are committed to looking at. Anything that's going to make us better on the field, we want to explore and vet out."