NFL Tight End Rob Gronkowski is Tight With Money …In a Good Way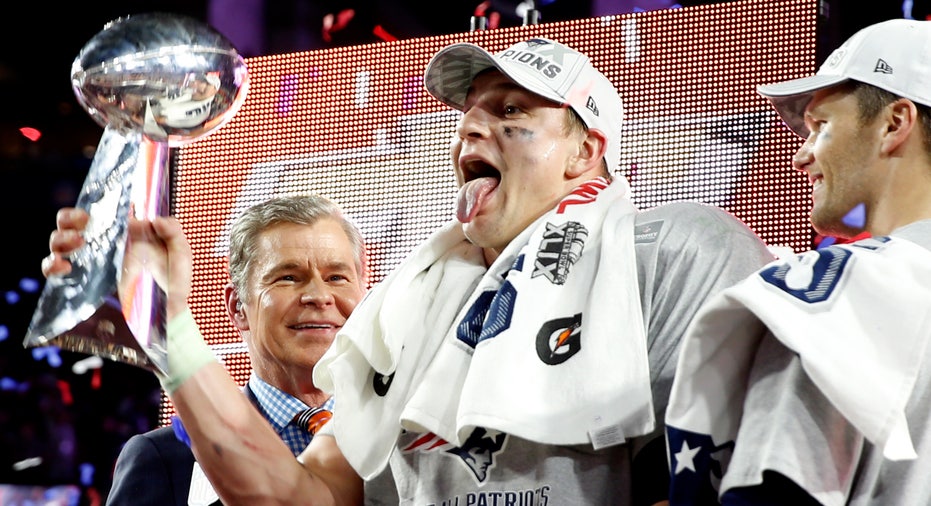 New England Patriot Rob Gronkowski led the NFL in receiving yards for tight ends last season and it turns out the "Gronk" may be just as precise off the field when it comes to his finances, according to his new book reviewed by FOXBusiness.com. "It's GOOD to Be GRONK" is  co-authored with agent Jason Rosenhaus.
Off-season the jovial Gronkowski is often caught hamming it up on his party bus with family and friends, but his personal finance persona is much more conservative, despite becoming the highest-paid tight end in history.
"To this day I still haven't touched one dime of my signing bonus or NFL contract money," he writes in the book. The New England Patriots and Gronkowski agreed to a 6-year, $54 million contract which includes an $8 million signing bonus, $13 million guaranteed and average annual salary of $9 million, according to Spotrac.
Instead he says he lives off his marketing money. A spokesperson was unable to confirm his marketing earnings, but we do know Dunkin Brands (NASDAQ:DNKN) is paying Gronk to drink a lot of iced coffee this summer.
He and Boston Red Sox hitter David Ortiz, "Big Papi," are featured in a campaign dubbed "Summer Chill." It is the first musical collaboration between the two. Heather Morin, field marketing manager at Dunkin' Brands tells FOXBusiness.com Gronkowski signed a partnership agreement with the brand earlier this year, which is the first time he's worked with Dunkin' Donuts since 2012.
Despite deals with global brands such as Dunkin, you probably won't catch the Gronk sporting a diamond encrusted Rolex anytime soon because he doesn't splurge on jewelry and he's not a clothes horse. "Heck, I still wear my favorite pair of jeans from high school," states another passage of the book. However he does insist he is generous with friends and family but makes sure "the tab never gets out of hand."
Gronkowski commends his father Gordy for teaching him about financial security, as well as work ethic. In an early chapter of the book, he describes how Gordy, an independent businessman, built G&G Fitness Equipment into a chain of specialty stores. He also credits him with the foresight to take out a $4 million disability insurance policy his junior year as he remained an NFL hopeful. If an injury had ended his NFL dreams, he had the option to exercise the policy tax free. Without touching the $4 million principal, Gronk potentially could have earned $160,000 annually, without even entering the traditional workforce.
And Gronkowski also has the good sense to work with a financial advisor. He credits family friend and financial advisor Fred Rickan of Morgan Stanley Wealth Management (NYSE:MS) as the person who would help him be "financially set."
Rickan was unavailable for comment but the firm does advise athletes and entertainers on wealth management. A hypothetical investment portfolio to preserve capital for individuals with "Blue Chip" earnings power, ranging from $50 to $100 million, would have 50% of assets in fixed income.
As of Wednesday,"It's GOOD to be GRONK" was the #2 best-selling football biography on Amazon.com (NASDAQ:AMZN).