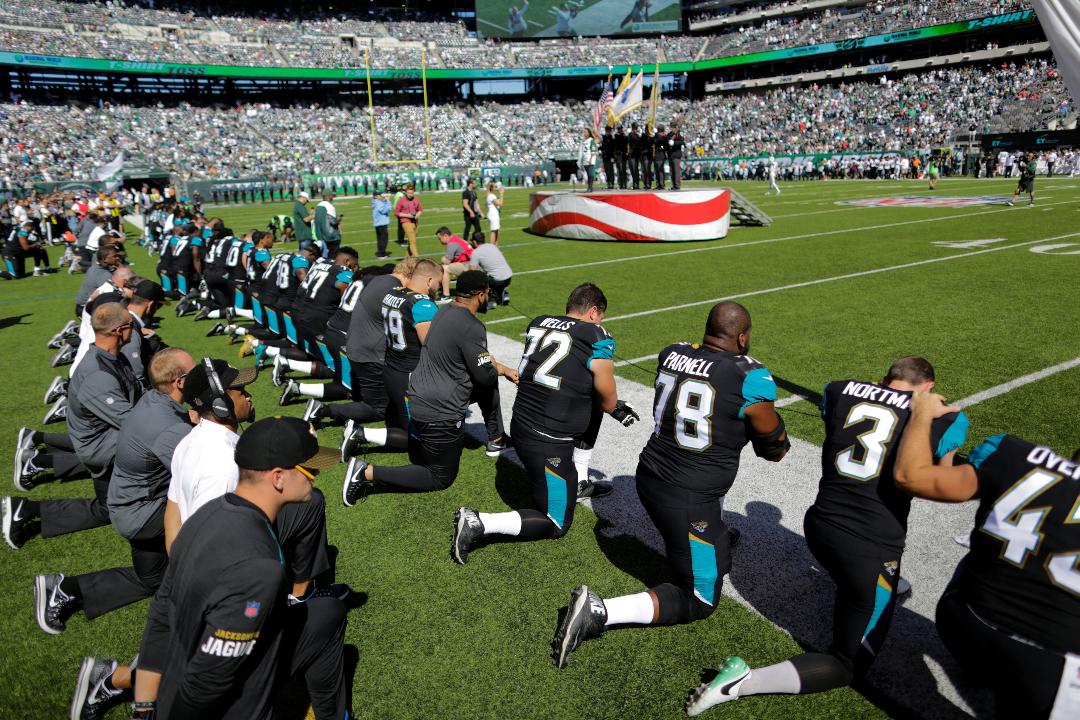 As national anthem protests before NFL games continue, many believe they are beginning to take a toll on the business of football and the branding of the league. Genesco Sports Enterprises CEO John Tatum weighed in, telling Neil Cavuto on Cavuto: Coast to Coast, "I think they're hurting the brand by continuing to go down this path. I think all players that, you know, dislike the president, they could take away a lot of his ammunition simply by standing and then he has nothing to tweet about."
Tatum saw it as a mistake that the NFL didn't take a clear stance on the issue at the league's annual fall meeting.
"I think it's a little disappointing that the NFL didn't come out of these meetings with a clear position on, you know, they need to stand or whatever."
According to Tatum, NFL ratings are already taking a hit from the protests, telling Cavuto, "They need to resolve the issue as it relates to the business piece of this because you've seen viewership has dropped 20% over the past two years from a high watermark in 2015. The core audience of the NFL is certainly a very patriotic consumer."
More from FOXBusiness.com
Tatum says the disparity between what NFL players make and the average American's income add to the negative perceptions.
"Ninety-seven percent of NFL fans are exposed to the product through what they see on TV and you've got average salary or income in the United States of about $50,000 a year and you've got players that are maybe making $50,000 a day."
Tatum viewed President Trump's stance on the issue as fueling the fire of consumers' negative views of the protests.
"And when the customer or the consumer is perceiving that it's disrespectful to the flag and the soldiers and to the national anthem and that narrative is being perpetuated by the president then, you know, they're going to lose that battle."