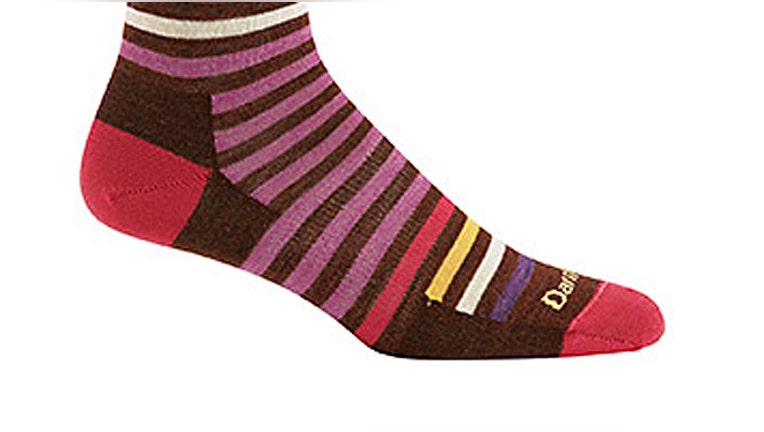 When New England's last hosiery mill found it difficult to compete on price, it turned to a better selling point: quality.
Ric Cabot could see the writing on the wall. One by one, he'd watched his competitors in the sock-making business outsource production to overseas markets with low labor costs, or worse yet, simply shut their doors. Now, in 2003, he could see that the company his father, Marc, had founded 25 years earlier, Cabot Hosiery Mills Inc., was staring at a similar fate — unless he could find a new way forward.
It wouldn't be easy. Cabot Hosiery earned its keep primarily by producing private-label socks for well-known retailers. It was essentially a commodity business won on low prices, and Cabot couldn't compete with the new offshore manufacturers who were paying their employees a fraction of what his 60 or so in Northfield, Vermont, were earning. As annual sales slipped from the $6 million-to-$7-million range down to about $5 million, he reluctantly pared some employee benefits and furloughed some workers.
Still, he estimated that within a year the mill would have to shut its doors if something dramatic didn't happen.
Taking a risk to compete on quality
"We had to come up with a product that talked to our experience, to the people who worked here, to the knitting technology that we had — a product that was really, really value-added," Cabot says. "We weren't going to be able to last on the private-label business. We had to come up with our own brand."
In short, if he couldn't compete on price, Cabot decided he'd compete on quality, producing the finest and most comfortable, durable and long-lasting socks he could design. He initially targeted the runners' market, where demanding aficionados were accustomed to spending more on quality socks.
It wasn't a risk-free undertaking. Both Cabot and his father, who still serves as president of the company and remains active in the business, had to inject additional cash into the company. They hired their first sales manager. They gave their socks a lifetime guarantee. And in 2004, they launched their new product by giving away 3,500 pairs at the KeyBank Vermont City Marathon.
The whole move "was as risky as anything else, but I felt we had no choice if we were going to survive," Cabot says. "Beyond the investments my father and I had made, a major concern was our employees. We wanted to do it, and we convinced our employees that we had to do it."
Fortunately, the race-day giveaway got them off to a running start.
"The marathon runners loved them," Cabot says. "They loved the comfort, the fit and the name."
Getting creative — and confident — to stay afloat Oh yes, the name. Reflecting what he considered the character of his company, its employees, the New England region and the quality of the product, Cabot christened his new sock brand Darn Tough Vermont. Today the company produces a wide variety of Darn Tough Vermont socks for dress and casual wear, running, hiking, skiing, snowboarding, hunting and fishing. They're sold online and at retailers across the country. The company's sales have tripled, and it now employs more than 100 people.
For any business owners who one day find themselves in straits similar to those Cabot was facing nine years ago, Cabot encourages confidence — in themselves, and in their instincts.
"You could easily take your company's troubles personally, and feel like things have gotten bad because you're not up to the challenges," he says. "But you've got to get past that. Yes, you've probably made some bad decisions, but you've probably made many more good ones. You cannot allow yourself to be defined by the last thing you've done, and certainly not by the last mistake you made. Nobody's going to give up on you if you don't give up on yourself."
Business owners who believe they must branch out by offering a new product or service, Cabot continues, should bring that same confident approach to the task — especially, he says, if they've been in business for a long time and have a good feel for their market.
"If you have an idea that in your gut you think is good, don't waste too much time vetting it," he says. "If you're well established in a business, you can see where the holes in the market are. If you need to make a change, make the change, and don't give up on it."
Cabot did not give up, and it's why Cabot Hosiery Mills today is not only surviving, but thriving. When his father launched the company in 1978, it was one of about a dozen hosiery mills operating in New England. Today, it is the only one.
Darn tough, those Vermonters.
© Business on Main. Sign up for our Main Street Authority newsletter to get articles like this delivered monthly to your inbox.