News Corp. Swings to $1.6B 4Q Loss; Revenue Trails Estimates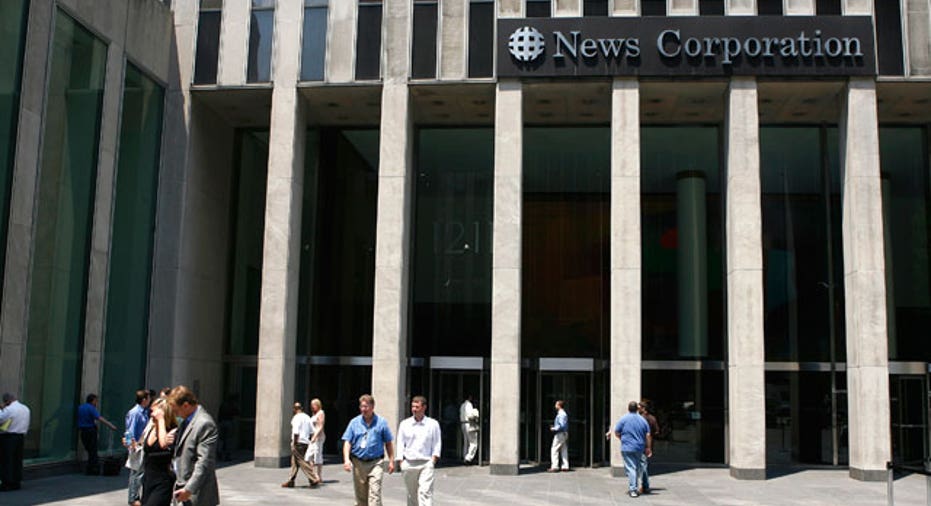 Rupert Murdoch's News Corp. (NASDAQ:NWSA) swung to a loss of $1.6 billion in its fiscal fourth quarter due to a $2.9 billion publishing charge, but the media conglomerate's adjusted earnings late Wednesday met Wall Street's expectations.
Still, shares of the New York-based parent of FOX Broadcasting and The Wall Street Journal retreated 1% in after-hours trading as its revenue missed forecasts from analysts.
News Corp. said it lost $1.6 billion, or 64 cents a share, last quarter, compared with a profit of $683 million, or 26 cents a share, a year earlier. Excluding one-time items, it earned 32 cents a share, matching the Street's view.
On an operating basis, News Corp. posted income of $1.2 billion, down by $167 million from the same period a year ago.
Revenue dipped 6.7% to $8.4 billion as strength at the company's cable networks was offset by weakness elsewhere. Analysts had been projecting more robust revenue of $8.72 billion.
"We are proud of the full year financial growth achieved over the last twelve months, led by our Cable Network Programming and Filmed Entertainment segment," Murdoch, the company's chairman and CEO, said in a statement.
News Corp. is the parent of FOX Business and a slew of other media assets like the New York Post and MarketWatch.
The company's net loss was driven by a $2.9 billion pretax impairment and restructuring charge tied to its publishing assets as well as a $15 million pretax loss.
Shares of News Corp. fell 1.35% to $23.40 in extended trading late Wednesday.
Still, the company's shares have been among the best performers in the media sector this year, soaring 33% as of Wednesday's close.
Last quarter's results reveal that News Corp.'s cable networks continue to stand out, generating a 15% jump in revenue that helped boost operating income by 26% to $792 million. Management highlighted growth at FOX News Channel and the FX Network as well as a 31% rise in international cable channels earnings.
News Corp. said its cable channel affiliate revenue rose 16% domestically and 31% overseas. U.S. ad sales gained 5%, while international cable channel sales generated an 18% leap.
On the other hand, filmed entertainment revenue slumped by $90 million due to lower theatrical and home entertainment revenue amid tough year-ago comparisons. Operating income tumbled 42.9% to $120 million.
News Corp. said its television operating income dipped 8.6% to $213 million as ad sales retreated amid lower American Idol ratings.
Meanwhile, publishing operating income dove 48.5% to $139 million as the division was hit by sinking ad revenue at international newspapers and integrated marketing services business and the closure of The News of the World tabloid in the U.K.
Responding to shareholder pressure, News Corp. unveiled plans during the quarter to split into two separate publicly-traded companies by dividing its publishing properties like the Journal and publisher HarperCollins from media assets such as FOX News Channel.
Earlier on Wednesday News Corp. announced a pact to acquire a 51% stake in Eredivisie Media & Marketing, a company that broadcasts Dutch soccer premier league matches. The two sides didn't disclose a price tag on the transaction.
The News Corp. report comes a day after rival media giant Walt Disney (NYSE:DIS) beat the Street with a 24% leap in fiscal third-quarter earnings. Last week Comedy Central and MTV owner Viacom (NYSE:VIA) disclosed a deeper-than-expected 7% decline in earnings due to disappointing ratings.