New Yorkers Get Creative: Meet the NYC StartupBus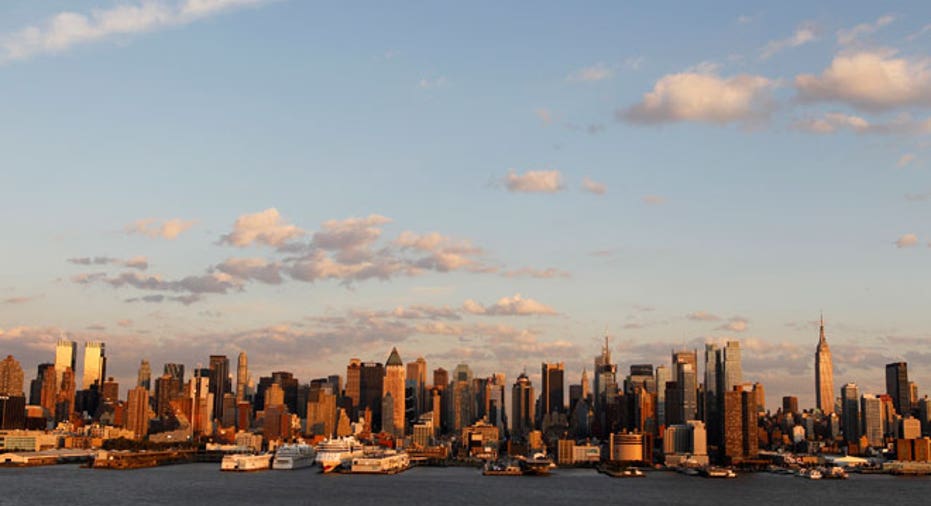 The StartupBus tribes all meet in Austin Friday, with their ideas ready to pitch in the semi-finals of the entrepreneurial competition at the South By Southwest Technology Conference.
We caught up with the NYC StartupBus via phone while they made a pit-stop in Baton Rouge, La., Thursday, to meet a few of the entrepreneurs and hear about what they've come up with so far.These buspreneurs are being led by Mike Caprio, 37, from Brooklyn. Caprio is the NYC bus conductor, a role he describes as "a combination of a drill sergeant, cheerleader, mommy and daddy. I give the startups advice and coordinate activities along the way."
Caprio, who hand-picked all of the people on the NYC bus, was a part of last year's winning team at SxSW with the idea for TripMedi, a medical tourism startup. He said his experience with the bus last year inspired him to venture off on his own from a startup that was dead in its tracks.
"I realized I had capabilities that I was not previously aware of," he said. "It gave me greater self-esteem and confidence, and a strong network of really talented people."
Meet four of this year's buspreneurs, who represent four of the five startups created on the road to SxSW. A fifth startup, TaxCast, is also on the NYC bus.
Claudina Sarahe, 25
Hometown: From Iowa City, IA, now living in New York City
Occupation: Part of a worker-owner tech collective that does consulting and development
How she got on the bus: A client sent her information about the bus months ago, and after meeting Caprio at a coworking space in Manhattan, she applied.
Why she wanted in: "I have been doing client services for seven years now, and was interested in working on my own product or idea," Sarahe said. "The energy of the startup space excites me. This is a great opportunity to shake up one's life."
Her company: Reel Trend, which mines emotional analytics for the film industry. Sarahe said the company will comb through social media sites to pull out specific words about movies. This will help the industry better reach its audience and save money, she said.
What she's learned: "To be quick and think on your feet," Sarahe said. "The uniqueness of the constraints and unknown stresses you might encounter in the real world, like having little sleep or not having Internet access, keep you sharp on your toes."
Jen Gergen, 30
Hometown: Boulder, Colo., now living in New York City
Occupation: Associate creative director for theladders.com
How she got on the bus: Gergen has known Caprio for ten years, and he encouraged her to apply this year after his 2011 win.
Why she wanted in: "When you work in-house, you look at the same stuff every day, and deal with workings and politics," she said. "I wanted to build something really fast without any hullabaloo. As a visual designer, to get out of my usual color palette, it's a treat."
Her company: Happstr, an app that allows users to "check in" when they are happy. In the same vein as FourSquare, Gergen said this will create a network of happy people, and allow the company to use the data it receives to see where people are happy and what they are happy about, to create a heat map of happiness.
What she's learned: "In the agile software environment, we go through a ritual day-to-day," she said. "At work, you may feel like you're going through the motions, but this has set me up to be a winner on this bus. Keeping a cool head and being happy is a big help on the bus, when the tension can start to run high."
Alastair Coote, 28
Hometown: Originally from England, now living in Brooklyn
Occupation: Works for a startup called Record Setter
How he got on the bus: Coote found out about the competition via social media, and decided to apply.
Why he wanted in: "The challenge," he said. "It's a good way to see if an idea you have is feasible or not. This is a pressure cooker environment, so you can prove if something will work."
His company: Juke Mob, an app that is essentially a "jukebox 2.0," Coote said. The app allows people to control the music that is playing in a bar when they're out. Users can key up tracks and others can vote on what they want to hear.
What he's learned: "To be flexible throughout the entire process," Coote said. "It's a reflection of the pressure-cooker environment, you have to work out how you deal with various issues. It's a case of keeping flexible and having your aim in mind, and adapting ideas as needed."
Jono Mallanyk, 28
Hometown: Sydney, Australia, now living in New York City
Occupation:  Freelance interface designer
How he got on the bus: Mallanyk just moved to New York two weeks ago, and got on the bus just a day before it left for Austin. He met Caprio at a coworking space, and he invited Mallanyk to apply.
"Next thing you know I was packing and on the bus before I was ready for it."
Why he wanted in: "The real reason I moved to New York was to get more involved with the startup scene and I found it really easy to get connected here," he said.
His company: Adventeur, a smartphone app that gives users an "authentic local experience," Mallanyk said. The app is location based, and allows people to familiarize themselves with their environment based on other users' information.
What he has learned: "In reality, the vision of our product is nothing more than a proof of concept," he said. "We think there is a real business model with real potential. It's bigger than what they can do in three days."