New Ways to Watch TV and Borrowed Books via Kindle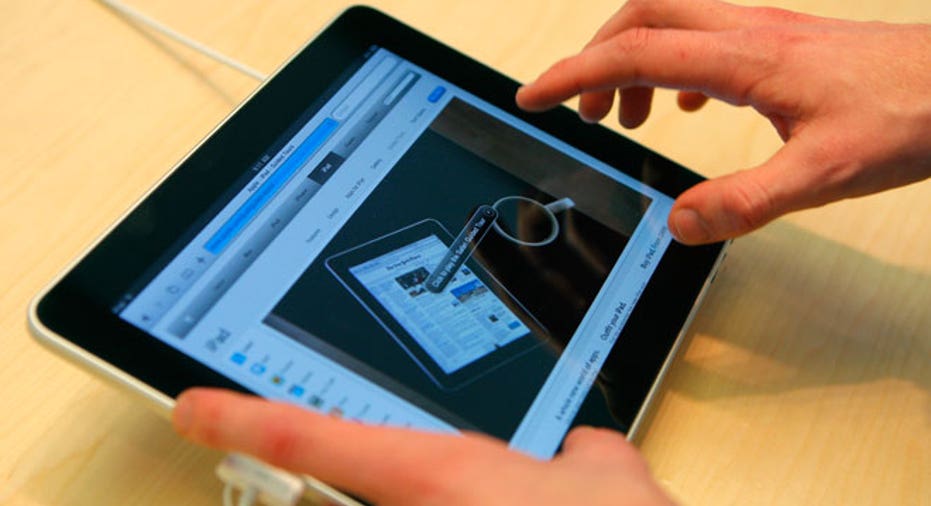 Welcome to OnSale at FOXBusiness, where we look at cool deals and insane bargains.
DISH Network and Blockbuster make quite an entertaining pair. Amazon broadens its media offerings with FOX, and offers book lovers a little something extra, for free. There's something new from the folks at Spotify, and why not hang your iPad on the wall?
New Deal from DISH
DISH Newtork, LLC (NASDAQ:DISH) is working with Blockbuster to create Blockbuster Movie Pass. Available exclusively for DISH Network subscribers, Movie Pass offers streaming videos, plus DVDs and games by mail, for rates starting as low as $10 per month.
Streaming service is available via TV or PC, and provides more than 20 additional movie channels as part of the deal. Those who subscribe to the mail-order service can trade their games and DVDs at participating Blockbuster stores. New Movie Pass customers who sign up between October and Jan. 1 will get the new feature completely free with a new, 24-month  America's Top 200 DISH Network subscription. Visit DISHNetwork.com to sign up.
FOX Via Amazon
More streaming video news: Amazon (NASDAQ:AMZN) and Twentieth Century FOX are teaming up to give Amazon Prime members access to popular movies and TV shows from its broad content library.
Amazon Prime gives users access to unlimited two day shipping at no charge, one-day shipping for $3.99 per item, and now offers thousands of streaming movies and television shows. Among the more than 11,000 titles are hits such as "Office Space" and "Arrested Development," along with "Last of the Mohicans" and "Speed."
Those unfamiliar with Amazon Prime may want to check out the lineup, as the service offers entertainment from the likes of CBS, Sony, Warner Brothers, and NBC Universal. Learn more by clicking here.
*Twentieth Century Fox is owned by News Corp., the parent company of the FOX Business Network
E-Library, Literally
Also new from Amazon this week: a Kindle app that lets libraries lend literary works to the masses. With the help of more than 11,000 participating local libraries across the country, Kindle is expanding its library for bookworms who like to borrow instead of buy.
Kindle library books are accompanied by traditional Kindle features such as highlights, bookmarkes, real page numbers and callout options for Twitter and Facebook. The Kindle app for public libraries doesn't require an actual Kindle reading device, so there's more literature to go around, free of charge, to devices including the iPad, iPhone, PC, Mac, BlackBerry, or Windows Phone. Learn more about Public Library Books for Kindle by clicking here and for a complete list of participating libraries, go to Overdrive.com.
Spotify Does it Again
OnSale told you about the long-awaited stateside arrival of streaming music service Spotify. Now the company is shedding its invite-only beta program by allowing Facebook tie-ins and throwing in a six-months-free feature, going above and beyond the initial 10-hours-free deal. You'll need a Facebook account to sign up.
iPad Artwork
Mobile accessories maker Bracketron has a new wall mount for the original iPad and iPad 2. The iRoom iDock provides power and audio for Apple's tablet, and comes in aluminum, black and white shades to match any interior.
All smart home applications are readily available with the touch of a button, and the dock automatically charges the iPad's battery when it's in place. The integrated audio output feature can be connected to an existing speaker system, and works well when viewing movies and photos. Order yours here.
Know of a killer deal or insane bargain? Email the goods to OnSale@FOXBusiness.com and share the wealth.