New Models Fuel November Auto Sales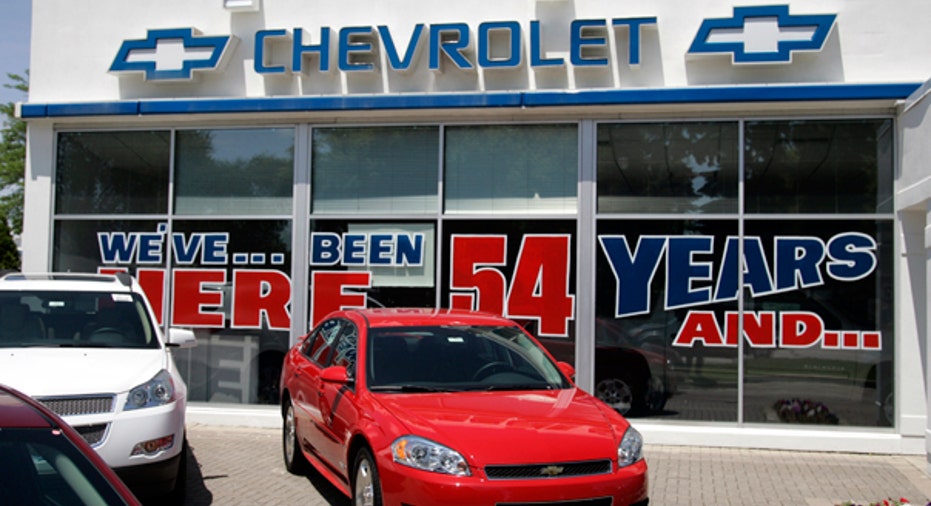 Auto sales kept up the pace in November, as car makers widely beat expectations amid demand for new models and pickup trucks.
Strong demand for new vehicles in the U.S. has lifted the auto industry in recent years. Analysts have pointed to pent-up consumer demand and low interest rates as catalysts for the sales boom, in addition to increasing activity in the energy and home building sectors.
Manufacturers have also benefited from an uptick in transaction prices. On Tuesday, Kelley Blue Book said new-car transaction prices were up an estimated $946 last month, with an average price of $32,769. That reflects a 3% jump over October and a 1.1% increase compared to November 2012.
Car information provider Kelley Blue Book recently projected November sales growth of 3.6% across the industry, while Edmunds.com expected a 4.7% increase in domestic sales.
But results checked in well ahead of estimates, making November an even stronger month than usual.
Autodata said industry-wide unit deliveries were up 8.9% year-over-year. The seasonally adjusted annualized rate, or SAAR, jumped to 16.4 million units versus 15.3 million a year earlier and 15.2 million in October. Kelley Blue Book anticipated a SAAR of 15.6 million units.
"The fact that this November was so strong bodes well for December," Kelley Blue Book senior analyst Karl Brauer said. "All bets are off. The market is not following tradition by any means."
Chrysler said its November U.S. sales surged 16% over last year, thanks to strong truck sales and a big boost from the new Jeep Cherokee sport-utility vehicle.
The results easily beat expectations. Edmunds was looking for a 10% increase year-over-year, while Kelley Blue Book predicted a 6.9% gain.
The Auburn Hills, Mich., company sold 142,275 vehicles in the latest month, up from 122,565 a year earlier. Sales were also up 1.6% over October's total of 140,083.
November had 26 selling days, which is one more day than last year but one less than October.
Chrysler sales were driven by a 25% increase at the Ram truck brand and a 30% gain for Jeep. Dodge sales were up 4%, while the namesake brand recorded 12% growth.
The Jeep Cherokee, which first arrived at dealerships in late October after being delayed, was a big seller in November. Chrysler sold 10,169 Cherokees, accounting for roughly half of the automaker's total unit growth during the month. Just 579 Cherokees were sold in a partial month of sales in October.
Brauer called the Cherokee a "well-executed vehicle," adding that an abundance of pre-launch publicity helped get the word out.
"Once it got out, people snapped it up," Brauer said of the sales figures.
"Our launch emphasis on Jeep Cherokee quality is now being rewarded with brisk sales and helping Chrysler Group achieve our 44th consecutive month of year-over-year sales growth," said Reid Bigland, Chrysler's head of U.S. sales.
New models have been a boon for automakers like Chrysler and General Motors (NYSE:GM), which has launched several updated cars and trucks. GM's Chevrolet Impala was given one of the best-ever scores from Consumer Reports, and the magazine named the Chevrolet Silverado and GMC Sierra as the top choices among pickup trucks.
GM beat estimates with a 13.7% increase in November sales, as the largest U.S. automaker saw double-digit gains across all brands.
Edmunds was looking for growth of just 7.7%, while Kelley Blue Book anticipated a 12.1% improvement.
GM sold 212,060 vehicles during the month, up from 186,505 last year but down from October's 226,402. Retail sales were up 19.4% at 166,655.
New product momentum continued to carry the company. The recently launched Cadillac XTS and ATS luxury cars helped lift the brand to 11% growth last month. Chevrolet sales increased 19%, as Malibu sales soared 41% and the Impala saw a 20% jump. Sales of the Silverado were up 12% over last year.
GMC sales climbed 20%, with sales of the Sierra pickup truck improving 22%. Deliveries of Buick vehicles ticked 13% higher.
The company also noted that small business sales were up 38%, led by a 76% increase in pickup truck deliveries.
"We feel good about the direction of the economy and our own momentum," said Kurt McNeil, vice president of GM's U.S. sales operations. "The economy is creating jobs and household wealth. Energy costs are dropping and credit is available and affordable. All of this bodes well for future growth."
Shares of GM slipped 2.8% cents to $38.01 in afternoon trading.
Ford (NYSE:F) continued to log strong sales of redesigned cars and its F-series trucks in November, as overall sales rose 7% to 190,449 vehicles.
The results topped year-ago sales of 177,673 but fell just short of the 191,985 vehicles sold in October. Kelley Blue Book was looking for a 6.2% increase year-over-year, and Edmunds estimated growth of just 3%.
Passenger cars increased 6%, with the Ford Fusion and Fiesta both posting record sales. Truck sales jumped 15.5%, and F-series pickups recorded their seventh straight month of more than 60,000 units sold. Sales of the F-150 and its larger siblings hit 65,501 in November, up 16% year-over-year.
The namesake Ford line of cars and trucks saw sales growth of 6.9%, while Lincoln was up 17.4%. Sales of the Lincoln MKZ, which was redesigned for model-year 2013, checked in at 2,854 cars, a 114% increase compared with the same period a year ago.
"We continued to see sales increases across our full family of vehicles -- particularly with our passenger cars and utilities in conquest coastal markets," said John Felice, Ford's vice president of U.S. marketing, sales and service.
Ford's retail sales jumped 9%, the best November performance for the Dearborn, Mich., company since 2004.
Ford shares were recently trading 3% lower at $16.54.
In a preliminary report, Toyota (NYSE:TM) said its total sales for the month were up 10%, as the Japanese manufacturer sold 178,044 vehicles in the U.S.
The company beat an estimate of 7.5% from Edmunds and Kelley Blue Book's call for 5.8% growth.
Toyota shares were down 86 cents at $123.24 on the news.
Honda (NYSE:HMC) registered a slight 0.1% decline in its November sales to 116,507 vehicles. An 18.9% surge in Acura luxury sales was mostly overshadowed by a drop of 2.3% in Honda sales.
Edmunds expected a steeper decline of 1.6%. Shares of Honda fell 1.2% to $41.26.
Nissan's U.S. sales jumped 10.7% to 106,528 in total deliveries, beating expectations.
Hyundai said its U.S. sales climbed 5% to 56,005 vehicles in November on demand for its Santa Fe SUV. Sister brand Kia logged sales of 45,411 vehicles, up 10.6%. Combined, Hyundai and Kia were up 7.2% for the month to beat projections of a slight decrease.
Volkswagen reported 30,727 units delivered in November, a decline of 16% compared to a year ago.