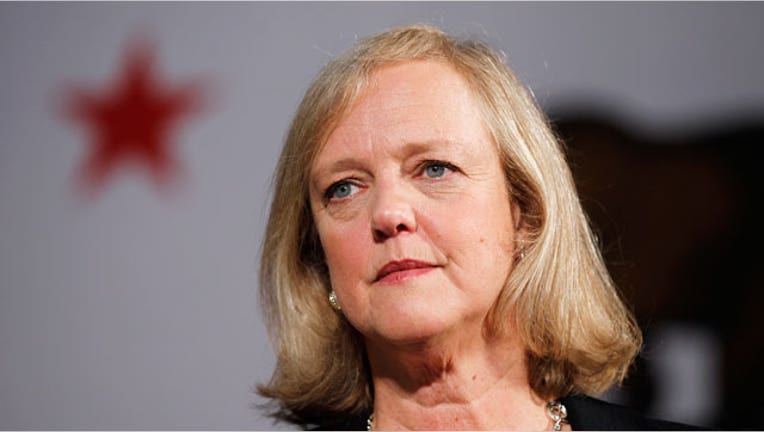 New Hewlett-Packard CEO Meg Whitman, who takes a $1 annual salary, got stock options that could be valued as high as $16.1 million, the company's proxy filing said.
Whitman, 55, served as HP CEO for only a five weeks in the largest computer company's 2011 fiscal year that ended Oct. 31. She replaced ousted CEO Leo Apotheker, whose farewell gift amounted to $30.4 million, the proxy said.
Hewlett-Packard, based in Palo Alto, Calif., filed its proxy Friday with the U.S. Securities and Exchange Commission for its annual meeting scheduled for March 21 in Santa Clara, Calif.
Whitman, an HP director, had waived collecting more than $1 in salary because she had made her own fortune as the ten-year CEO of online auctioneer eBay in San Jose, Calif.
The proxy also discloses HP doesn't plan to elect any new directors. Last year, activist investor Ralph Whitworth, principal of Relational Investors, started buying HP shares after the TouchPad debacle and Apotheker's decision to divest the PC business, the world's largest.
Two directors, Larry Babbio, a former president of Verizon Communications, and Sari Baldauf, a former Nokia executive, declined to stand for re-election.
HP directors receive $100,000, with non-employee directors getting an extra $175,000 in shares. Committee chairmen can received $20,000 more. Non-employee directors also get free travel to board meetings and may contribute as much as $100,000 annually to a school or charity, paying only 25 percent of the list price.
HP Chairman Ray Lane, a former president of Oracle, received fees, stock and option awards valued at $10.7 million.
HP shares rose 43 cents to $$28.94 in early Friday trading.