New 'Active' Work Trend Breaks Down Cubicle Walls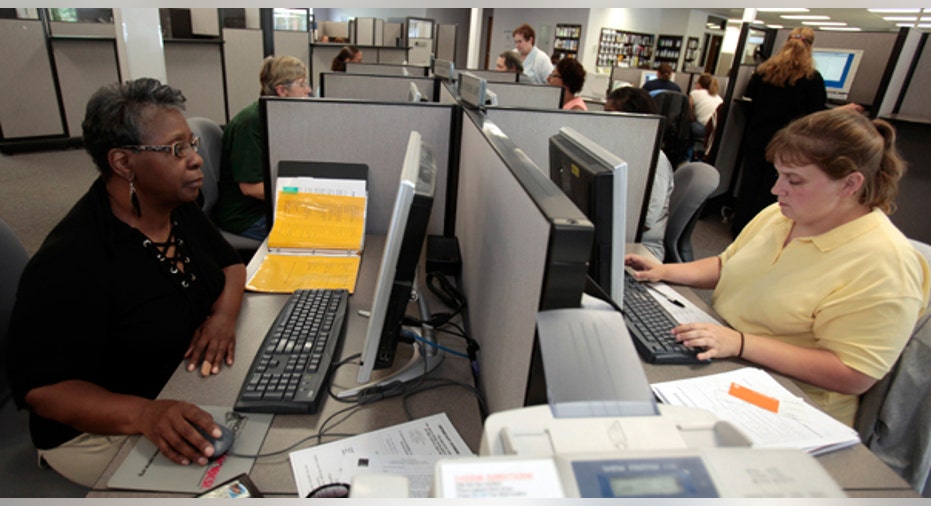 The days of employees trudging into work each day for a 9 to 5 shift confined to their cramped cubicle are rapidly coming to a close.
With more companies now embracing the idea of employee collaboration, they're also searching for the best ways to support those needs, one of which is a redesign of the traditional corporate workspace. A growing trend has been to enact an activity based working (ABW) environment, which breaks down the customary office and cubicle walls in favor of large open work areas designed to foster teamwork, cut down on real estate costs and improve productivity.
Dan Lee, national design manager for Business Interiors by Staples, which assists companies wanting to implement that working environment, said ABW gives businesses the ability to move employees around the office based on the projects they're working on at the moment.
"It is centered around the notion that offices need to be very mobile, very flexible, very team-oriented, so as churn is required, teams can be reassigned," Lee told BusinessNewsDaily.
Lee said while activity-based designs are created based on the needs of each company, they tend to all include open teaming spaces where employees work side by side, without walls dividing them. In addition, they feature areas where remote workers can set up shop if they are in the office for the day.
"There are also small little meeting spaces, not so much like the large conference rooms of the past, but huddle rooms where you can quickly step aside to have a more private meeting in a smaller space," Lee said.
Dylan O'Connor, chief technology officer for Thrive Networks, a Staples company, said he's seeing this trend take hold with startups and smaller five- to 10-person companies that are growing at a rapid pace and trying to attract talent with a more open working culture.
O'Connor believes companies using ABW environments are breaking down the paradigm that as employee headcount grows, so too should office space. Rather, they're defining their office space very loosely and with an open concept.
"When people are in for the day, they can sit down and collaborate with team members, but they don't have a dedicated space that is theirs," he said. "They can come in at anytime they choose for a meeting or to collaborate and then that space could be used by somebody else maybe the next day who is in the office at that time."
Philip Ross, CEO of UnWork and an expert on emerging technologies and their impact on the workplace, thinks ABW has more to do with employee type rather than particular industries, and as such, can be well-suited to almost all industries where knowledge work is performed.
"It is most effective for knowledge workers who are required to perform a variety of different work activities and who are suitable for agile work — that is, where they are not anchored to a fixed position," he said.
ABW environments can reduce overall space requirements by up to 30 percent, proving an effective way to reduce real estate costs. Other benefits include increased productivity and increased staff happiness, which in turn aids talent attraction and retention, Ross said. It can also be effective in reducing the time needed to bring a product to market.
"When aligned with the right technologies and behaviors, activity based working provides a more exciting set of spaces that reflect better the real work that is done," Ross said.
The concept has become particularly popular in Australia. A number of the country's top professional services and financial services companies have adopted ABW over the last few years.
Sydney-based Goodman Australia, which owns, develops and manages high-quality industrial and business space, moved to an ABW environment in 2011 and has been pleased with the results.
"The response has been overwhelmingly in support of the new environment," said David Wilson, general manager commercial for Goodman. "We could never see us ever going back to a traditional office layout."
Since the implementation, Wilson said employees feel their productivity has improved. The new working environment has also reduced paper usage by 89 percent and power consumption by 50 percent.
"Power consumption reduction, I believe, is mainly due to everyone packing up their laptops at night and putting them into their lockers," he said. "No one leaves on computers overnight or on the weekend anymore as they put everything away."
In addition to flexible furniture, the key to ABW is having the correct technology in place to make it work. O'Connor said connectivity within the office is critical. A robust wireless system that provides security and ease of access is needed. There should also be data connection points within the office for those needing to plug in via an ethernet connection.
O'Connor said remote access into the computer system is also necessary, as it gives employees the ability to work just as easily outside the office. He said many companies using this approach are also finding it advantageous to incorporate internal instant messaging systems.
"Email is becoming almost as stuffy as sending a letter to modern workers," O'Connor said.
With the technology demands comes the need for IT specialists who are well-versed in Wi-Fi technology and flexible enough to support a wide range of employee mobile devices, since many will use their own.
"The transition to activity based working is often where the greatest input from IT departments is required," Ross said. "But once successfully implemented, the demands on an IT department decline, especially with the emergence of Software as a Service (SaaS) and 'consumption' based models of technology use."
Based on the results Goodman has seen in its Sydney offices, Wilson said he envisions more businesses wanting to move toward ABW environments in the future.
"It helps attract certainly younger staff to the company and helps staff retention," he said. "It's a more flexible way to work."