New accounts give the disabled a chance to save more money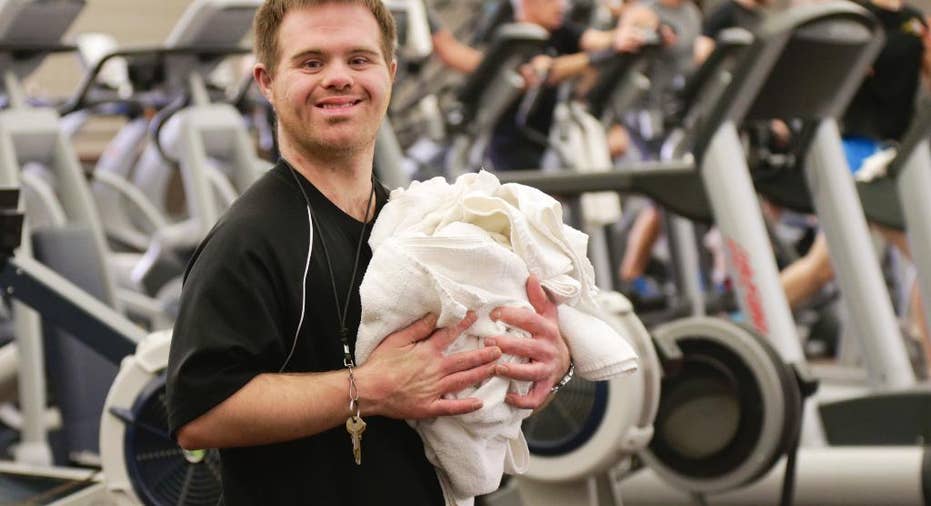 Justin Bainbridge is 27 and works two jobs, but he wasn't allowed to start saving money for his future until a few months ago.
Bainbridge has Down syndrome, and like other people with disabilities who receive government benefits, he can't have more than $2,000 in savings. If he does, he would start to lose those much-needed benefits. But a new type of savings vehicle is giving Bainbridge, and others, a chance to save more cash.
Known as ABLE accounts, they let people with disabilities and their families save up to $14,000 a year without losing benefits. The accounts, which were made possible by a law signed two years ago, are operated by individual states and are similar to 529 college savings plans. So far, 16 states offer the plans and about 10 more are expected to do so this year. Most of the states let non-residents sign up. Each state has different rules or maintenance fees, with some charging as much as $15 every three months.
Disability advocates say the accounts are badly needed, since people with disabilities were forced to spend extra money to avoid losing benefits. With ABLE accounts, money saved can be used to buy anything that helps the life of the person with a disability, such as rent payments, school tuition or groceries.
"I'm saving for a new couch," says Bainbridge, who shares a two-bedroom apartment in Omaha, Nebraska, with a friend.
Since June, he has put away more than $1,800 in an Enable account, the ABLE program run by Nebraska. He makes about $5,200 a year from his part-time jobs, one folding towels at a gym and another collecting movie tickets at a theater. But he still needs his monthly Supplemental Security Income cash benefit to help pay his rent and live independently, says his mother, Kim Bainbridge, who also stashes away money for him in the ABLE account.
"I can finally save for him after 27 years," she says.
For years, disability advocates have tried unsuccessfully to increase the $2,000 savings limit, which hasn't been changed in nearly three decades.
"It kind of shackles you to a life of poverty," says Christopher Rodriguez, a senior public policy adviser at the National Disability Institute in Washington.
The idea for ABLE accounts came about a decade ago from parents of kids with disabilities who were frustrated that they could not easily save money for their children. One of those parents, Stephen Beck Jr., spent years advocating and lobbying for a law. Beck unexpectedly passed away in 2014, just a few weeks before President Barack Obama signed it into law. To honor Beck, the law was named The Stephen Beck Jr. Achieving a Better Life Experience Act.
His widow, Catherine Beck, is using an ABLE account to put away money for their 17-year-old daughter Natalie, who has Down syndrome and wants to go to cosmetology school to work at a nail salon. The Becks were able to easily save money for their eldest daughter, who does not have a disability. But for Natalie, they had to create a special-needs trust that required hiring a pricey lawyer to set up.
"Her savings has not grown like her sister's has," says Catherine Beck, who lives in Burke, Virginia.
To qualify for an ABLE account, the account owner must have had a disability before their 26th birthday. Anyone can put money in it, such as family or friends. If the account goes above $100,000, the person with the disability will lose monthly government cash benefits until it drops below that level again. Medicaid health benefits are never affected, no matter how much money is saved. Money can be invested in index funds and earnings are not taxed.
"For the first time a lot of individuals will be able to work, save money and get some growth out of it," says Adam Beck, director of MassMutual Center For Special Needs at The American College in Bryn Mawr, Pennsylvania.
When the person with a disability dies, Medicaid can claim any leftover money as payback for health care paid after the ABLE account was opened. Since each state has different rules and fees, the ABLE National Resource website has a tool that compares the programs.
Matthew Shapiro, who lives in Richmond, Virginia, and works to promote the state's ABLE program called ABLEnow, says finally being able to have some savings helped reduce his money worries. The 26-year-old, who has cerebral palsy, uses a power wheelchair to get around and unexpected repairs can be costly. He travels sometimes for his business, 6 Wheels Consulting, which helps educate companies and organizations on disability issues.
"Being a person with a disability is expensive," says Shapiro. "These accounts are so much needed."
_____
Contact Joseph Pisani at http://twitter.com/josephpisani .