Netflix Dividing Movie-Streaming, DVD Businesses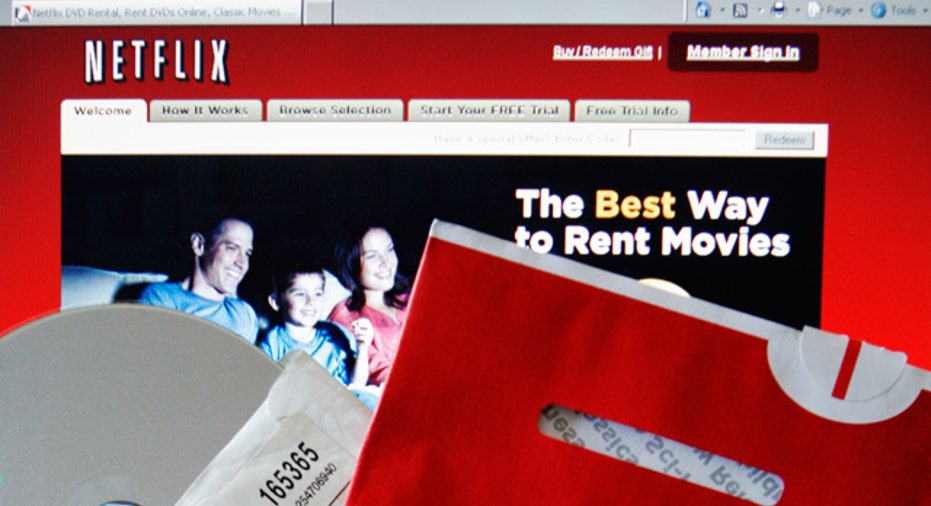 Top video rental company Netflix Inc split off its DVD service to a separate website called Qwikster, setting off another round of complaints from customers already angry at a price increase and sending its shares down 7 percent.
Negative comments piled up on the company website on Monday, a little more than two months after Netflix raised prices for DVD services. Chief Executive Reed Hastings admitted to ``arrogance'' over failing to adequately explain the changes in an apology that rang hollow to many customers.
Hastings, in a blog post late on Sunday, said Netflix was changing the name of its DVD-by-mail business to Qwikster, the brand that will appear on the company's signature red envelopes, and also offer video games. It will reside separately from the Netflix website, where instant streaming of television shows and movies will be offered.
Netflix shares dropped 7.4 percent to end at $143.75 on Nasdaq.
The announcement could cause more cancellations of monthly Netflix subscriptions, some industry analysts said. The news came a week after the company said it was adding fewer subscribers than forecast because of a price increase as high as 60 percent, or $6 a month, for joint streaming and DVD rental service.
The pricing uproar and the collapse of talks with movie-content provider Starz have driven Netflix shares down nearly 50 percent since it unveiled the price increase on July 12. Once a Wall Street darling, Netflix shares had gained more than 450 percent from early 2010 to just before the July announcement.
Some industry analysts said the company risked losing more subscribers as the Qwikster and Netflix websites would not integrate customer use or preferences data for streaming and DVDs, making it more difficult to use both services and possibly creating confusion.
``I think Qwikster will quickly be known as Quit-ster,'' said Wedbush Securities analyst Michael Pachter, who has a ``sell'' rating on Netflix shares and a $110 price target.
The new name also lacks the recognition of the well-known Netflix brand.
Other analysts said the negative customer response to the higher pricing for DVD services remained a major challenge, not the new name or separation of the units.
``There's still a lot of backlash from the price increase before. At this point, consumers are still looking for a less expensive'' alternative such as Coinstar Inc's Redbox kiosk, said Merriman Capital analyst Eric Wold, who rates Netflix shares ``neutral'' and has a ``buy'' rating on Coinstar.
Netflix may be preparing to eventually sell the DVD business, some analysts said. Hastings has stressed the company sees its future in streaming as customers increasingly turn to a variety of Internet-connected devices for entertainment.
Many Wall Street analysts have applauded the moves to push customers toward the higher-margin streaming business as a smart long-term strategy and said the price hike was needed to pay for increasingly costly content.
Hastings, seen as a visionary who changed the way people watch movies and television, said he was separating the units because they were evolving as very different businesses that needed different marketing. ``We need to let each grow and operate independently,'' he said.
Customers flooded the company's website with thousands of blog comments on Monday, many upset or confused by the splitting of streaming and DVD businesses.
``This makes little sense to me. It will now require more work,'' one commenter wrote, adding ``sadly, this might be the last straw.''
Another said she thought Netflix remained a ``great bargain,'' adding ``I love having both DVD delivery and streaming!''
Hastings, in his blog post, said he had not adequately explained his reasons for splitting the operations and raising prices for the DVD options when the plan was unveiled in July.
``I messed up,'' Hastings wrote. ``In hindsight, I slid into arrogance based upon past success.''
Hastings said there will be no pricing changes, and subscribers to both services will have two entries on their credit card statements, one for Qwikster and one for Netflix.
Netflix has been under pressure from Hollywood studios and cable programmers to pay much more for content. Analysts have said it would start to lose more shows for its streaming service after failing to reach a new agreement with Liberty Media's Starz.
But Hastings said new content would be coming soon.
``The additional streaming content we have coming in the next few months is substantial, and we are always working to improve our service further,'' he said.
Even as it seeks out more content for its streaming service, Netflix faces increasing Web video competition from the likes of Amazon.com, Google Inc and Apple Inc.
Blockbuster, the once-dominant video store chain now owned by Dish Network, is expected to announce plans for a new streaming service on Friday.
Netflix remains the industry heavyweight with 22 million streaming subscribers.
Unlike Netflix's current DVD plan, Qwikster will feature a videogame upgrade for customers who want to rent Wii, Playstation 3 and XBox 360 software.
``Members have been asking for video games for many years,'' Hastings said, ``and now that DVD by mail has its own team, we are finally getting it done.'' (Additional reporting by Sakthi Prasad in Bangalore; Editing by Jane Merriman, Lisa Von Ahn and Steve Orlofsky)