Need a Tutor for Your Child? First Steps and Cheap Options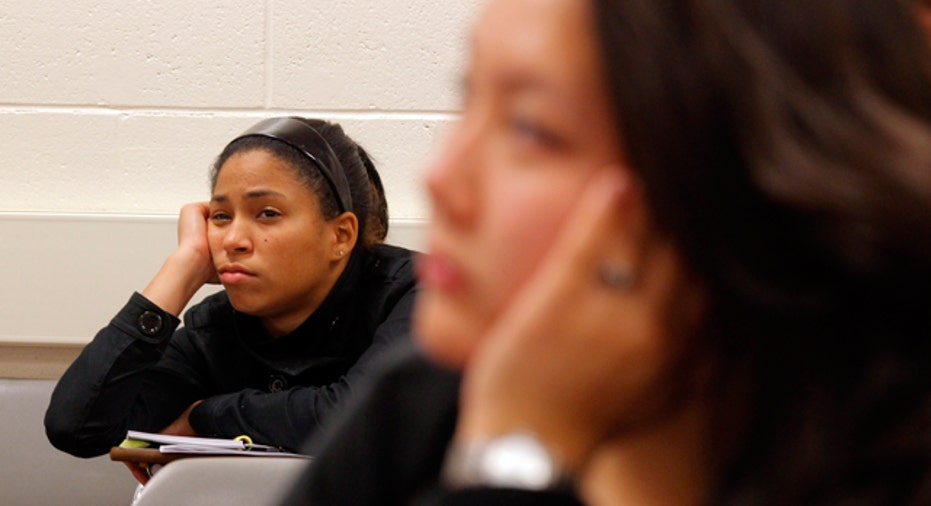 As semester report cards start trickling in, many parents may see room for improvement in their child's grades. Although hitting the books a little harder may be the easiest and cheapest solution to improving a GPA, some children may need additional help to work through tough subjects. For many families, a tutor may be the best option, but how do you know if it's right for your child and your budget?
Before parents spend money on a tutor, they should make certain that a bad grade can't be improved by a simple fix, says Kathy Roemer, president of the American Montessori Society (AMS) and executive director of Twin Parks Montessori Schools of Manhattan. Roemer advises parents take their child for thorough eye and hearing tests to make sure everything is working correctly.
"In some cases, they may simply not be able to see the blackboard as clearly as they need to, or hear the proper instructions from the teacher. Any questions on that front should be cleared up first," says Roemer.  She adds during homework sessions, parents should make sure their child is not hungry or tired, and has a quiet workspace.
Once parents have assessed any physical road blocks in their child's learning, they should look at why they want their child's grades to improve, says Roemer.
"There are situations where a parent is really trying to create a superstar to the detriment of the social development of the child," says Roemer. "They are not looking at the child as a whole, and instead the child is judged by academics. On the flipside, some students may be doing well in every subject but one. If it's something like math, that's only going to get more complicated with time, and tutoring can really help."
But there are many forms of "tutoring," and some options are far more affordable than others, according to Craig Meister, president of Tactical College Consulting, an educational consultant firm. Meister says that for one-on-one tutoring, parents can expect to pay anywhere from $30 to $100 per hour for subject tutoring. He adds that parents in larger, more competitive cities like New York, can face rates of $500 or more per hour. For group tutoring, which involves a handful of students struggling with the same topic working with one tutor, parents typically pay an up-front fee of around $1,000 that guarantees their child a certain amount of tutoring hours, typically anywhere from 10-20.
"We find that parents are more willing to consider group tutoring because the overall hourly rate is sometimes lower," says Meister. "Also, a lot of companies that do group tutoring are more visible: [Companies like] Sylvan, Kaplan, parents have heard of these companies because they are the ones you see in a strip mall or on a billboard."
Of course, if a student pays for a $1,000 tutoring package but doesn't use all the sessions they paid for, then they might as well pay a higher hourly rate for a few sessions from a private tutor, says Meister, adding that the best results can typically be found with a one-on-one tutor.
"In a group, the tutor is always going to be spending time with another child, who may be more or less advanced than your child. Why pay more for that when you could be paying for someone to meet your child's needs 100% of the time they have together," says Meister.
Parents of middle-school students may find the most luck getting a break on tutoring costs, according to Meister. Typically, tutors focusing on standardized test preparation, like the ACT or SAT,  command the highest fees, followed closely by tutors for high school juniors and seniors. Elementary school tutors can also cost a pretty penny because of the hands-on nature required when dealing with children that young. The lowest tutoring prices are for children in grades 5 through 8, Meister says.
"It really seems to be the most cheap for kids in that mid range, dealing with things like Algebra 1, Spanish 1 and other entry-level subjects. It's an inverse bell curve when it comes to pricing and age," he says.
But regardless of price, when you're choosing a tutor, Meister says that above all, check references.
"Sometimes parents find themselves in a desperate situation looking for someone last minute, but don't go with first person you've heard of. Just like you don't buy the first house you set foot in or buy the first car you drive, these things take time," says Meister.
An online program may be a more cost-effective alternative for parents. At the Suffolk Cooperative Library System in Suffolk County, N.Y., 56 public libraries now offer free online tutoring to children in grades K-12. The libraries have partnered with Brainfuse Online Tutoring, and all students need to get some homework help is a library card.
Kevin Verbesey, director of the Suffolk Cooperative Library System, says the program has exceeded expectations so far, with approximately 35,000 one-on-one online tutoring sessions launched annually. Since the library began offering the online tutoring in 2009, usage has increased on a month-to-month basis, to the tune of 7,000 new sessions launched per year.
"It's an affordable way for a student to catch up on a subject they may be falling behind in, but this is not an equal substitute for a $500-an-hour tutor sitting in your living room talking to you face to face," says Verbesey. "But why not try this first? It's already paid for through your hometown library, and it's a great service."
Verbesey says the library typically sees students using the online service in two ways: to get help with a specific, challenging homework assignment, or to improve in a subject they're falling behind in. Students can also use the service to submit essays and reports and have them edited by a professional.
If online tutoring sounds like the best option for your child, Roemer cautions that it tends to work best for older children. Children under 7 years of age tend to grasp concepts much better when presented in paper and pencil.
"Younger students really need to be able to see, feel and touch materials associated with a concept," says Roemer, adding that before any parent goes to a tutor, they should go to their child's teacher first.
"Don't be afraid to have the communication with a teacher. They are observing your child every day, and they want your child to succeed just as much as you do."