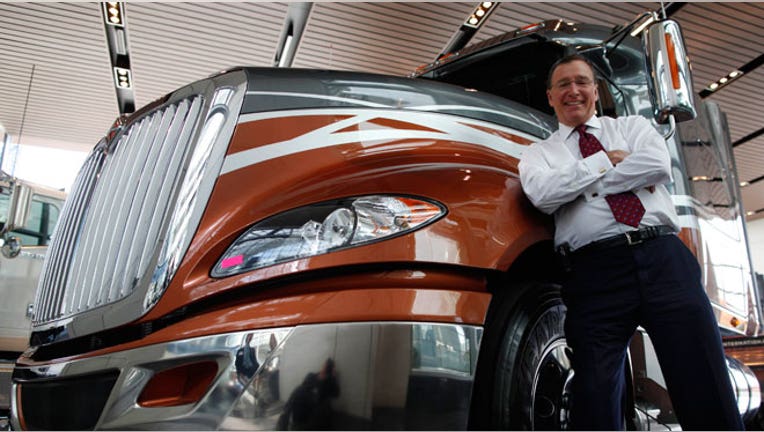 Navistar International (NYSE:NAV) said Wednesday it posted a wider-than-expected loss for the third quarter, as its core North America truck business saw weaker demand.
The commercial truck maker also unveiled a plan to cut costs by $50 million to $60 million annually beginning with the next fiscal year.
Shares were down 5.9% lower at $32.00 during pre-market trading. As of Tuesday's close, the stock is up 56% on the year.
Navistar has struggled to stay above water in recent quarters amid rising costs related to its adoption of a new treatment system for diesel engine exhaust. Costs have risen as a result of warranty claims on its new 13-liter engines as well.
In 2012, Navistar implemented the same treatment system used by the rest of the industry after failing to meet tougher U.S. emissions standards for about three years. It agreed to purchase exhaust-treatment components and heavy-duty truck engines from Cummins (NYSE:CMI), and the Environmental Protection Agency certified Navistar's 13-liter engine this spring.
Truck drivers and fleets have shown reluctance so far. In the latest period, the company again indicated its transition to the new emissions treatment system, in addition to weaker industry conditions, weighed on volume.
But Chief Executive Troy Clarke said in a statement, "We're encouraged by the growing customer acceptance of our new products."
Navistar's third-quarter loss was $247 million, or $3.06 a share, compared to a profit of $84 million, or $1.22 a share, in the year-ago period. Last year's period included an income tax benefit of $188 million.
Excluding one-time items, the adjusted per-share loss was $2.94 versus a profit of $1.16.
Revenue slid 12% to $2.9 billion, as the company's truck segment saw its sales fall 15%. Engine sales were down 14%.
Analysts were expecting a per-share loss of $1.30 and revenue of $2.92 billion.
While the truck and engine segments each posted wider losses in the third quarter, Navistar's parts business reported a 4% increase in its profit to $76 million.
The new cost-cutting program is expected to impact about 500 salaried employees and long-term contractor positions worldwide, Navistar said. According to FactSet, the Illinois-based company has roughly 18,500 employees.
"We are already implementing additional cost reduction and business improvement actions to counter our near-term volume challenges," Clarke said. "This includes resizing our company to match our current business environment."