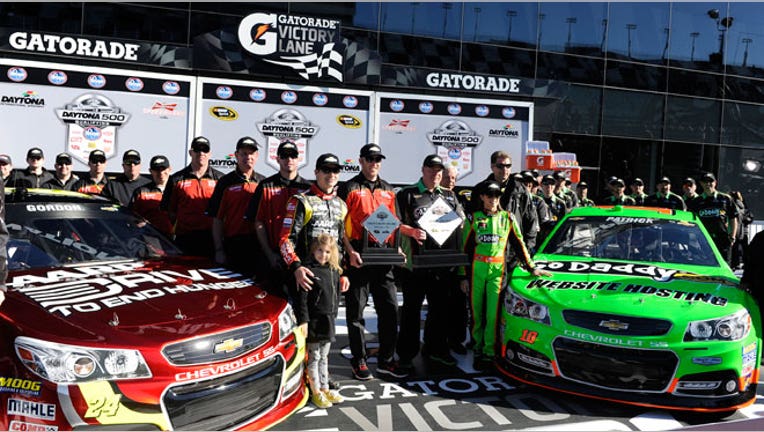 When NASCAR opened its Sprint Cup racing season Sunday with the Daytona 500, automakers began a new era of brand identity in the sport.
Now using a sixth-generation car design, NASCAR has brought back to the sport a rivalry between car manufacturers that was largely missing in recent years. The three manufacturers that run in the Sprint Cup racing series, Ford (NYSE:F), Toyota Motor Corp. (NYSE:TM) and General Motors' (NYSE:GM) Chevrolet, have made cars that feature unique body panels and more closely resemble what consumers can find in a showroom.
NASCAR moved to a safety-first design in the wake of Kenny Irwin Jr.'s death in 2000 and Dale Earnhardt's fatal accident in 2001, leaving its vehicles with a template look that emphasized parity but left a Chevrolet indistinguishable from a Ford. Dubbed the Car of Tomorrow, the fifth-generation vehicle received tepid reaction from drivers and fans while in use from 2007 through last season.
Car manufacturers were left without an opportunity to flex their design muscles, and their race cars bore little resemblance to their consumer vehicles.
"That car was based solely on safety," said Robin Pemberton, NASCAR's Vice President of Competition and Racing Development. He said racing teams, carmakers and NASCAR independently began to realize that a new car was needed. "We were all coming to the same conclusions and becoming more on the same page independently. We were ready to do something better."
The sport was built on the adage that you win on Sunday, sell on Monday. Research indicated that it happened. Fans went out and bought cars.
Things changed beginning with this season's Daytona 500. Generation-6 Sprint Cup race cars have rejuvenated brand identity and an automaker rivalry after years of NASCAR designs that diminished the visual difference between each car.
"We put the stock back in stock car racing, so to speak," said Mike Albano, Chevrolet's Director of Communications.
'Win on Sunday, Sell on Monday'
NASCAR gradually shifted toward cars designed for racing before its latest generation of cars made their race-day debut at Daytona. The move reflects NASCAR's effort to increase viewership partly by putting its cars back into focus.
"The people who had been here all along and are long-time fans have a better feel for the sport" with the introduction of Gen-6 cars, Pemberton said.
"Cars had gotten away from resembling what was sold in showrooms, and NASCAR took this to heart," said Les Unger, National Motorsports Manager at Toyota. "NASCAR wanted to start down the road of making next-gen Sprint Cup cars that look more like production cars."
There was a time when drivers actually drove their cars to the track on race day. That was back when cars used in NASCAR races were nearly identical to the cars consumers parked in their driveways.
"At that time, cars looked like Fords, Chevys and Dodges," said media consultant and former CBS (NYSE:CBS) Sports President Neal Pilson, who was at the network when it purchased the rights to air some races on television in the 1970s. In 1979, CBS broadcast the first flag-to-flag coverage of the Daytona 500.
"The sport was built on the adage that you win on Sunday, sell on Monday. Research indicated that it happened. Fans went out and bought cars."
Pilson said as races got more high-tech, the thought was to streamline cars and make them more like race cars. This led to cars that tended to look alike. As NASCAR evolved over the last few years, he added, its leadership thought it would go back to more unique designs for each automaker.
"The Gen-6 car goes back to the selling theory from 30 years ago," Pilson said. "The first week might be too early to expect anything, but you would think the public would respond more to cars that look like the cars in showrooms. People will have greater sense of identification."
Will NASCAR Boost Car Sales?
While Gen-6 cars are not entirely the same as showroom models, they are visibly recognizable as brand-name vehicles and call greater attention to design. And carmakers are looking for the cars to bring more interest to their respective brands.
"While you can't necessarily say there is a definite correlation" between the Gen-6 car and consumer sales, "our feeling is there's at least an advantage on the appearance side, since the cars are more relevant visually," Unger said.
Toyota, which replaced Dodge in the Sprint Cup manufacturer lineup, designed a version of its Camry for racing. The Japanese automaker has built a larger presence in NASCAR, and having a more relevant-looking Cup car will help boost Toyota's brand, Unger said.
"We feel the image of Toyota as a brand within the NASCAR fan base has increased dramatically," he said, "and what people see on the track now is more meaningful."
Unger added that Toyota has come a long way since it began making cars for Sprint Cup.
"The buying consideration on Toyota's side when we first got in wasn't as great" as other manufacturers, he explained, but internal market research has shown improved Toyota brand identity among NASCAR fans.
Chevy's newest creation for NASCAR drivers is the Chevrolet SS, which will also be available to consumers as a sedan beginning in the third or fourth quarter this year. Driver Jeff Gordon helped unveil the 2014 rear-wheel-drive sport sedan at Daytona International Speedway last week.
It's early in the NASCAR season, so it remains to be seen exactly what kind of sales benefit carmakers like Chevy will receive. However, Chevy has seen the benefits of racing in Europe and Asia, where it races the Cruze compact sedan.
"People came to the showroom looking for the Cruze," Albano said, noting that the company races the Camaro and Corvette as well. "It builds enthusiasm for the brand."
Albano noted that the SS moniker—an acronym for Super Sport—carries with it six decades of history at Chevy, and the brand's race car will only bring more attention to Chevy vehicles.
"We have some great equity in that name," Albano said. "It doesn't just help us sell that car (the Chevrolet SS). Our Camaro and Corvette use it as well."
For Chevy, the Sprint Cup season is off to a good start. Danica Patrick was behind the wheel of a Chevy when she became the first woman to win the Daytona 500's pole position, while Jimmie Johnson, also a Chevy driver, won the big race on Sunday and Dale Earnhardt Jr. placed second.
"The season couldn't have started any better for us," Albano said.
Ford also had a good showing in the Great American Race, with reigning Sprint Cup champion Brad Keselowski placing fourth in his Ford Fusion. The Fusion race car, which has a front grill that is visually identifiable, is the first NASCAR car designed by Ford engineers since the 1960s.
All sixth-generation cars weigh 160 pounds less than the previous version. They also feature driver names on the upper portion of the windshield, while sponsor decals have been moved from headlight and taillight areas to the front and rear bumpers.
Pilson noted how expensive it is for manufacturers to invest in a racing division and provide cars for NASCAR drivers. But he added that car companies feel it is worth the cost given the attention it brings to the brand.
"NASCAR tests very well on fan loyalty, and fans have a very high degree of knowledge of advertisers," Pilson explained.
"It brings fans to the brand, and obviously we hope they will turn into customers," Albano said, adding that there are technological advantages of producing race cars because the company can use advances in design and engineering in its street cars.
New Era for Racing Automakers
As for NASCAR, its latest car bodes well for racing's future. Sprint Cup cars are far and away more identifiable to fans, who have responded positively to the change. Carmakers are just waiting to see if fans will also respond by stopping by a showroom.
"I think we have the ability now to have cars introduced more often, as manufacturers have model changes," said Pemberton, who believes NASCAR will continue to focus on maintaining uniqueness between brands. "A lot of fans like what they see, and I think they appreciate the effort put into the new car. This sets the stage for the next 10 years at least."
Pilson said there was some criticism related to an apparent lack of side-by-side racing and passing, but he chalked it up to a reaction to Saturday's crash that sent debris flying into the stands and left 28 fans injured.
Even though NASCAR is just one weekend into its Sprint Cup season, its Gen-6 car is already creating plenty of conversation about the sport. According to Nielsen, the Daytona 500 averaged 16.7 million viewers, a 24% jump compared to last year's ratings and the most since 2008's 17.8 million viewers. The Daytona 500 aired on FOX, which is owned by FOX Business Network's parent company, News Corp. (NASDAQ:NWS).
And the more success NASCAR has this season, the better off automakers and sponsors will be. Pilson mentioned that success with the Gen-6 car and increased NASCAR viewership would, in turn, aid the sponsors who pay for advertising and have their logos displayed on the cars.
"I think it will work," Pilson, who was at Daytona last weekend, said of the Gen-6 car. "Based on the reaction I got at Daytona, people felt very good about their cars. I think the sport will do well this year."