NASCAR cuts weekend schedule to save money, ease travel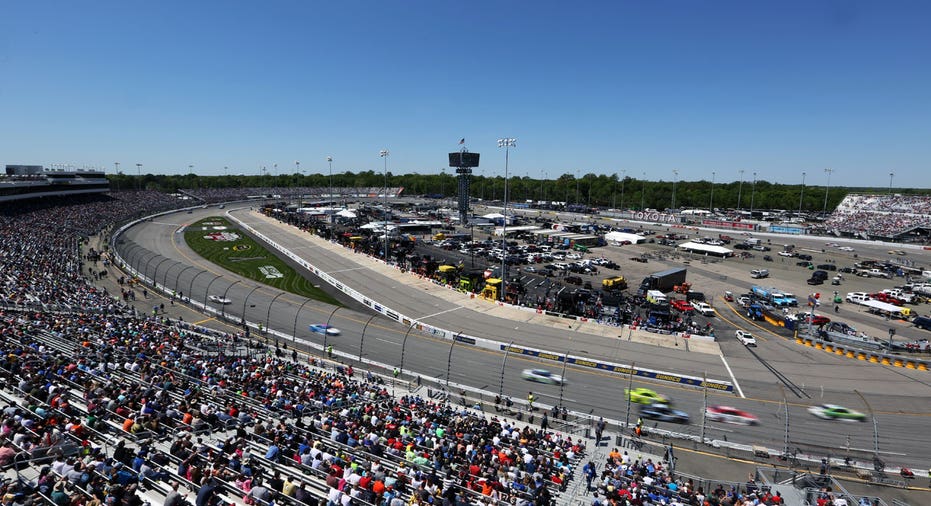 Kyle Busch usually wakes up around 8 a.m. or so on race day and just waits until he's needed for a meet-and-greet before he slips into the No. 18 Toyota.
But if he's up, he may as well as qualify before lunch. And if he wins the pole, well, he may as well go win the race.
Busch was the biggest benefactor in NASCAR's decision to try a reduced weekend Cup schedule at Pocono Raceway. NASCAR ditched the traditional practice and qualifying sessions on Friday and drivers made their run at the pole just a few hours before the start of Sunday's race. Busch won the pole and won a race for the first time this season.
"I wouldn't mind more days like that," Busch said. "With my Xfinity and Truck efforts getting cut back more and more each year, that's going to be more Fridays at home with my son. That's going to be more fun for us drivers."
NASCAR will try the two-day show again this week at Watkins Glen and Oct. 29 at Martinsville.
Pocono threw an infield fan festival on Friday night and a solid crowd turned out to watch Dale Earnhardt Jr., Ryan Blaney, Kyle Larson, Kurt Busch, Martin Truex Jr., Daniel Suarez and Michael McDowell have fun participating in lip sync battles, cooking showdowns and the like.
Watkins Glen is holding its own fan fest and a country music concert Friday night.
The real benefit to the skinny schedule is that teams can save money and spend more time at home. The cash and days off add up over the course of one of the more grueling schedules in sports. Plus, it's hardly worth it for tracks to open the gates anymore on Fridays to draw a crowd not much larger than a minor league baseball game.
"That's really what it's about, it's about quality of life for the team guys, giving them an extra day," 2014 NASCAR champion Kevin Harvick said. "If we can add that up 10, 15, 20 weekends, that's two or three weeks that you can keep those guys at home and let them spend some time with their families and kids and wives. Everybody is just gone so much, it's almost becoming harder and harder - it is becoming harder and harder - to hire people because it is such a grind."
NASCAR's slice of the schedule was just one of many shake-ups this week that could influence the rest of the season:
ON THE FENCE
Busch had led more than 1,000 laps entering the race but was still on the longest losing streak of his career. He made a late charge down the stretch to win at Pocono for the first time and end an overall 36-race losing streak.
Busch stamped his automatic entry for NASCAR's postseason (the series for some reason dumped the term "Chase" though everyone still uses it) and showed he's a legitimate contender to win his second championship.
Joey Logano, runner-up to champion Jimmie Johnson last season, is in serious danger of missing the playoffs. Logano is 16 points outside the field and finished 27th at Pocono. Logano did win a race in April at Richmond that was later ruled "encumbered" because of a rear suspension violation. The decision by NASCAR essentially stripped him of all benefits that came with the victory.
Logano had won five, six and three races the last three seasons, so pulling off a second win this year is certainly possible. But his results of late make it seem like the championship season will go on without the Team Penske driver.
Earnhardt is buried in 22nd place in the standings in his final season. He swept Pocono in 2014 and hoped a solid run there this year could spark him into contention. He finished a solid 12th and has races left at Watkins Glen, Michigan, Bristol, Darlington and Richmond.
"Michigan is a good one, that's a good track for us," Earnhardt said. "Bristol? I could probably win there."
Matt Kenseth is 16th and holds the final transfer spot, 17 points ahead of Clint Bowyer.
SPONSOR WOES
Kyle Larson, the top young driver in the sport, lost Target last week as his sponsor in 2018. Kenseth, Danica Patrick, Kurt Busch and Kasey Kahne are among the drivers with uncertain futures because of various sponsor issues. With TV ratings and attendance flatlining, teams are struggling to put together multiyear deals with a committed corporate backer that will fund the program
"I think the traditional model is going to go extinct soon, and it could be argued that it's here right now," 2012 champion Brad Keselowski said. "The traditional model (of just) being a consumer brand sponsor that just wants to see a car out there with their name out it will go extinct in the next couple years. That's not always a bad thing. There's other models that work and have proven to be successful."
TRICKY TRIANGLE?
Would what Pocono call itself if it ditched its tri-oval shape for a Cup race on the road course? Track CEO Nick Igdalsky said he would like to hold one of the track's two Cup races on the road course.
That's if Pocono keeps two NASCAR weekends.
While track founder, Joseph Mattioli, and former CEO Brandon Igdalsky were adamant about keeping two races, Nick Igdalsky realized the track could be on the chopping block if NASCAR wanted to shake up the schedule.
"We'd love to continue having two," he said. "But if one day, it that's not the way the cards fall, so be it. We'd still be honored to be part of the show."