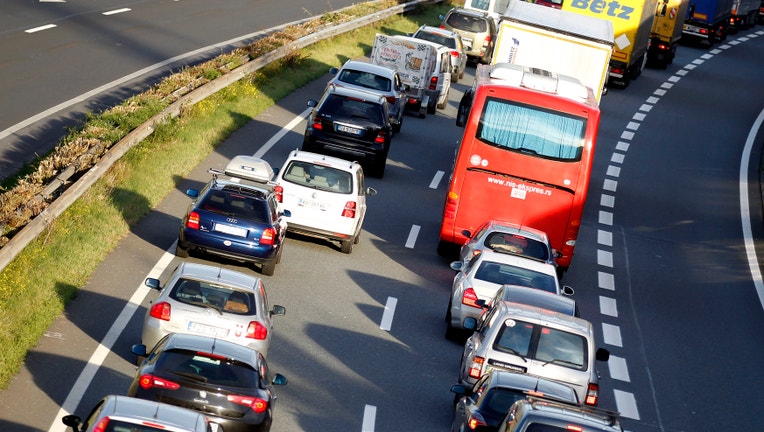 Rescue efforts are underway today in six southern states after 2 to 3 inches of snow and ice coated the region, stranding motorists and school children in Alabama and Georgia overnight on roadways paralyzed by gridlock.
Several hundred Atlanta students from nine public schools spent the night in classrooms, as administrators opted not to release them due to the traffic jams, while others were stuck on school buses overnight, according to CNN. Drivers in the Atlanta area who did make it home told news reporters that commutes that typically take 10 minutes took five hours.
Conditions weren't much better for Georgia's neighbors: The governors of Alabama, Louisiana, Mississippi, North Carolina and South Carolina declared states of emergency.
In Atlanta, workers and students were both released mid-day, which instantly clogged the highways with vehicles. The gridlock, in addition to hundreds of accidents, made it difficult for public transportation crews to treat the roads.
Many drivers spent the night in their cars, while others abandoned their vehicles to find shelter elsewhere or to try to carpool out of the traffic jam.
Stranded drivers sought refuge at strangers' homes, schools and in 26 Home Depot stores in Alabama and Georgia that were opened to travelers for overnight stays, according to CNN.
My abandoned car was damaged, stolen, towed: Am I covered?
Here is the role auto insurance plays should you abandon your car on the road, and return to find it damaged, or discover it's not where you left it - it's been towed or stolen:
Your car has been hit: Collision coverage would be required for you to file a claim. "If the driver who hit your car was nice enough to leave a note with their information, you can make a property damage liability claim. If you have uninsured motorist property damage coverage, it doesn't apply in this case because hit-and-runs or unidentified vehicles hitting your car isn't covered," says Penny Gusner, consumer analyst for CarInsurance.com.
Your car has been towed: You will likely have a hard time getting reimbursed for recovery costs, unless you have roadside assistance coverage in your auto policy. Even if you do, there are exceptions, says Gusner. "You should check your roadside assistance coverage because some insurers only pay if you call to have your vehicle towed. It's a possibility you won't be covered if the car is towed without you calling for it," she says. "Also, some policies limit coverage and only pay when a claim has been issued against your physical damage coverage after a covered accident.  So if you were just stuck and the car wasn't damaged, your towing coverage under your car insurance policy may not pay."
Your car has been stolen: Only comprehensive coverage covers theft, so you would be required to have it to file a claim.  
The original article can be found at Insurance.com:Am I covered if my abandoned car is hit, towed or stolen?