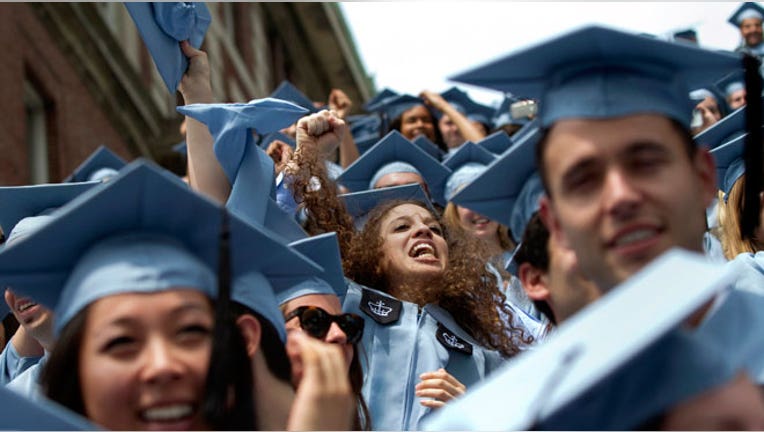 College grads might be ready to enter the adult working world, but some will find themselves getting reacquainted with former roommates: their parents.
The frail labor market has increased the number of "boomerang kids" returning to the nest post graduation as they struggle to find gainful employment to afford rent.
The Pew Research Center reports that as many as three in 10 young adults are returning home to the family nest, the highest number of young adults living in multigenerational households since the 1950s.
Parents and grads should understand that living under the same roof post-graduation is an adjustment for both parties as they merge two very distinct lifestyles and life stages, says Gregg Zegras, general manager at moving resource organization MyMove.com.
"When a child leaves for college, parents adapt to a new role of either empty-nester or 'my kid's in college now,' [while] the child shifts into independent mode, including making his own choices and facing his own challenges," he says.  "If these status changes aren't addressed up front, misunderstandings and even conflicts can result."
To keep the peace and create an environment that works for everyone, here's how experts say parents and recent grads can readjust and make reasonable expectations for living together under the same roof.
Discuss Expectations Upfront
Before making the move, discuss any expectations and set standards so everyone is on the same page from the start, suggests Scott Halliwell, certified financial planner at USAA.
"How are we going to help you? Do you need help? What is this process going to look like?" he says. "You're trying to get your newly graduated child set up to head off into the adult world—maybe it's time to let them make some adult decisions but help guide them along the way."
Even if grads are still working on setting up their post-graduate plans of a job and a place to live, discussing a projected timeline of how long they will stay at home can help keep stress to a minimum.
"Both parties [should] re-visit the original 'launch' date if it looks like it won't be doable," says Zegras. "Any major change in the timeframe should be openly discussed so everyone is clear on the factors involved and the consequences of delaying the move."
Determine Financial Responsibilities
Depending on both parties' financial situations, having grads contribute towards rent, utilities and groceries can help them better understand post-collegiate expenses and how to allocate their budget.
"A vague idea of the costs of mortgage, utilities, food, etc. doesn't translate well to someone that hasn't had to support himself," says Zegras. "It's also a good idea to decide if the grad's contribution will be based on ability to pay or a set amount that's a percentage of the monthly tally."
Talk About Progress
While grads should be making noticeable progress towards their goals of either getting employment, applying to school or moving out, parents should avoid constantly asking for updates.
"It's best not to have a formal 'checking up on you' session, but it's reasonable for parents to expect forward momentum and to ask how an interview went, for example," says Zegras.
Parents can show support for grads seeking out guidance on their job hunt by looking over their resumes or helping them practice interview skills, says Nicholas Aretakis, author of No More Ramen: The 20-Something's Real World Survival Guide.
"They should be sharing what their trials and tribulations are and they should also welcome feedback from their parents who have been there and done that themselves," he says. "Sharing is important and parents have a right to understand how they're progressing and having an idea of how long their children will be with them."
Be Supportive, but Maintain Boundaries
It's natural for parents to want to help their children at all costs, but the experts caution against putting their own financial goals at risk in order to help grads get on their feet.
"Parents need to carefully evaluate how much financial assistance they're willing and able to offer without compromising their own status," says Zegras. "It's important to remember that parents are also role-modeling to their children how to be financially responsible."
Allowing grads to return to the nest is a major sense of support in itself, but parents can also help by continuing to give them encouragement and direction if they seem lost, says Aretakis.
"Try and understand if they're being rejected, why are they being rejected and what can they do to fortify that?" he says. "It's almost like you have to be a guidance counselor for your child--you have a vested in their success, number one because you love them and number two, you want them to be able to have a path for success beyond your old path."