Mother Gives Daughter Idea for $24M Franchise Concept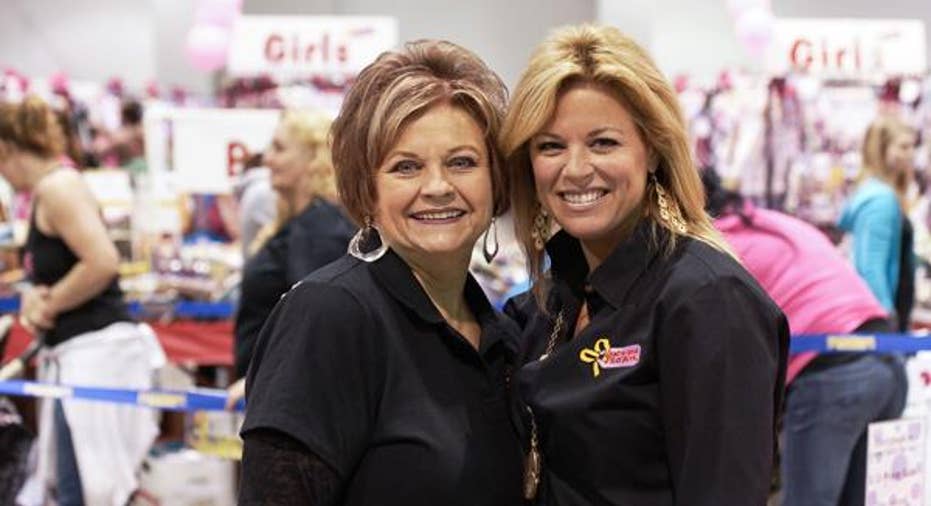 Small Business Spotlight: Just Between Friends
Who: Shannon Wilburn and Pam Willingham
What: A consignment shopping franchise focused on children's clothes and maternity wear
When: 1997
Where: Tulsa, Oklahoma
How: In 1997, when Shannon Wilburn was looking for ways to earn some money on the side so she could stay at-home with her two toddlers, her mother Pam Willingham suggested she organize a consignment sale for her friends.
"We had it in my 400-square-foot living room with 17 friends from church who participated in the event, and we sold gently used children's and maternity clothes," says Wilburn, Just Between Friends' CEO and co-founder. Today, the company has grown to include 140 franchises around the country with $24.5 million in annual gross sales – due in large part to Willingham's support.
"Here in the South, we do Christmas cards where people write letters. And [my mom] had written letters to friends about Just Between Friends," says Wilburn. There was so much interest from friends of friends who wanted to get involved, that Wilburn says she found herself in the position of unofficial franchisor.
"I didn't know it wasn't OK to let people use your [business's] name!" says Wilburn, an elementary school teacher by training who had no prior business experience. "Ten 'franchises' had started, but they weren't real franchises. They were independent businesses helping each other."
When Mom got involved: When Wilburn's father died in 1998 after struggling with multiple sclerosis for 17 years, Willingham says she found herself realizing she might have to work the rest of her life.
"I had no savings, I was 49 years old and I thought I was never going to be able to retire," says Willingham. Wilburn pushed her to open a Just Between Friends franchise in Fort Worth, Texas. At the same time, Wilburn was pursuing turning Just Between Friends into an official franchise operation.
"I said you have to buy before we start franchising, because if we start franchising, you'll need to pay for it!" says Wilburn. Willingham did in fact open the Fort Worth Just Between Friends, and in early 2004, Wilburn started bringing on franchisees at a pace of approximately 10 new franchises per year.
Best piece of advice: Willingham and Wilburn say it's necessary to set boundaries.
"I would say, are we talking as mother and daughter or as owner and franchisee?" says Willingham, who says clear communication was key.
The duo also say they feel immense pride for each other's successes.
"I am so proud of her. I am blessed I get to do this, and the fact that my mom came up with the idea, told me about it … It came full circle," says Wilburn.
"What mother wouldn't be proud of a successful daughter who was blessing so many families by helping them clothe their kids for a bargain price?" asks Willingham.
What's next for the mother-daughter duo: After running the Fort Worth franchise for ten years, Willingham sold her half of the business last year to her business partner in order to spend more time with her grandchildren. But that doesn't mean she's fully checked out.
"Oh my goodness, how I miss it! I love the whole thing and love helping people," says Willingham.
Wilburn says Willingham is still mentoring franchisees, and in fact recently went down to Arlington, Texas to help a new franchise owner with a sale. "She's a great mentor," says Wilburn.
As for Wilburn, she's still pushing ahead with Mom's big idea. A few years back, Wilburn sold her share of the Tulsa Just Between Friends location to focus solely on running the franchise organization.
"It's a full-time job managing the franchise systems. We have nine employees at the franchise business," says Wilburn.
"It's worked really well [selling the Tulsa franchise]. It's allowed me to have a focus and a vision," she adds.