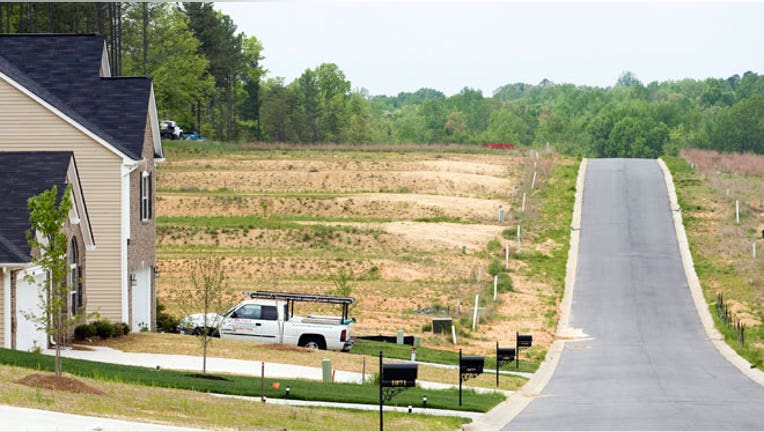 Current rock-bottom mortgage interest rates make it a buyer's market in most of the country, but there's more good news for homebuyers: their money will also go further.
Buyers can get a four-bedroom house in many parts of the U.S. and it won't cost them more than $200,000, according to a new home prices survey by real estate firm Coldwell Banker.
"In 35% of all the markets in this survey the average price for a four-bedroom home is under $200,000," says Budge Huskey, president and chief executive of Coldwell Banker. "When you look at interest rates where they are today: with a $200,000 home purchase you are looking at a monthly mortgage of around $1,000."
While the idea of buying a four bedroom, two bathroom home seems unimaginable to buyers hit hard by the economy, they might be able to afford more than they think.
According to Coldwell data, many of these affordable houses exist right outside the most expensive markets in the country like Lake Elsinore, Calif. A house in Lake Elsinore costs around $193,000; homes located just an hour inland in Newport Beach price around $1.66 million.
States with four-bedroom homes for less than $200,000 include Arkansas where the average price is $186,767, Texas at $186,144, Georgia at $169,625 and Oklahoma at $182,765.
If $200,000 is out of your budget, you can still purchase a starter home in these areas for less than $60,500. According to the pricing survey, buyers can get a starter home from $60,490 in Redford, Mich., which is the lowest price in the survey, all the way up to $97,886 in Maricopa, Ariz.
The economic crisis took its toll on Michigan, and despite the reignited auto industry providing a nice boost, home prices still remain relatively cheap in the state. Four of the top 20 most affordable markets are in Michigan, even though bidding wars are breaking out in the metro-Detroit region. Take Redford for example: Despite its close proximity to Detroit and Ann Arbor, home buyers can still get a house for relatively cheap.
Rounding out the top five most affordable cities to buy a home are College Park, Ga. (average price $62,080), Detroit (average price $65,155), Cleveland average price $70,066) and Poinciana, Fla. (average price $76,341).
Affordability may be the name of the game in many parts of the country, but there are still some markets commanding high prices. Indeed, the Coldwell survey found a listing price difference of more than $1.6 million between the most expensive and most affordable markets.
In years past, the priciest houses were located in areas like Beverley Hills or Palm Beach, but the this latest survey shows the top five expensive markets centered in Silicon Valley and the San Francisco Bay area, hotbeds for the technology sector.
"It's simply indicative of the economic impact of technology," says Huskey. "In areas such as Menlo Park and Palo Alto, these are within 10 or 15 minutes of Google (NASDAQ:GOOG), Facebook (NASDAQ:FB) and Apple (NASDAQ:AAPL)."  These pricey homes aren't being used as second homes but are primary residences and are a product of demand, and according to Huskey, there's "understated wealth" and a community feel in those markets. "They are centers of economic growth. They continued to be strong during the recession as it related to the economy and job creation."
The top five most expensive housing markets, according to Coldwell, were:
Los Altos, Calif. where homes go for $1,706,688
Newport Beach where the average home price is $1,658,000
Saratoga which came in at $1,582,434
Menlo Park where homes go for $1,506,909
Palo Alto where the average price is $1,495,364.
Even though California is home to very expensive markets it wasn't the priciest state to buy a home. The average listing price for a four bedroom, two baths home was $742,551 in Hawaii and $489,063 in Massachusetts, both of which are more expensive than the average of $431,625 in California.