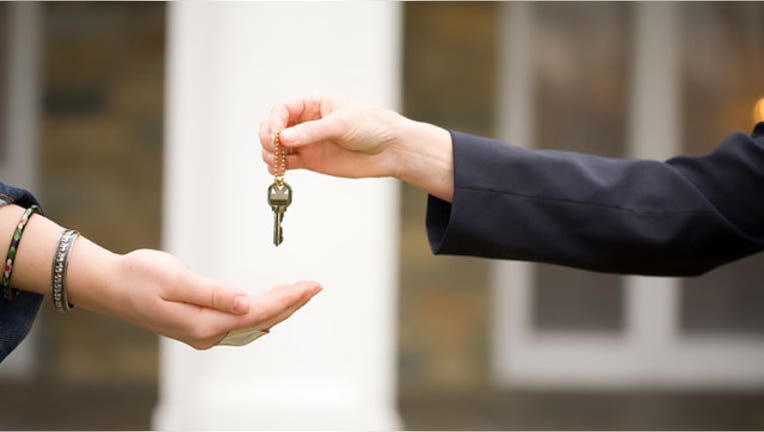 Mortgage rates climbed this week after investors became less pessimistic about the financial crisis in Europe and the employment market in the United States. But rates remain near all-time lows and are expected to stay at those levels at the expense of the economy.
The benchmark 30-year fixed-rate mortgage rose 16 basis points this week, to 4.37%, according to the Bankrate.com national survey of large lenders. A basis point is one-hundredth of 1 percentage point. The mortgages in this week's survey had an average total of 0.4 discount and origination points. One year ago, the mortgage index was 4.47%; four weeks ago, it was 4.32%. This is the highest the 30-year fixed has been since Aug. 31, when it was 4.37%.
The benchmark 15-year fixed-rate mortgage rose 13 basis points, to 3.59%. The benchmark 5/1 adjustable-rate mortgage rose 15 basis points, to 3.26%, and the jumbo 30-year fixed rose 8 basis points, to 4.9%.
If you missed the boat on locking a rate when rates reached another record low last week, there's no need to lose sleep over this week's increase. It is unlikely rates will continue to rise, and some economists say they expect them to stay low for months to come.
"I think we will be in a low-rate environment for at least a year, unless the economy takes off," says Mark Fleming, chief economist for CoreLogic, a business analytics company. The economy is not likely to take off anytime soon.
Anemic Economy Will Remain Feeble
The U.S. economy will endure another year of "anemic growth" in 2012, the Mortgage Bankers Association says in its latest economic forecast. The unemployment rate, now 9.1%, is expected to remain high and could possibly rise next year based on the current pace of the economy, according to the forecast. But as bad as these projections may sound, they could have been worse.
"We are in the little-to-no-growth category but not in a recession category," says Jay Brinkmann, the MBA's chief economist, referring to the forecast.
But if the European crisis isn't contained, it could push the U.S. into a "mild recession," he says.
Europe's Debt Woes Trigger Volatility
"Europe is going to be driving our economy more than anything else next year," Brinkmann says.
Eurozone leaders have been trying to calm investors as they work to expand a rescue package for nations in that region. Last week, investors grew more confident that the plans in discussion could prevent the region's financial system from collapsing and taking a hit on banks worldwide.
The optimism caused some investors to pull out of safer investments, such as Treasury bonds, to invest in riskier assets such as the stock market. That helped push mortgage rates up a bit this week because when the demand for bonds declines, bond yields rise. Mortgage rates often follow bond yields but not always.
Rates Are not Likely to Spike
The upward trend is not expected to last. The rate on 30-year fixed mortgages isn't expected to rise beyond 4.5% until late 2012, according to the MBA's forecast. Of course, a shift in the economy or any major event that affects the global markets could change that projection in minutes.
Hoping for More Refinancing
Despite the low rates, refinancing activity is expected to decline, Brinkmann says.
"But we've been wrong before," Brinkmann told reporters at the MBA's annual conference in Chicago this week.
A year ago, the MBA predicted $996 billion in home loans would be originated this year. The forecast has been changed to $1.2 trillion. Next year, the association predicts origination of about $900 billion in mortgage loans, a 25% decline compared to this year. At the peak, in 2003, lenders originated $4 trillion in home loans.
Potential changes to HARP, the Home Affordable Refinance Program, or any other government measure that makes it easier for underwater borrowers to refinance could increase refinance volume.
A revamped version of HARP is expected to be announced soon. The Obama administration "hopes" to have the plan ready in about two weeks, said Shaun Donovan, secretary of the U.S. Department of Housing and Urban Development, during a presentation at the MBA's convention.
He says the administration plans to use "common-sense steps" to remove barriers to refinance.
But until the program is announced, it remains to be seen if the program will really help borrowers who are stuck with high interest rates but can't refinance because they owe more than their houses are worth.