Mortgages Hit Record; Signal Refinance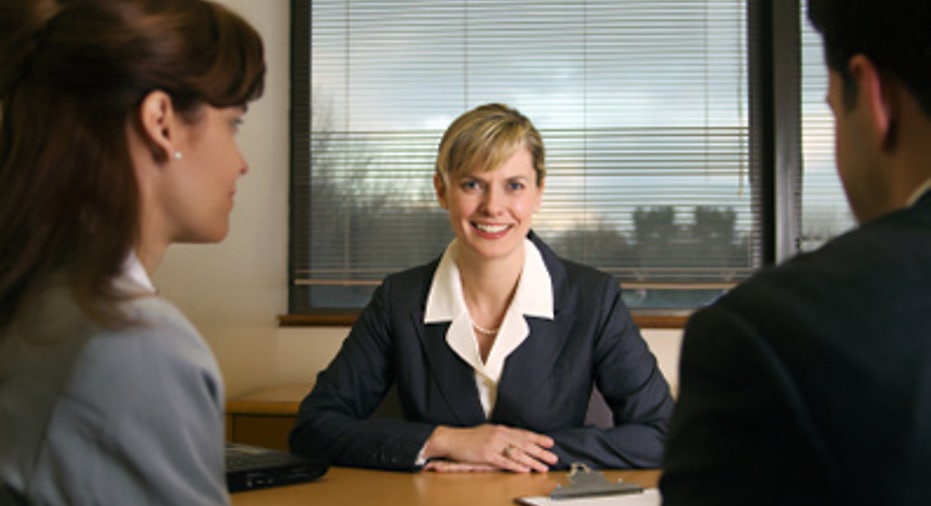 Mortgage rates slipped again this week, setting new records, amid uncertainty in the economic arena. The refinance boom seems to be fading, as lenders focus on closing loans they started in recent weeks.
The benchmark 30-year fixed-rate mortgage fell 4 basis points this week, to 4.37%, according to the Bankrate.com national survey of large lenders. A basis point is one-hundredth of 1 percentage point. The mortgages in this week's survey had an average total of 0.38 discount and origination points. One year ago, the mortgage index was 4.53%; four weeks ago, it was 4.54%.
The benchmark 15-year fixed-rate mortgage fell 15 basis points, to 3.48%. The benchmark 5/1 adjustable-rate mortgage fell 5 basis points, to 3.07%, and the 30-year, fixed-rate jumbo fell 5 basis points, to 4.89%.
This is the lowest rate on the 30-year fixed since Bankrate started the weekly mortgage survey nearly 26 years ago. The fixed rate hit a previous record last week when it reached 4.41%. This week set records for the 15-year fixed, the 5/1 ARM and the jumbo, too. All reached record lows in the history of Bankrate's weekly surveys.
Despite the attractive rates, fewer borrowers applied for mortgages last week. The volume of mortgage applications decreased 9.6% this week compared to the previous week, according to the Mortgage Bankers Association's weekly survey.
Some brokers say the decline in volume is not a sign that borrowers have lost interest in refinancing. They say brokers and lenders are simply busy processing and closing the recent wave of mortgage applications they took when rates plunged a few weeks ago. When the rates plummeted recently, mortgage professionals reached out to clients to alert them of refinancing opportunities. That and the press about the historically low rates contributed to a surge in refinance applications that lasted about two weeks.
"Now, (lenders) are concentrating on closing those loans rather than originating new loans," says Brett Sinnott, director of secondary marketing at CMG Mortgage in San Ramon, Calif.
Some Lenders Raising Rates to Slow Traffic
The recent wave of loan applications, which some characterize as a mini refi boom, also caused some lenders to actually raise their interest rates in an effort to slow the number of new applications.
"Sometimes rates go up even when the market says they should go down," says Dan Green of Watersone Mortgage in Cincinnati. "(Some) lenders are raising rates because they are overwhelmed," Green says.
For those borrowers who have not been able to find lenders offering the rates they expected to find, here is a lesson: "When rates fall, you need to be ready," Green says. "The early bird gets the worm."
But if you weren't an early bird, don't panic.
Even if rates rise slightly in coming weeks, they will remain near historically low levels, mortgage specialists say.
There's More to Refinancing Than Rates
When refinancing, rates shouldn't be your only concern, says John Stearns, a mortgage banker at American Fidelity Mortgage Services in Mequon, Wis.
"Borrowers need to think about what's going to happen with property values," he says. "What's their house going to be worth in six months? If prices fall they may not be able to refinance. What's your debt-to-income ratio going to be, or your employment situation? You need to consider a lot of different factors. If you can refinance now and it makes sense, don't wait."
Declining property values, which often result in lower-than-expected appraisals, have been one of the biggest impediments to borrowers who want to refinance but don't have enough equity on their houses.
Low appraisals have also been a huge obstacle to sellers and kill many purchase contracts when the buyer tries to get a loan.
The number of pending contracts to purchase previously owned homes dropped 1.3% in July, according to the National Association of Realtors' latest report. The number of closed sales fell 3.5% in July, according to NAR. Realtors say contract cancellations that resulted from poor appraisals contributed to the decline in sales.
Low Rates Not Helping Housing Market
And low mortgage rates can't solve that problem. Regardless of how low mortgage rates get, the housing market won't rebound until the economy adds more jobs and the foreclosure crisis gets under control, says Stearns.
"We've had pretty low mortgage rates for a while now, and how has that helped?" he says. "I don't think low mortgage rates are going to be the solution to the problem."