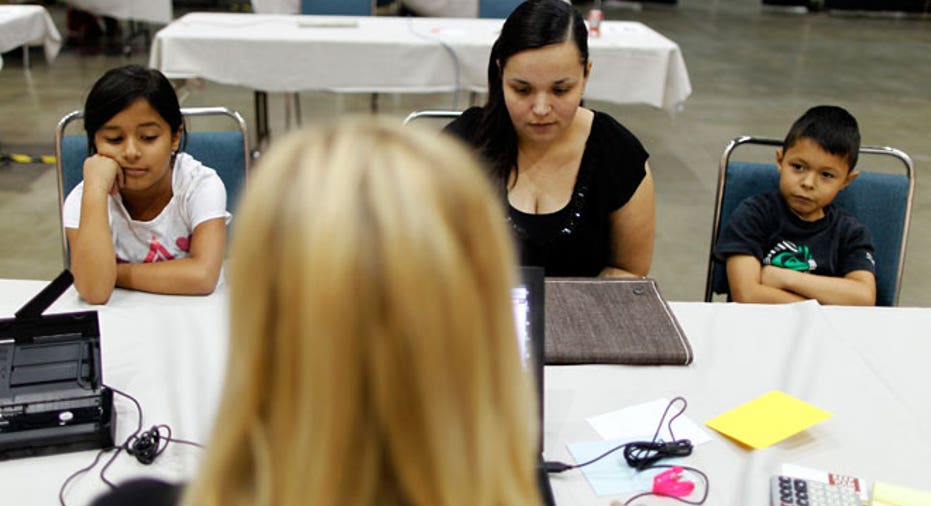 Whether you're young, middle age or retired, getting a mortgage isn't always easy. Homebuyers at different stages of life typically deal with their own unique issues when it comes to loan approval.
"Different age groups face different sets of challenges," says Edward Achtner, regional sales executive for Bank of America in Oakland, Calif. "You have to take the time to determine the right mortgage product for your situation."
Here's some advice from several loan experts on how homebuyers of different ages can overcome common stumbling blocks.
Younger homebuyers
Many first-time homebuyers often have high amounts of student-loan debt, and small cash reserves for a down payment which prevents them from being able to take out a mortgage, says Gloria Shulman, founder of Centek Capital Group in Beverly Hills, Calif.
"I have had to come up with very creative financing solutions for surgeons who are saving lives but getting denied (home) loans because of their student loans," she says.
Shulman says mortgage providers have some pretty straightforward rules regarding your "debt-to-income" ratio, so make sure your income allows you to comfortably repay the student loan alongside your mortgage, she says.
If you're looking to purchase a "starter house" that you'll only reside in for a few years, consider looking into a 5 or 7-year adjustable-rate mortgage (ARM). "They'll likely have lower mortgage rates (which could mean easier approval)," Shulman says.
Lastly, many states offer homebuyer assistance programs for first-time buyers that assist with either a lower down payment, interest rate or sometimes both. Be sure to research which programs are available from the Housing Finance Agency in your state.
Middle aged
Homebuyers in their 30s, 40s and 50s are part of the "sandwich generation" where they may need to upgrade to a larger home to accommodate a growing family, whether that means more children, aging parents or both, says Achtner. "These borrowers are often in their prime earning years, but they also have more complexity with their family," he says.
Growing families put a strain on available cash and make it harder to be approved for a loan, Achtner says.
The solution is for homebuyers to make sure they minimize credit card and other loan balances. "The client needs to be as debt-free as possible. Pay those debts down before you get to the step of buying a home," Shulman says. This can make the home loan approval process much easier, she says.
Retired
Retired borrowers likely have significant assets and home equity, says Shulman, but, they may also be on a fixed income. If that income is significantly lower than what they've earned in the past, it can threaten approval, she says.
"Oppressive income requirements by banks can be challenging for older buyers living on a fixed income. Banks have historically been conservative about approving loans, and the beating they took in the housing market meltdown has made them more conservative," Shulman says.
Shulman says many of her retired clients are purchasing vacation homes, but getting a mortgage on that second home can be difficult if the buyer isn't working full time, she says.
The solution is for older buyers to modify their goals to be in line with their finances. It may mean downsizing to a more affordable property in a more desirable area, instead of holding mortgages on two homes, Shulman says. She suggests talking to a mortgage professional to understand all your options.
Age isn't everything
Though buyers of different ages typically face different issues with loan approvals, lenders shouldn't explicitly look to your birth date as a means of approving or denying credit, says Jonathan Dever, a real estate attorney at Dever Law Firm in West Chester, Ohio.
"A lot of the debt and income ratios are pretty well established, and not dependent on your age," he says.
Achtner agrees. "Age does not play a factor in our underwriting decision. It is based on the individual's demonstrated ability to repay," he says.
Different buyers face different challenges when it comes to obtaining a mortgage. By taking some time to review your current situation and plug some numbers into a mortgage payment calculator, you can overcome common obstacles in your age group, and be well on your way to finding the best home for you and your family.
The original article can be found at HSH.com:Mortgages for all ages