Mortgages Fall Despite Good News on Jobs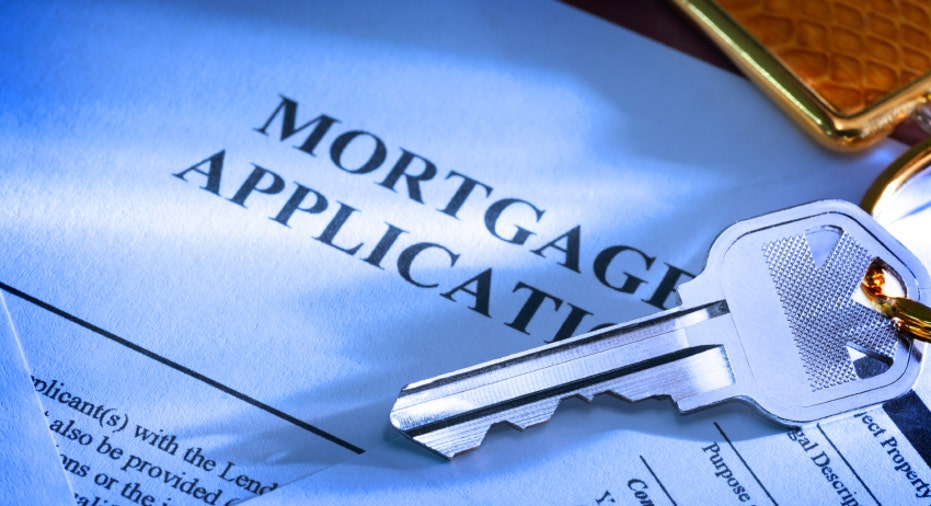 Mortgage rates inched down slightly this week despite improvements in the jobs market and a large auction of U.S. bonds.
The benchmark 30-year fixed-rate mortgage fell 6 basis points this week, to 4.82 percent, according to the Bankrate.com national survey of large lenders. A basis point is one-hundredth of 1%age point. The mortgages in this week's survey had an average total of 0.4 discount and origination points. One year ago, the mortgage index was 5.07%; four weeks ago, it was 5.07%. At 4.82%, the 30-year fixed is at its lowest level this year. The last time it was lower was in the Dec. 1 survey, when it was 4.71%.
The benchmark 15-year fixed-rate mortgage fell 5 basis points, to 4%. The benchmark 5/1 adjustable-rate mortgage fell 4 basis points, to 3.52%.
Some mortgage experts were predicting a spike in rates after a stronger-than-expected jobs market report was released Friday. But a closer look at the numbers showed the economy is still fragile, says Michael Becker of Happy Mortgage in Lutherville, Md.
"Right after the report came out (bond) yields spiked," pushing interest rates up a little, Becker says. "But as people digested the info they dropped again."
Jobs Market
The U.S. Department of Labor said the economy added 244,000 nonfarm jobs in April. That's a much better result than analysts were forecasting when they predicted an average gain of about 185,000 jobs. It also marks the third month in a row for jobs gain, but the encouraging numbers don't tell the whole story.
Household survey data released by the U.S. Department of Labor showed there were 190,000 fewer people employed in April compared to March, pushing the unemployment rate from 8.8% to 9%.
There are about 13.7 million unemployed people in the U.S., according to the report.
"The unemployment situation is still pretty bad," Becker says. "If we continue to see reports showing economic weakness, I think we might see even lower interest rates in the long term."
If Becker's theory is correct, borrowers are in luck because there is not a lack of reports and news pointing to a still-struggling economy.
Home Prices Declining
This week, a report released by National Association of Realtors shows that despite an increase in the volume of homes being sold, prices have continued to decline.
The median price of U.S. homes sold in the first three months of this year was 4.6% lower than in the first quarter of last year, according to the NAR report.
Trade Deficit
And on Wednesday, the Department of Commerce said the U.S. deficit in international trade of goods and services rose 6%, to $48.2 billion, the highest level since June 2010. Thanks to the weaker dollar that has made U.S. products cheaper abroad, U.S. companies have been seeing strong sales of autos, chemicals and agricultural products overseas. But those gains have been offset by the higher costs of importing oil.
Normally, bad economic news helps keep rates low, Becker says.
Don't Get Too Comfortable
But some experts say that after more than a month of rates dropping, a small spike in rates should be expected soon.
"Rates have been lower than we anticipated," says Rob Nunziata, president of FBC Mortgage in Orlando, Fla. "I think rates will pick up in the next couple of days. And we'll probably see slight increases over the next three to five months."
It's been difficult to predict rates in the current volatile market, says Becker.
Common theories and trends used to point where interest rates are headed haven't applied lately.
For instance, whenever an auction of U.S. bonds is scheduled, rates tend to rise because the larger supply of notes pushes bond prices down and causes yields to rise. Higher yields normally translate into higher mortgage interest rates.
The Department of the Treasury sold $24 billion worth of 10-year notes Wednesday and is scheduled to sell another $16 billion of 30-year bonds Thursday.
Yet that hasn't really caused a major spike in rates, says Becker.
But Nunziata says it might be prudent to lock in a low rate.
"The market is just waiting for something to happen for rates to rise," he says.