Mortgages Fall and 15-Year Refinances Boom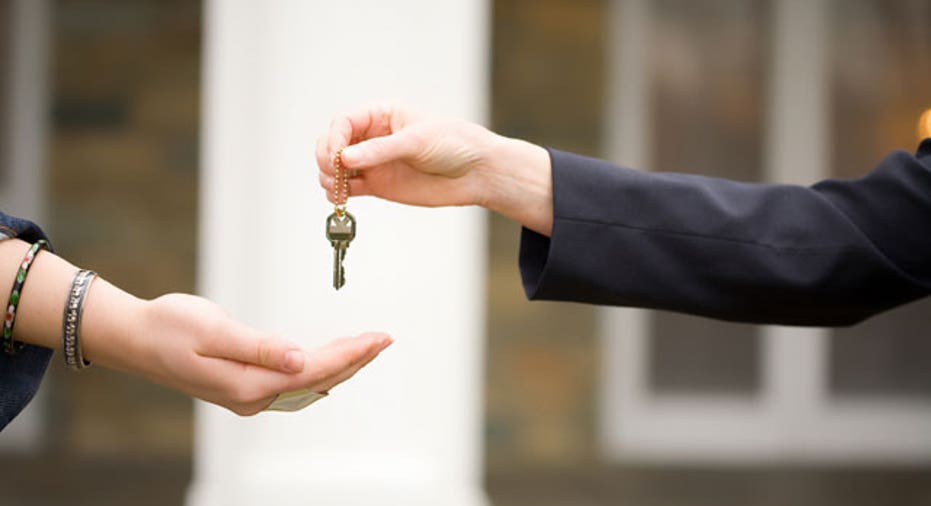 Mortgage rates dropped again, for the sixth week in a row. Many borrowers are taking advantage of the low rates to pay off their mortgages in half the time.
The benchmark 30-year fixed-rate mortgage fell 2 basis points this week, to a record low of 4.35%, according to the Bankrate.com national survey of large lenders. A basis point is one-hundredth of 1 percentage point. The mortgages in this week's survey had an average total of 0.38 discount and origination points. One year ago, the mortgage index was 4.58%; four weeks ago, it was 4.46%.
The benchmark 15-year fixed-rate mortgage remained the same, after dropping 15 basis points last week. It stayed at 3.48%, the lowest ever in Bankrate's weekly survey. The benchmark 5/1 adjustable-rate mortgage went up 3 basis points, to 3.1%, and the 30-year fixed-rate jumbo mortgage dropped 3 basis points to 4.86%.
This is the lowest the 30-year fixed rate has been in the 26 years Bankrate has tracked this rate. The 30-year fixed has reached a record low three weeks in a row.
Bankrate has surveyed the 30-year fixed rate jumbo since December 1998, and this week's rate marked the record low.
15-Year Mortgages Appealing
David Kuiper, a mortgage planner at First Place Bank in Holland, Mich., says about half of his clients have been opting for a 15-year-fixed loans when refinancing their 30-year fixed mortgages.
"I've been doing more 15-year (mortgages) than I have ever done in my life," Kuiper says.
Matthew Piehl, a banker with Baytree National Bank & Trust in Lake Forest, Ill., says more than half of his refinance clients have chosen the 15-year loan versus the traditional 30-year product.
"A 15-year might mean their payments are going up $60 per month," Piehl says. "But it also means they will pay off their mortgage in 15, not 30, years."
When borrowers consider refinancing, they usually want to lower their payments with a lower interest rate, Kuiper says. But the rate on the shorter-term loan has been so attractive that it has allowed borrowers to keep their payments close to what they paid on their old 30-year mortgage and cut the length of the loan in half, saving thousands of dollars in interest.
Low rates Frustrating to Some Borrowers
While the low rates mean better deals for some, they also mean more frustration to borrowers who are unable to refinance and are stuck with a high interest rate.
"What's killing many of these (refinance) deals is the appraisal," says Ed Conarchy, a banker at Cherry Creek Mortgage in Vernon Hills, Ill. "There's got to be a way to help these people."
There is speculation the Obama administration will soon unveil a government-backed refinance plan. As many in the mortgage industry do, Conarchy hopes the rumors materialize. Some analysts say the program would likely be a revamped version of the Home Affordable Refinance Program and would allow borrowers to refi even if they owe more than their house is worth.
Some borrowers are so overwhelmed to hear about the challenges of securing a loan approval that they don't even try to get one, Conarchy says.
"Consumers are becoming very skeptical these days," he says. "They are skeptical of appraisals and other approval requirements. They are asking themselves, 'Is it even worth the time?'"
The answer is that it never hurts to try, he says.
And if you are planning on trying, don't wait too long.
How Low Can Rates Go?
Many mortgage experts agree the weak economy and the lack of jobs will help keep rates low at least until the end of the year, but mortgage rates and lenders don't always follow logic. All it takes is one unexpected event or announcement for rates to spike, they say.
"I don't think rates can get much better than where they are now," Conarchy says.
While others may disagree, the big question is how much lower can rates get, or how much lower are lenders willing to go.
Some observers expected mortgage rates to take a big hit as investors grew anxious after Friday's dismal jobs report, which showed that the economy added no jobs in August, says Michael Becker of WCS Funding Group in Lutherville, Md. But such a rate drop didn't happen.
"The 10-year Treasury was a little lower on Friday, but rates were the same," Becker says. "I don't think rates can go much lower."