Mortgage Rates Slip on Europe, Fall on the Fed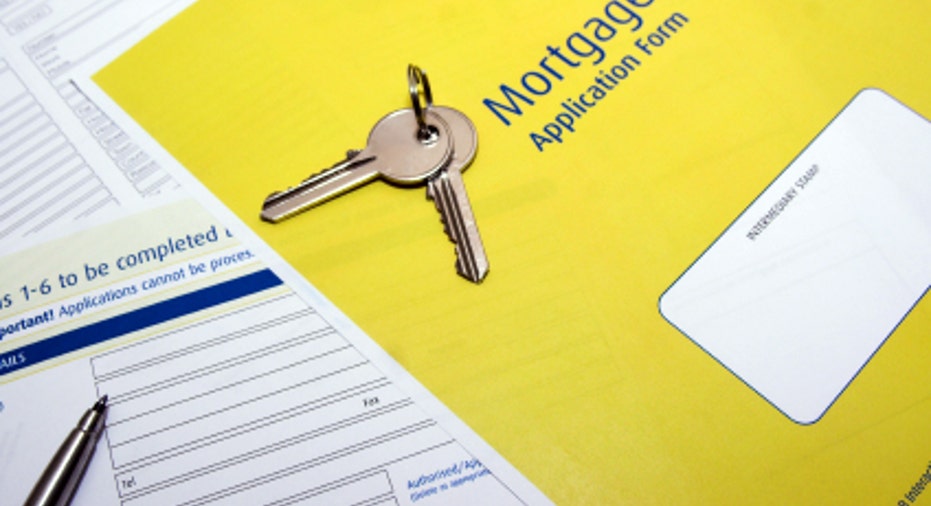 The rate on the most popular mortgage sank to a new low again this week, but don't put it down in the record books just yet. Moves this week by the Federal Reserve, along with persistent financial upheaval overseas, almost guarantee that mortgage rates will celebrate fresh lows again soon.
The benchmark 30-year fixed-rate mortgage slipped to 3.89% from 3.91% last week, according to the Bankrate.com national survey of large lenders. The mortgages in this week's survey had an average total of 0.43 discount and origination points. One year ago, the mortgage index stood at 4.71%; four weeks ago, it came in at 3.97%.
This week's rate marks the lowest point the 30-year fixed has reached in the 26 years Bankrate has conducted the survey. The fixed rate hasn't increased in the weekly survey since early April, when it was 4.25%. The rate has posted a new low every week since, except one week in May when it didn't move.
The benchmark 15-year fixed-rate mortgage fell to 3.16% from 3.17% the previous week, while the benchmark 5/1 adjustable-rate mortgage fell to 2.97% from 3%.
The Fed Flexes
The central bank's policymaking committee Wednesday put some muscle behind low interest rates as it faced slack job growth, cautious consumers and a stubbornly bleak housing market.
The Federal Open Market Committee kept a benchmark rate near zero, to no one's surprise, and stood firm on its pledge to maintain that level through late 2014. It also extended Operation Twist -- where the Fed exchanges short-term securities for longer-term ones to support low rates -- to further buttress the tepid economy.
The FOMC held back its mightiest blow -- quantitative easing -- a move where it prints money and buys government bonds to push rates lower. But it left open the possibility if the economy starts to crumble.
"Going forward," says Cristian deRitis, a director at Moody's Analytics, "the Federal Reserve remains committed to doing everything it can to keep monetary policy accommodative."
As in, really low interest rates.
It's Not Just the Fed
While the Fed makes headlines this week, don't count out the chaos in Europe and its role in depressing Treasury yields, and thus mortgage rates. Last week, Greece dominated the news when questions emerged whether it would ditch the eurozone, an event that could have wreaked who knows what kind of havoc on investor confidence. Results from the Greek elections this weekend allayed those fears, for now.
"There's no question every time a country like Spain or Greece goes on intensive-care watch, money pours into Treasuries," says Guy Cecala, publisher of Inside Mortgage Finance. "There are just not many options for global investors."
That's sadly telling, given the U.S. economy isn't what anyone would call robust. But Treasuries remain the so-called safe haven investment in which to park money, and the demand for these bonds has helped to drive down their yields by a half-percent or more, says Brian Rehling, a chief fixed-income strategist at Wells Fargo.
"If things (in Europe) get worse, mortgage rates certainly can get lower," he says. "A lot is dependent on what Europe decides to do in the weeks and months ahead."
Get it, if You Can
Here's the upside: Mortgage brokers report homeowners and buyers alike are walking in their offices, looking to lock in a rate of a lifetime. Even borrowers who took out a mortgage last year at this time might find that the math works in their favor if they refinance now.
"I am refinancing my home at a ridiculously low rate," says Josh Stiles, partner at IDEAglobal.com, an investment research firm. "Unfortunately, that is tough for many who don't have the FICO score or sufficient equity left."
The average amount of equity for a Fannie Mae- or Freddie Mac-backed mortgage (purchase and refinance) is 30%, according to Inside Mortgage Finance. The average FICO credit score is around 760. Even for the more lenient mortgages guaranteed by the Federal Housing Administration, the average is greater than 700. The cruel twist of fate: The national average, according to FICO, is 692.
"So low mortgage rates are not helping those who really need it most," says Stiles. "That stinks."