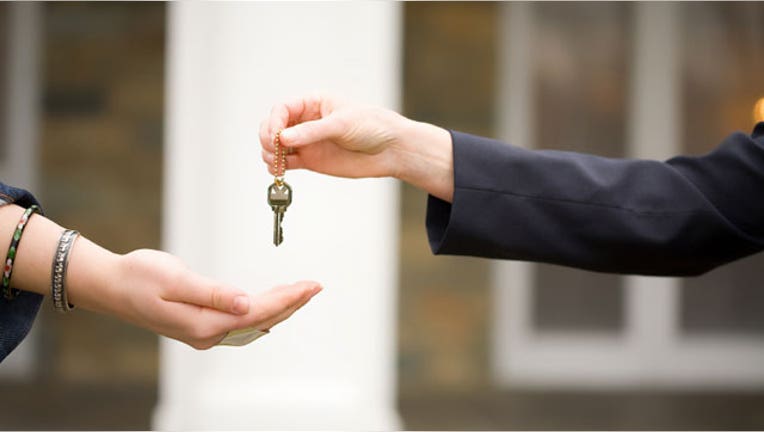 Mortgage rates barely changed this week. But since the recent spike many borrowers have begun to wonder if they've missed the chance to grab the lowest mortgage rates in decades.
The benchmark 30-year fixed-rate mortgage rose 1 basis point this week, to 4.38%, according to the Bankrate.com national survey of large lenders. A basis point is one-hundredth of 1 percentage point. The mortgages in this week's survey had an average total of 0.38 discount and origination points. One year ago, the mortgage index was 4.42%; four weeks ago, it was 4.29%.
The benchmark 15-year fixed-rate mortgage fell 1 basis point, to 3.58%. The benchmark 5/1 adjustable-rate mortgage fell 2 basis points, to 3.24%.
The slight increase on the 30-year fixed-rate mortgage comes after rates spiked last week and bounced back from record lows. Fearing rates will keep climbing, many borrowers have rushed to lock a mortgage rate in recent days, says Dan Green, a loan officer at Waterstone Mortgage in Cincinnati. That's because these borrowers perceive the recent increases as a sign rates have reached bottom and are now headed back up.
Overall, it appears last week's spike also scared away many borrowers. Mortgage applications decreased 14.9% last week compared to the previous week, according to the Mortgage Bankers Association weekly survey.
"Not here," Green says. "Our traffic has been up" since rates climbed last week.
Lenders Remain Busy With Refinances and New Loans
John Walsh, president of Total Mortgage Services in Milford, Conn., says the volume of calls from borrowers interested in refinancing or getting a new mortgage slowed a bit last week, but his company remains busy with inquiries from potential borrowers.
"We are still very, very busy," he says. "People realize we are coming to the end of the line here."
Michael Becker, a mortgage banker at WCS Funding Group in Baltimore, says he is handling a large volume of applications.
"We are not as busy as we were three weeks ago, but it's still pretty good," he says.
Some Borrowers Wait for Lower Rates
But there are many borrowers sitting on the sidelines waiting for mortgage rates to fall back to, and even below, their record levels, Becker says.
"I talked to a guy yesterday who still thinks he should wait a little longer because he believes the 15-year will reach 3%," he says. "Who knows? Maybe it will. It's so hard to time the market."
Europe's Debt Woes
Many mortgage experts say they don't expect rates to climb much higher this year, but their direction will depend much on how the European debt crisis unravels in coming weeks.
"As long as there is uncertainty around a solution (to Europe's debt woes), rates will continue to move back and forth," Green says.
If investors get the sense European leaders won't come to an agreement soon, the investors will seek safety in U.S. bonds and that will help keep U.S. mortgage rates low. But if Europe signals it can avoid defaulting on its debt, which some analysts find unlikely, mortgage rates would probably rise a bit as investors choose riskier investments.
Could HARP Push Rates Up?
Another factor could eventually push mortgage rates up: an announcement by the government of a revamped refinance program that suddenly triggers a refinance boom, Green says.
"No one is really talking about this as a factor in mortgage rates," he says. But if the Obama administration does announce a revamped Home Affordable Refinance Program, or HARP, and lifts many of the barriers that have prevented underwater borrowers from refinancing, there could be a sudden surge in refinance activity. That could cause rates to rise quickly, Green says, as lenders try to control the flow of applications.
It wouldn't be an increase driven by mortgage bond markets, he says. "But mortgage rates would rise artificially."
That's why when in doubt, Becker says, borrowers should grab the opportunity they have today, rather than taking a chance and missing the opportunity.
"I always tell my clients, 'don't try to get an extra eighth of a (percentage point) by waiting because you may miss the boat.'"