Mortgage Rates Reach Record Low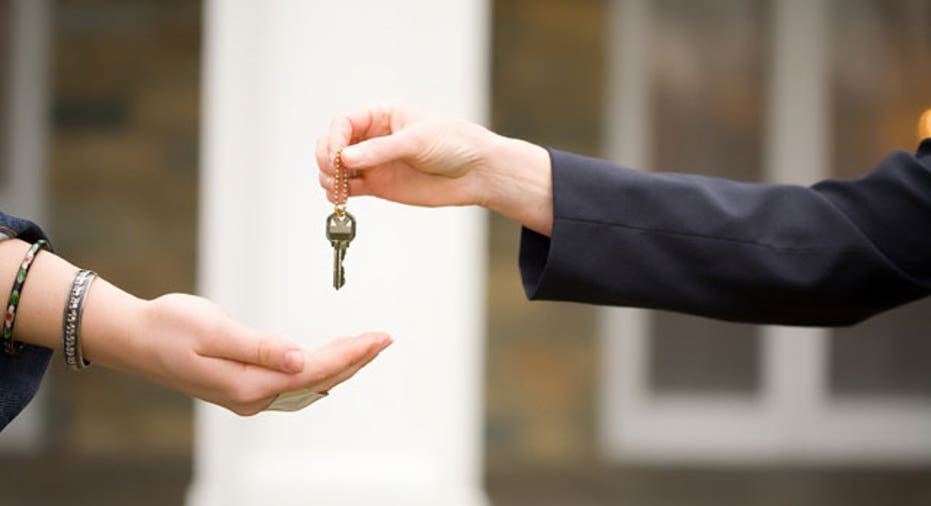 The rate on the most common type of mortgage set a record low this week, as investors were hit with more bad economic news. The super-low rates may become the new norm, mortgage analysts say.
The benchmark 30-year fixed-rate mortgage fell 4 basis points this week, to 4.41%, according to the Bankrate.com national survey of large lenders. A basis point is one-hundredth of 1 percentage point. The mortgages in this week's survey had an average total of 0.43 discount and origination points. One year ago, the mortgage index was 4.59%; four weeks ago, it was 4.74%.
The benchmark 15-year fixed-rate mortgage rose 5 basis points, to 3.63%. The benchmark 5/1 adjustable-rate mortgage fell 3 basis points, to 3.12%.
This is the lowest rate on the 30-year fixed since Bankrate started the weekly mortgage survey in September 1985. The previous record was 4.42%. Rates reached that level on Oct. 20, 2010, and Nov. 3, 2010.
The 5/1 ARM rate hit a record low this week. The adjustable rate hit a previous record last week when it reached 3.15%.
Many mortgage experts expected rates to rise this week. Rates tumbled in recent weeks and normally, after sudden, sharp drops, mortgage rates are followed by a rebound, says Scott Eggen, senior vice president of capital markets for PrimeLending in Dallas.
But there is still "a tremendous amount of volatility, driven by fear & driven by the unknown in Europe and the unknown as to whether we are going to into another recession," Eggen says.
Plenty of Bad News to Keep Rates Low
A series of economic indicators still points to a weak economy, and that is fueling investors' fear that the United States could go into recession again. That fear may help keep rates low until the end of the year, Eggen says.
"This isn't anything like 2008 or 2009 because banks are better capitalized now, but we still have a lot of problems," he says. "Housing is still weak. Foreclosures were a little better but (mortgage) delinquencies are on the rise." Until unemployment improves, rates are likely to remain low, Eggen says.
One Good Economic Sign Wasn't Enough
Investors were offered a glimpse of hope Wednesday when the Commerce Department released a report on durable goods orders. The report showed orders for long-lasting goods such as cars and refrigerators rose by 4%, after falling 1.9% in June. That's the biggest increase since March and a better result than economists had expected.
After the report was released, the stock market, which bled for days, improved slightly, a sign that investors seemed to be regaining confidence in riskier investments. When investors choose the stock market over Treasury bonds and demand for Treasuries decreased, bond yields increased. Mortgage rates often follow bond yields' direction.
But despite the short-lived optimism among investors, the report had no impact on rates.
"There hasn't been any real core positive economic news in a while," says David Kuiper, a mortgage planner at First Place Bank in Holland, Mich.
New-home sales declined to the lowest level in five months, according to figures released this week by the Commerce Department. Purchases fell 0.7% to an annualized pace of 298,000 after a rate of 300,000 in June.
The percentage of U.S. home loans past due increased in the second quarter, according to a Mortgage Bankers Association survey released this week. The jump was mostly attributed to an increase in the number of loans overdue by 30 days, which likely resulted from homeowners losing their jobs or staying unemployed for long periods, analysts say.
Buyers on the Sidelines
Uncertainty, volatile markets and bad economic news have helped keep rates low, but it also has contributed to keeping nervous homebuyers on the sidelines.
The volume of mortgage applications from home purchasers fell last week to a 15-year low, according to the MBA. The number of refinance applications also slowed as it decreased 1.7% compared to last week. Two weeks ago, refinances had surged more than 20%.
Lock Now
Some mortgage analysts say they don't expect a spike in mortgage rates anytime soon, but as Eggen puts it, all it takes is "one major headline," for rates to shift direction.
Where rates are headed next week will depend much on what Federal Reserve Chairman Ben Bernanke says (or doesn't say) Friday when he makes a speech in Jackson Hole, Wyo.
Many investors will keep their eyes on Bernanke on Friday. But Bob Moulton, president of Americana Mortgage Group in Manhasset, N.Y., says he does not expect any major announcements during the speech and little impact on mortgage rates.
That said, don't take a chance, Moulton adds.
"I wouldn't try to time the market," he says. "Rates are great and the sooner they refinance the sooner they save."