Mortgage Rates Inch Closer to Record Low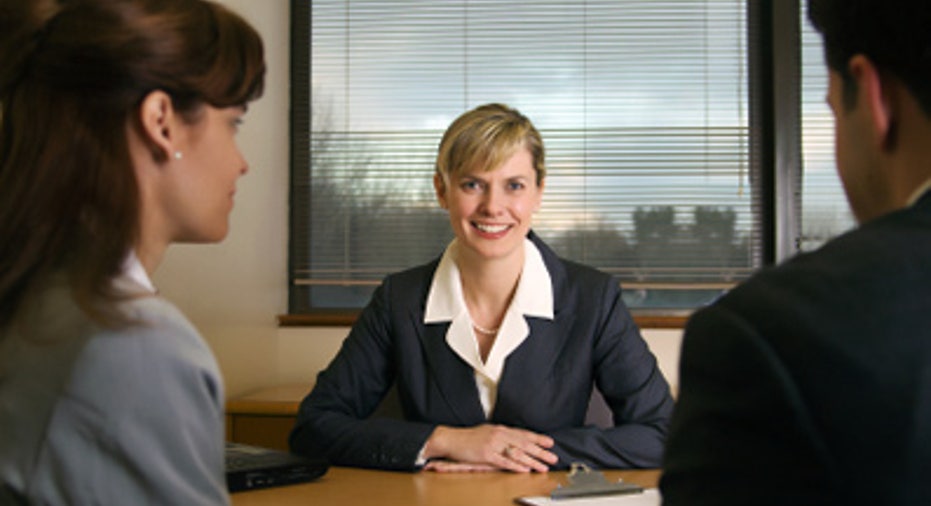 As mortgage rates remain near historically low levels, loan officers dispense this advice: Lock a rate decisively, cooperate with lenders and appraisers, and don't expect the lending process to proceed as smoothly and quickly as it did a few years ago.
Some banks have been deluged with applications from homeowners who want to refinance their mortgages. There are so many would-be refinancers that some lenders have delayed dropping mortgage rates, just to keep from being overwhelmed by applications.
The benchmark 30-year fixed-rate mortgage fell 1 basis point this week, to 4.45%, according to the Bankrate.com national survey of large lenders. A basis point is one-hundredth of 1 percentage point. The mortgages in this week's survey had an average total of 0.45 discount and origination points. One year ago, the mortgage index was 4.63%; four weeks ago, it was 4.68%.
The benchmark 15-year fixed-rate mortgage fell 3 basis points, to 3.58%. The benchmark 5/1 adjustable-rate mortgage fell 9 basis points, to 3.15%.
The 30-year fixed is only 3 basis points above the record low of 4.42% in the 26-year history of Bankrate's weekly rate survey. The fixed rate hit that record Oct. 20, 2010, and again Nov. 3, 2010. This is the rate's lowest level in more than nine months. For the third week in a row, the 15-year fixed reached a record low.
Last week mortgage rates dropped to near-record lows. A surge of refinance applications followed and continued into this week. Some lenders saw increases in refinance applications of more than 50%, according to the Mortgage Bankers Association, or MBA. Other lenders kept rates artificially elevated to avoid being swamped, the MBA says.
"The ferocity of the refinance volume has been somewhat surprising," says Bob Walters, chief economist for Quicken Loans. "We all tend to think that everyone has reset to lower rates -- but we quickly realize, when rates drop, that huge segments of the mortgage universe are still refinanceable."
Borrowers aren't chasing only low mortgage rates. "Many are shortening loan terms, opting for 20- or 15-year loan terms to pay off their mortgage sooner," says Michael Becker, mortgage banker for WCS Funding Group in Lutherville, Md.
Whether you're refinancing to grab a lower rate or to get a shorter loan (at a lower rate, of course), here are suggestions from loan officers.
Lock It if You Like It
"I am a strong believer that it is nearly impossible to time any market," says Joe Nunziata, CEO of FBC Mortgage, in Orlando, Fla. "If a customer is happy with their rate and payments, I strongly recommend that they lock in at today's low rates."
Jim Sahnger, mortgage consultant with FBC Mortgage, in Jupiter, Fla., says he gets frustrated when homeowners watch mortgage rates fall to record levels, then wait to see if they'll go even lower: "Get over yourself, take advantage of it and get it done. What do you want, zero?"
Don't Expect the Process to Go as Smoothly as Last Time
"If this is the first time in a few years since you last refinanced, then you need to realize that more documentation is needed," Becker says. "I am getting full tax returns for all borrowers in addition to W-2s."
If it has been years since the last time you got a mortgage, you might be taken aback by the lender's insistence that you sign an IRS Form 4506-T, a request for a transcript of your tax return. Lenders do this so they are able to see the past returns that you filed instead of trusting you to submit an accurate copy of your own returns.
Expect the loan-approval process to take longer than it used to. " There are two bottlenecks in the mortgage process today -- underwriters and appraisers -- and both are in short supply," says Dan Green, loan officer for Waterstone Mortgage in Cincinnati. "Get your signed paperwork to the bank within a day of receipt and let that appraiser in your home ASAP. Mortgage approvals are first-in, first-out and you want to be at the head of the pack. Too many delays and you'll lose your rate lock."