Mortgage Rates Drop to Another Record Low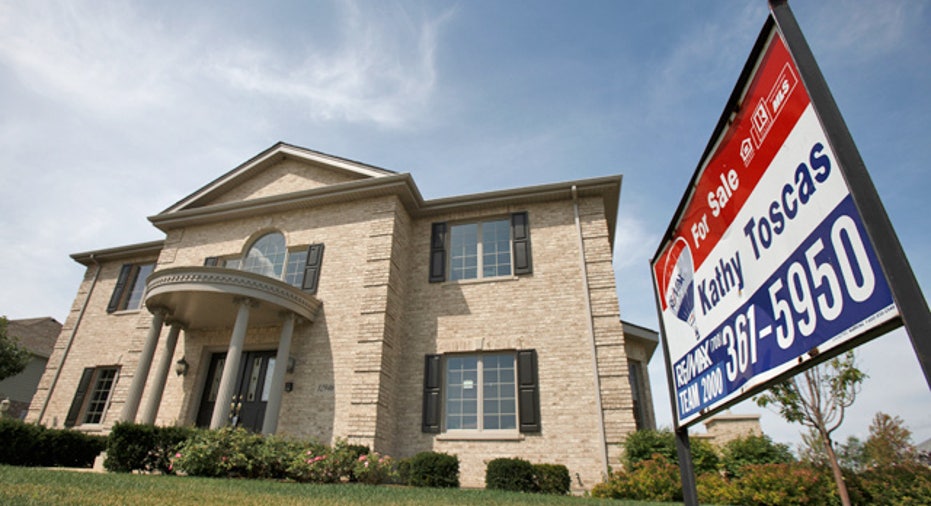 Mortgage rates inched down again this week as investors worried about the shaky U.S. economy and kept their eyes on Europe's lingering debt problems.
The benchmark 30-year fixed-rate mortgage fell 3 basis points this week to 4.32%, according to the Bankrate.com national survey of large lenders. A basis point is one-hundredth of 1 percentage point. This is the lowest level the fixed rate has reached since Bankrate started the weekly mortgage survey nearly 26 years ago. The mortgages in this week's survey had an average total of 0.42 discount and origination points. One year ago, the mortgage index was 4.54%; four weeks ago, it was 4.45%.
The benchmark 15-year fixed-rate mortgage fell 4 basis points, to 3.44%. The benchmark 5/1 adjustable-rate mortgage fell 3 basis points, to 3.07%.
Some industry experts had expected mortgage rates to rise after President Barack Obama presented his $447 billion jobs plan during a speech last week. They say once the job market starts to rebound, signaling a stronger economy, mortgage rates will spike. But Obama's proposed bill did little to convince investors the U.S. labor market will improve anytime soon.
"We are not going to create jobs overnight," says John Walsh, president of Total Mortgage Services in Milford, Conn. "So I don't expect any big changes in rates. I think they are going to remain pretty steady."
There is no lack of bad economy signs to keep rates down, he says.
Retail sales, which paint a picture of consumer confidence and spending, were flat in August, the U.S. Department of Commerce said Wednesday. Economists had expected an increase of about 0.3% in August. The department also revised down the previous month's gain of 0.5% to 0.3%.
On Tuesday, the U.S. Census Bureau released another disappointing report, which shows the median income of the typical American family dropped for the third year in a row and is now comparable to where it was in 1996, when adjusted for inflation. Falling 2.3% from 2009 to 2010, that brings the median household income to $49,445.
All Eyes on The Fed
In an attempt to help stop the economic bleeding, the Fed might announce some form of market stimulus when the Federal Open Market Committee meets next week. One of the many tools analysts say could be unveiled has been dubbed Operation Twist, a plan in which the Fed would purchase longer-term Treasury securities to drive down long-term interest rates.
The move would help keep mortgage rates down, mortgage analysts say. But it's possible the Fed will wait a little longer before making any moves, says Brett Sinnott, director of secondary marketing at CMG mortgage in San Ramon, Calif.
"I think the Fed is going to sit and watch Obama do his thing before they decide on what they should do," Sinnott says, referring to Obama's jobs bill.
Europe Debt Woes
Also contributing to the low rates is the ongoing debt crisis in Europe. Greece continues to struggle with mounting debt. On Wednesday, leaders of Greece, France and Germany were discussing ways to avoid a Greek default. There's growing concern that if the country defaults on its debt, the crisis will spread and the worldwide financial market would take a hit.
For now, anxious investors have sought safety in U.S. Treasury bonds, which has also helped mortgage rates. But if Greece works out its problems and investors regain confidence in the European markets, the trend could shift.
Lock Now
"Any move toward stability for Greece should be bad for mortgage rates," says Dan Green, a loan officer at Waterstone Mortgage in Cincinnati.
And when rates rebound from such low levels, the increase is normally sudden, Green says.
"If mortgage rates rise, they will rise pretty quickly," he says. "This is not the time to be greedy. Lock in your mortgage rates and move on. We are in unchartered territory as far as mortgage rates go."