Mortgage Rates Dip, Send Refi Signal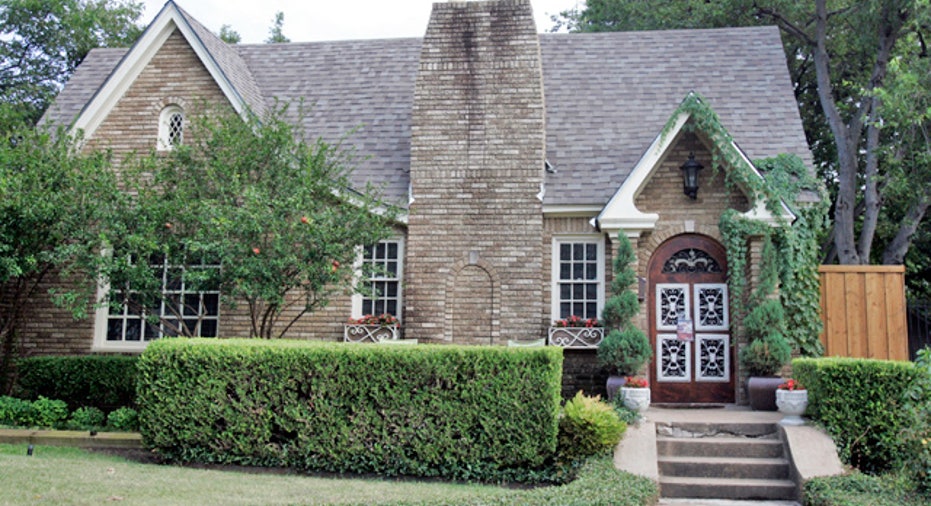 Mortgage rates plummeted again this week, amid turmoil in the financial markets worldwide as investors panic and seek safety in U.S. Treasuries and mortgage bonds.
The benchmark 30-year fixed-rate mortgage fell 8 basis points this week, to 4.46%, according to the Bankrate.com national survey of large lenders. A basis point is one-hundredth of 1 percentage point. The mortgages in this week's survey had an average total of 0.36 discount and origination points. One year ago, the mortgage index was 4.57%; four weeks ago, it was 4.69%.
The benchmark 15-year fixed-rate mortgage fell 7 basis points, to 3.61%. The benchmark 5/1 adjustable-rate mortgage rose 1 basis point, to 3.24%, and the benchmark 30-year, fixed-rate jumbo fell 4 basis points, to 5.02%.
This is the lowest rate on the 30-year fixed in more than nine months. In nearly 26 years of Bankrate's survey, the record low for the 30-year fixed was 4.42%. It hit that record Oct. 20, 2010, and again Nov. 3, 2010. This is the rate's lowest level since that rate-setting day last November.
Two rates set records this week. At 3.61%, this is the lowest that the 15-year fixed has been in the nearly 26-year history of Bankrate's weekly survey. The previous low was 3.68%, set last week; the record low before that was set June 8, 2011, at 3.79%. And at 5.02%, the jumbo 30-year fixed eclipsed the previous record low of 5.04%, set Nov. 3, 2010. Bankrate has been collecting information on the 30-year, fixed-rate jumbo since December 1998.
A Wave of Bad News for Investors
Who should you thank for the super-low rates? Thank Congress's inability to reach a debt ceiling agreement until the eleventh hour last week and Standard & Poor's for downgrading the United States' credit rating on Friday and downgrading Fannie Mae's and Freddie Mac's debt on Monday. Also, thank the debt crisis in Europe and the Fed for announcing Tuesday that it will keep the key interest rate near zero percent until 2013.
None of these events are good news for the economy, but they trigger fear, and in the financial world fear normally results in lower mortgage rates. That's because when investors panic they pull out of the stock market, which is what they have done in the past week and why stock prices have tumbled. Investors are overwhelmed by the latest developments and scared of a global economic recession. As strange as it may sound, they see U.S. Treasury bonds as a safe haven. The increased demand for bonds results in lower yields, which normally translates into lower mortgage rates.
"It's absolutely crazy," says Brett Sinnott, director of secondary marketing at CMG Mortgage in San Ramon, Calif. "You would assume (after the downgrade) everybody would flee Treasuries, but it's been the opposite."
Debt Deal and The Downgrade
Mortgage rates had already plunged last week after Congress agreed Tuesday to raise the debt ceiling. When Standard and Poor's downgraded the U.S. triple-A credit rating, many observers expected rates to rise. They tumbled instead.
"We are in uncharted territory, and people all over the world don't know how to interpret (the downgrade)," says John Stearns, a mortgage banker at American Fidelity Mortgage Services in Mequon, Wis. "It's causing great uncertainty, and you are seeing it on the stock market."
As a result of the increased demand for U.S. bonds, the yield on the 10-year Treasury fell to 2.1% by midday Wednesday. It had stayed above 3% for months.
Demand for Freddie Mac bonds also has been strong even after S&P downgraded the agency.
European Debt Crisis
The debt crisis in Europe is one of the reasons investors have sought safety in the U.S. bonds, Sinnott says. In addition to the ongoing crisis in Greece and concerns over the debt situation in Italy and Spain, on Wednesday, rumors spread that France could see its triple-A rating downgraded.
"We are the prettiest horse in the glue factory," Sinnott says. "Everybody has gotten dirt on their shirt. We just have a little less dirt."
Fed Announcement
In an attempt to calm the markets, the Fed announced Tuesday it will keep the key interest rate near zero% until 2013. That also contributed to the fall in mortgage rates.
"That's a strong statement and takes a lot of speculation out of the market," says John Walsh, president of Total Mortgage Services in Milford, Conn.
Until Tuesday, the Fed insisted in saying it would keep rates low for "an extended period," but refused to set a date. "They are basically saying, 'we'll keep rates low, but we are not going to intervene anymore,'" Sinnott says.
Lock Now
The Fed announcement may help keep mortgage rates low for months or at least until the end of the year, some experts say.
But with so much volatility in the market, borrowers should not take a chance, Stearns says. "Don't get so greedy with rates," he says. "The market is so tense things could change at any time."
Many borrowers have followed that advice. Mortgage applications surged 21.7% last week, according the Mortgage Bankers Association.
Not all applicants are able to refinance.
"Yes, it's a great time to refinance," Stearns says. "But for people who are underwater and don't qualify, what good does that do?"