Morgan Stanley Shake-Up Cements Gorman As Long-Term CEO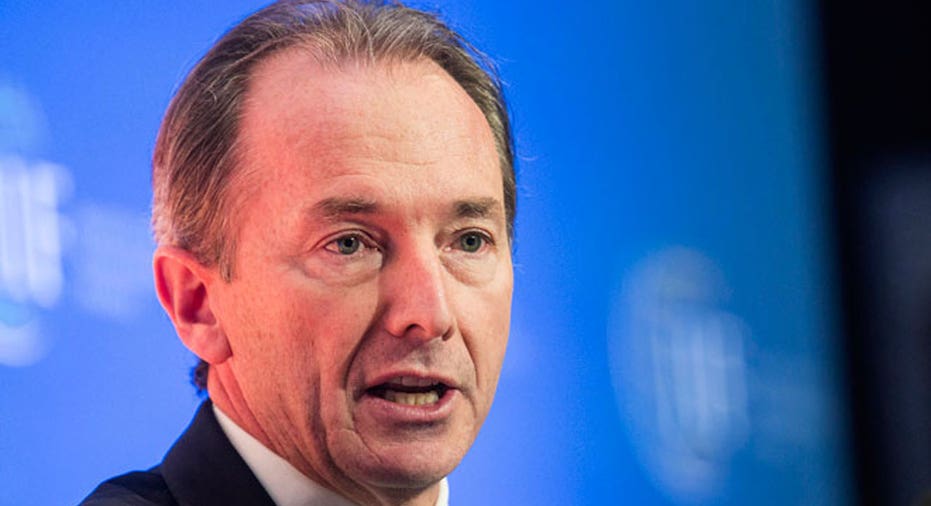 In what is being viewed as a major Wall Street executive shake-up, Colm Kelleher has been named president of Morgan Stanley (NYSE:MS) and Greg Fleming, head of Wealth Management, is leaving the firm. The changes were announced by CEO James Gorman in a memo obtained by FOX Business. Shelley O'Connor and Andy Saperstein have been appointed as the new co-heads of Wealth Management.
The move signals that the 57-year-old Gorman will likely remain in his job for the long term, Morgan Stanley officials tell FOX Business. Fleming, who is 52, had wanted to be CEO of the firm in the next couple of years, while Kelleher at 58 is not considered a possible candidate if Gorman finishes his career at Morgan, as he has indicated.
"Gorman is going to be around here for five to seven years, and Fleming wants to be the CEO," a Morgan Stanley executive told FOX Business. "So there was no way Greg could be named president and just wait around for something unforeseen to happen to Gorman."
As first reported by Charlie Gasparino in April, Gorman awarded Kelleher a "special bonus" of  $2 million for his work in 2014. The move caught several senior executives off guard, most notably Fleming, who was perceived by some to be the heir apparent to Gorman.
The memo to Morgan Stanley employees on Kelleher's appointment, as well as the new Wealth Management team is below. As is Fleming's farewell:
Morgan Stanley – Memorandum
For Internal Use Only – Not for Redistribution
January 6, 2016
To:                  All Employees
From:             James Gorman
Today, I am announcing important changes to the executive leadership structure of Morgan Stanley.  I am delighted to announce that Colm Kelleher has been named President of Morgan Stanley.  Greg Fleming has decided to leave the Firm to pursue other opportunities.  Both Colm and Greg have played a critical role in our firm's success emerging from the financial crisis.
As President, Colm will be responsible for both Institutional Securities and Wealth Management.  Colm joined Morgan Stanley in 1989 and after his many years of tremendous service is uniquely equipped to take on this additional responsibility.  Colm began his tenure here spending 15 years in Fixed Income, going on to lead Global Capital Markets and then to serve as Chief Financial Officer and Co-Head of Corporate Strategy during the very difficult period of the financial crisis.  For the last five years, he has led our ISG business, navigating challenging markets and adapting to a new regulatory environment while maintaining our world class equities and banking franchises.  Our clients, colleagues and shareholders all recognize Colm's experience, leadership and commitment to our culture.  I very much look forward to working with Colm as my partner in leading the Firm over the next several years.
Greg joined Morgan Stanley in 2009, just as the Firm had embarked on the Smith Barney acquisition.  He has managed a complex integration to help create what today is a more profitable wealth management business, operating at scale, leading the industry and positioned for further growth.  Similarly, he oversaw a transformation of our Investment Management business, rebuilding from the losses during the financial crisis and adapting to a new regulatory environment.  Greg has been an asset to the entire Firm and to me personally, and I know the Board and the rest of the Operating Committee greatly appreciate his collaboration and friendship over the last several years.  Greg has built a great leadership team in Wealth Management that will continue to drive the success of that business.  Greg will work with Colm to assure a smooth transition.
Please join me in congratulating Colm on his appointment and thanking Greg for his contributions to Morgan Stanley.
The second announcement:
January 6, 2016
To:                  All Employees
From:             James Gorman and Colm Kelleher
Shelley O'Connor and Andy Saperstein have been appointed as the new Co-Heads of Wealth Management, reporting directly to Colm.  Shelley has more than 30 years of experience in our Wealth Management business and led the Private Wealth Management business in Southern California before moving to a management role in Purchase in 2004, then heading the Private Bank before becoming Head of Field Management in 2014.  Andy joined Morgan Stanley in 2006 and served as Head of Field Management and then as Head of Investment Products and Services before taking up his current role as Co-COO of ISG last year.  We are fortunate to have such seasoned executives to lead our Wealth Management business.  They and their senior management team will drive the business to new levels of performance in the years ahead.
Jim Rosenthal, in addition to his role as Chief Operating Officer, will now lead the development of our digital offering for financial advisors and wealth management clients, working closely with Shelley and Andy.  Digital technology and its potential for our business is one of the most important strategic opportunities we face.  Jim is uniquely qualified to lead a team addressing this critical area given that he oversees Technology Firmwide and serves as Head of Corporate Strategy.
Finally, Jeff Brodsky, in his continued role as Head of Human Resources, will now report to James, reflecting his increased focus on talent and development.  Our people are our biggest asset, and attracting, retaining and developing our talent is our single biggest imperative.
Please join us in congratulating Shelley, Andy, Jim and Jeff on their new responsibilities.
Morgan Stanley – Memorandum
For Internal Use Only – Not for Redistribution
January 6, 2016
To:                Wealth Management Colleagues
From:           Gregory J. Fleming
Subject:        The Road Ahead
The new year always brings change and new challenges and, for me, those challenges will be on the horizon beyond Morgan Stanley.  I want to take this opportunity to tell you how proud I am to have led this organization for the past five years, and to reflect on what we accomplished together.
We overcame the challenges and difficulties of integrating the largest wealth management merger ever, to create an organization that today is the leader by all important measures.  While the numbers are impressive in terms of client assets, financial advisors, productivity, profitability and the breadth of resources we have at our disposal, what's most important is the quality of what you do every day.  You consistently place clients' interests first and bring exceptional thinking to bear on the very real problems they face managing their wealth in a highly uncertain world.  As I've said before, millions of families sleep better at night knowing they have a Morgan Stanley financial advisor by their side.
The leadership team that will take this business forward is a strong one, and I have every confidence in their ability to build on our success.  I will always cherish the opportunity I had to work closely with so many of you and wish you every personal and professional success in the future.
Thank you all and, as usual, I would like to end with one of my favorite quotes, something that can inspire us all as we move to the next chapter.
"Excellence is an art won by training and habituation.  We do not act rightly because we have virtue or excellence, but we rather have those because we have acted rightly.  We are what we repeatedly do.  Excellence, then, is not an act but a habit." – Aristotle