More Investors Getting into Classic Cars: But is it Safe?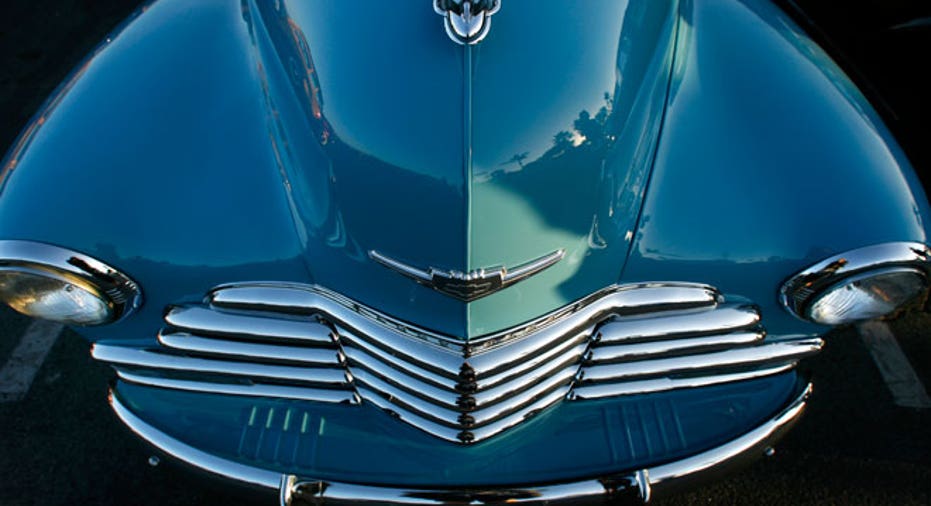 With severe volatility plaguing Wall Street and no end in sight to the Dows wild swings, investors are looking to diversify their portfolios with the safest assets possible: gold, U.S. Treasuries and now, classic cars. According to collector car auction company Barrett-Jackson, the increased interest in classic cars is a sign that more investors are looking to rev up their profits in classic automobiles.
Data from Barrett-Jacksons mini-index, an index of seven classic American sports cars and muscle cars, shows an annual growth rate of 16% in the classic car market over the last 10 years, a sharp contrast when compared with an average annual growth rate of 4.45% from the Dow Jones Industrial Average during the same period. But for investors who dont know much about cars, experts caution that driving off in your investment may not be the best idea.
Weve seen a lot more first-time buyers coming in. They are novices to the auction world, but they are car enthusiasts, and they are looking for an investment they can really get into, says Craig Jackson, chairman and CEO of Barrett-Jackson.
Jackson says that this year the classic cars in his companys mini index, which include the 1957 Thunderbird, the 1967 Shelby GT 500, and the 1970 Camaro Z28, stand to hit an all-time high. Sales prices rose more than 10 % this summer on what Jackson refers to as blue chip cars like these.
Keith Martin, Publisher of Sportscar Market Magazine, isnt surprised to see the classic-car market on the rise when the stock market is down.
We have seen booms and crashes before and right now what we are seeing is pretty predictable. When interest rates are low, and the stock market going back and forth like crazy, cars look pretty good, says Martin, who adds that its easier for the super rich to get involved with the truly-rare classic cars that bring the big bucks at auction.
If you have a few hundred million in the bank, throwing $10 million into classic cars is just part of the diversification of your portfolio. But if you invest in it as an investment first and a passion second, you could get burned. The classic car market doing well now, but who knows what will happen in another five years, he says.
While Martin agrees that the classic car market is not nearly as volatile as the stock market, its also much more difficult in terms of generating liquidity when needed.
You cant call your broker and tell them to sell your car for market value today. Youve got to wait for an auction where someone comes along who wants to offer you a fair price, or youve got to go to Craigslist and have someone pay you bottom dollar. In either case, its not easy to get your money out if you need it quickly.
Just like the stock market, Martin says the classic-car market has certain trends investors should know to follow. For example, sports cars and exotic cars like Ferraris and Maseratis are whats hot right now. In the last few years, muscle cars were the it car at auction, but their popularity has waned.
You cant blindly go into a room and start throwing hundreds of thousands at what you see and expect to come out a winner, says Martin. But right now, the right car in the right condition is a great investment. All shares of stock are the same, but not all classic cars are the same. But the rest of the financial world right now definitely makes cars look pretty good.
At Edmunds car buying guide, Executive Director Michael Jordan says that while he doesnt tout cars as an investment, car collecting is one of the few hobbies that can be money making.
Whats your net earnings on country club golf games? asks Jordan. Cars let you tap into a fraternity like-minded people you go do things with, and they can eventually bring a nice payday.
Jordan says that more recently people are choosing to invest in cars because they want something tangible, and because older cars are increasingly viewed as works of art.
People feel better about having something they can feel. If tomorrow its worth half, its better at looking at a piece of paper that tells them half their money is gone. At least they can go out and drive it, says Jordan.
According to Jordan, nostalgic baby boomers helped boost the popularity of muscle cars in the last few years, but today, its the pre-war cars that are experiencing a real renaissance and will likely bring the most at auction in the years to come.
But regardless of whats popular now, Ken Kamen, president of Mercadien Asset Management, says that anytime stats are thrown out about the increase in value of collectible cars, its important to keep in mind its probably a very small subset of classic vehicles that fall under that umbrella.
The truth is that only a small percentage of collectible cars are kept up well enough to bring in the big bucks, and the reality is that most people dont know enough to make the kinds of purchases that will increase in value, says Kamen.
Unprofessional buyers or emotional buyers arent going to see the kind of returns that a professional would in the classic car space, says Kamen.  Something else that buyers need to think about is maintenance and storage of their new investment.
If youre going to make an investment in a car, you cant leave it in a flood zone. Serious collectors pay a lot of money for proper garaging, climate-controlled storage, tune ups and more. So even if you sold it at a profit after five or 10 years, youd have to subtract the money you put into its upkeep during that time, says Kamen.
However, Kamen says that since the 2008 recession hit, more and more investors have been wanting to try something new.
They are more willing than ever to rethink what theyve been doing, and if they can turn a hobby into a money-maker, then theyre going to do it, says Kamen.
And if youre an investor thinking of getting into the classic car game, Barrett-Jackson says theres just one thing to remember: buy low, sell high.