More Fortune 500s Shift to NASCAR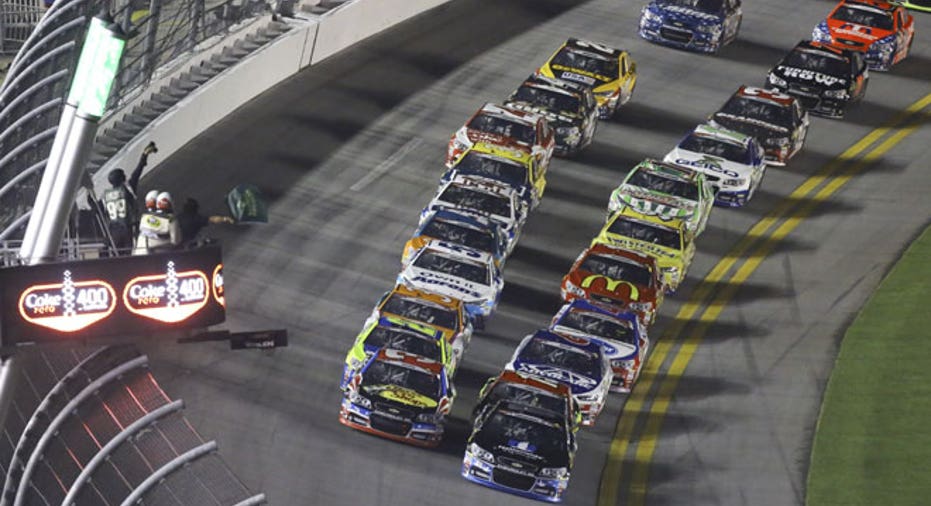 NASCAR's portfolio of sponsors continues to grow as more Fortune 500 companies join the sport.
More than one-in-four Fortune 500 firms include stock-car racing's sanctioning body in their marketing mix. That's a 7% increase over 2014 and the third consecutive year of growth.
In total, 130 companies are involved in NASCAR, up 20% since before the 2008 recession that spurred companies to pull back on marketing and advertising.
"We are healthier and getting healthier," said Steve Phelps, NASCAR's executive vice president and chief marketing officer. "NASCAR sponsorship works, and the reason why it works is fans understand the importance of sponsorship and support those businesses."
NASCAR is known for cultivating brand loyalty among its fans. According to Repucom's SponsorLink tracker, seven out of 10 NASCAR fans support brands that are sponsors, higher than any other major sport.
Just this year, NASCAR brought new Fortune 500 sponsors like Allstate (NYSE:ALL), Costco (NASDAQ:COST), Oracle (NYSE:ORCL) and Viacom's (NASDAQ:VIAB) Nickelodeon into the fold.
Other major partners are headquartered outside the U.S. and therefore don't qualify for Fortune's rankings. Ingersoll-Rand (NYSE:IR), MillerCoors, Mars, McLaren and Toyota (NYSE:TM), one of the three Sprint Cup manufacturers, have NASCAR sponsorship deals.
Silicon Valley Goes Racing
Among the largest U.S. companies, nearly half of all FORTUNE 100 firms now invest in NASCAR, which also reflects an increase over 2014.
In particular, Silicon Valley has flocked to NASCAR in recent years. The number of Fortune 500 technology companies that are NASCAR partners has soared 66% since 2013.
Tech firms are investing in the sport "because they understand that NASCAR is embracing tech and innovation," Phelps said. "We see tech companies coming in and using NASCAR as a proving ground for their technology."
Microsoft (NASDAQ:MSFT) recently signed multi-year agreements with NASCAR and Hendrick Motorsports, whose drivers have won a combined 11 Sprint Cup Series championships.
Under the deal, NASCAR and Hendrick will adopt Windows 10, Microsoft's operating system due out in late July, and Microsoft Azure, a cloud-computing platform. The software giant also bought primary sponsorship of Dale Earnhardt Jr.'s No. 88 Chevrolet for two races.
Even before Microsoft became an official NASCAR partner, the company developed a mobile application for pre-race inspections.
The influx of tech companies is changing perceptions of the NASCAR brand, Phelps added. He expects Silicon Valley, among other industries, to drive future growth, saying NASCAR is "always exploring" for the next segment that can bring marketing activation to the sport.
Fueling Business
NASCAR stresses that sponsors can do more than build consumer relationships. Through NASCAR's Fuel For Business Council and other initiatives, the sport connects sponsors to facilitate B-to-B transactions.
"Our sport does B-to-B better than any other sport out there. That's another reason why I believe we're seeing growth in these numbers. It's not just from a fan perspective. [Sponsors] are buying goods from each other," Phelps said.
For instance, 5.11 Tactical generated more than $12 million in B-to-B revenue through the Fuel For Business Council, a group of more than 50 sponsors that meets quarterly. California-based 5.11 Tactical, which makes military and outdoor gear, won the NASCAR Driving Business Award just a year after becoming a sponsor.
According to Phelps, more small and medium-size companies like 5.11 Tactical are showing interest in NASCAR sponsorships.
Some of the most visible NASCAR partners are big brands like Sprint (NYSE:S), Comcast (NASDAQ:CMCSA), 3M (NASDAQ:MMM), Bank of America (NYSE:BAC) and Coca-Cola (NYSE:KO). But companies with modest spending budgets can enter the race, too.
"We have different entry points, all with opportunities for success," Phelps explained. "It's a testament to NASCAR fans' understanding and supporting those brands, and that's a unique point of difference for us compared to other sports."