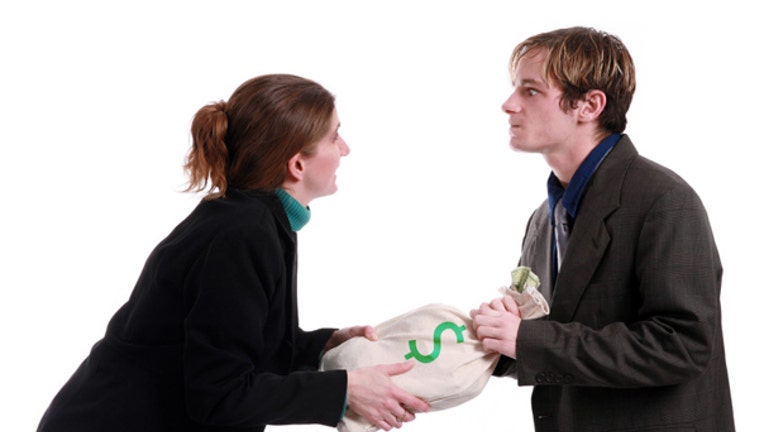 When you say "yes" to tying the knot, you're doing more than joining hearts and lives, you're also joining finances. Gulp. For better or worse, if you don't communicate openly about money matters, your marriage can end up in hot water.
Estate planning attorney Ann Margaret Carrozza suggests that the key to avoiding these issues is to work as a team. "When you're in a partnership it's so important to set goals together, and gain knowledge to create financial security going forward. This way you have common goals and there's never any confusion about how to invest financially."
Whether you're married or about to walk down the aisle, Carrozza says these are five money conversations you should have with your spouse:
1. Create your personal financial blueprint: Few newlyweds are fortunate enough to have significant assets to invest and plan for. But with a relatively blank financial slate, two people can chart their vision; make concrete goals, and together gain knowledge to create financial security going forward.
Initiate the discussion by throwing an acquaintance or neighbor under the proverbial bus: "Mark and Pam sure have beautiful cars/clothes/jewelry etc. Kind of makes me think that they will be forced to work forever to keep up with the interest payments alone!" Newlyweds should seek to educate themselves on financial matters by attending area adult education courses (preferably free ones) and reading financial books (borrowed from the library). Saving and investing that first $10,000 will provide a calm far greater than any 10-day cruise ever could.
2. Before the stork arrives, create a will: A will is needed to name a guardian of your minor child. It is often this difficult decision that causes people to put off creating a will. Without a will, the court will have the final say as to who raises your child in the event of your death.
Initiate the discussion by asking your spouse for their opinion on choosing a guardian. Try not to react negatively if you disagree with his response: "Your mother? That is a lovely thought - she certainly did a fine job with you (psst…go for bonus points). Do you think though, that it might not be an imposition on her because of her health issues, etc." If you hit an impasse, you can punt by naming co-guardians.
3. How should we grow our savings?: Ideally, this endeavor becomes a hobby for you as well as a goal-oriented pursuit. Investigate the retirement planning options that your employer may offer. Don't have that option? Sit with a knowledgeable financial professional who will discuss various investment class options with you.
Initiate the discussion by saying something like, "We work hard for our money and I'd like to brainstorm with you and a financial advisor as to how we can make the most of it."
4. Long term care planning: A slower than expected economic recovery coupled with increased life expectancies and ever-increasing costs of medical care has made relying on government funded long term care resources unrealistic.
Initiate the discussion by encouraging your spouse to sit down with a long term care insurance professional. What you are looking for here is a maximum daily benefit that coincides with the cost of care in your area. Don't be seduced by the 5 percent inflation protection, because the actual cost of care increases approximately 12 percent per year.
5. Insure your estate planning: You've done your will, powers of attorney, and health care advance directives, but how can you be sure that your surviving spouse won't remarry and potentially lose those assets in a subsequent divorce?
Initiate this conversation by pointing to a real life example, if possible: "Isn't it tragic that Marvin (widower friend) disinherited his adult children in favor of his home care companion? Yes, dear, I know that you would never do this, but what if either one of us developed a dementia-related illness down the road? All bets are off at that point.  Let's at least sit down with an attorney and see what the options are (i.e. post-nuptial agreement or trust) before we make any decisions."  
Do you have tips on successful ways to initiate money conversations with your significant other? Let us know below!
More from GalTime.com: