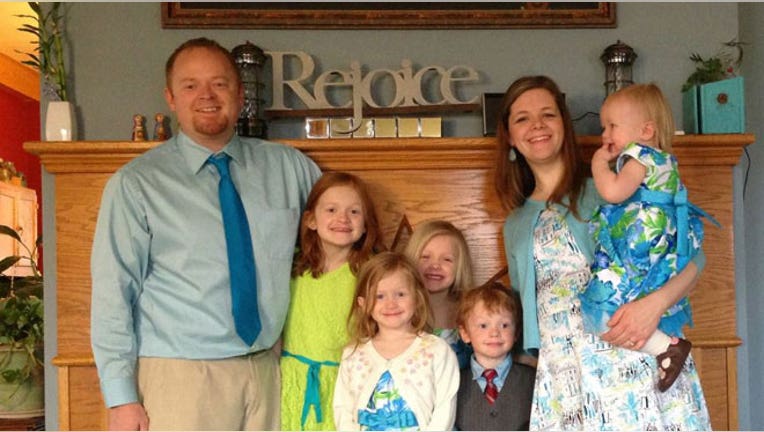 Shannon Wendt typically spends her Christmas Eve sledding and baking cookies with her five children and husband, Zach, in their Grand Rapids, Mich., home.
This year, she spent the holiday on the phone… with Healthcare.gov.
The 30-year-old mom, who home-schools her children,  ages two through ten, found out this past October that she was one of the more than six million Americans losing her health insurance under the Affordable Care Act. Zach is a real estate agent, and the family of seven had been covered under a high-deductible plan with Blue Cross Blue Shield for the past five years.
"We didn't get notification that our plan was being cancelled," Shannon says. "I heard from a friend of ours that had a similar plan that theirs was cancelled. I called Blue Cross Blue Shield, and they confirmed that our plan was being cancelled. It came as a surprise; I guess I really did believe that if you liked your insurance you could keep it."
Blue Cross Blue Shield calculated the family's costs, which were initially nearly four times as high as they had been paying for the past five years. But, they are subsidy-eligible under the new law, significantly bringing their new costs down, Shannon says. Even with that tax credit, the family of seven will still be paying around $150 more per month for care than they had in the past.
Under the ACA, those making up to 400% of the federal poverty level are eligible for premium tax credits to lower their costs for care. This is about $45,000 for an individual and $94,000 for a family of four.
So at the end of October, she began her first of many attempts to enroll. Shannon says she has spent nearly two months attempting to select a plan via Healthcare.gov, and countless hours on the phone with navigators, being met with error after error.
"The operators kept getting the same error messages we got. They would have to turn their computers on and off, and we would get notification that the system was down. The system wouldn't let me put our children's names down as dependents," she says. "After spending nearly 15 hours on the phone, the system has determined our children are not citizens, and are not eligible for coverage."
Her five children are, in fact, U.S. citizens and should be eligible for coverage, Shannon says. She and the navigators were unable to get far enough to have an application number to return to. On Christmas Eve, Shannon says she spoke with a Healthcare.gov supervisor who said this was "the worst case of the glitch she had ever seen," and that the family's only recourse was to file a written complaint. The government should respond within 90 days, but that will run right up to the March 31 deadline ending the open enrollment period.
Under the Affordable Care Act every individual in the country must have insurance by the end of open enrollment period, on April 1, 2014. If they fail to enroll in a plan by that date they will face a fine of up to $95 or 1% of their annual income for not complying with the law.
Healthcare.gov has been plagued with glitches and error messages since open enrollment kicked off on Oct. 1, but has seen vast improvements over the past month. The site can now handle up to 50,000 users at a time, and more than 800,000 per day. The Department of Health and Human Services reported that more than 1 million Americans had enrolled in plans as of this past weekend, including those who may or may not have yet paid their first month's premiums.
This falls far below the Obama Administration's initial projections of having 3.3 million enrolled in plans by the end of December.
Wendt says she has also left messages for the Michigan State Attorney General Bill Schuette, Rep. Bill Huizenga (R-MI), and the Department of Health and Human Services, who transferred her to a supervisor who is out of the office until after the New Year. She was also advised to seek out a lawyer to help her case, which her family would have to pay for out of pocket.
Rep. Huizenga's office did confirm that Shannon had reached out to them for help.
"Mrs. Wendt did reach out to us, and we are treating her as we would any other constituent who reaches out for help," says Brian Patrick, communications director for the congressman's office. "It is the congressman's policy that we cannot discuss ongoing casework."
FOXBusiness.com reached out to the Department of Health and Human Services for comment but had not yet received a response at press time.
"I feel really small and overwhelmed," she says.  "I have no power, and this is something that shouldn't have happened. There seems to be no one willing or able to figure this out. I have broken down in tears because I am so stressed out and frustrated over this—it's just insane."
When news about the ACA first came out, Shannon says she had no idea she would be impacted. Now she is another example of how the law is negatively impacting those who actually want coverage.
"This all didn't matter to me, until it all of a sudden did," she says. "Now I have been thrown into this disastrous train wreck."