MLB's Manfred Rips 'Racist Actions' Toward Adam Jones at Fenway Park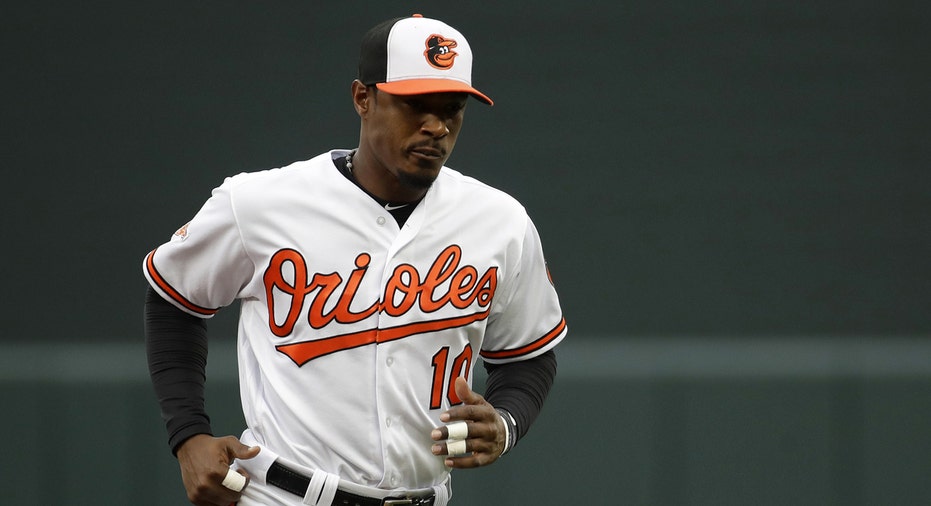 Major League Baseball Commissioner Robert Manfred on Tuesday said the "racist words and actions" directed at Baltimore Orioles outfielder Adam Jones from fans during a game at Fenway Park were "completely unacceptable and will not be tolerated."
"My office has been in contact with the Red Sox, and the club has made it clear that they will not tolerate this inexcusable behavior," Manfred said in a statement.  "Any individual who behaves in such offensive fashion will be immediately removed from the ballpark and subject to further action. The behavior of these few ignorant individuals does not reflect the millions of great baseball fans who attend our games."
Jones said the taunts occurred throughout the Orioles' 5-2 victory over the Red Sox on Monday night. The 31-year-old star was also struck by a bag of peanuts that was thrown from the stands, USA Today reported. The fan who threw the peanuts was ejected from Fenway Park.
The Red Sox said in a statement that team officials are conducting a full review of the situation. Sam Kennedy, the organization's president, publicly apologized to Jones earlier Tuesday.
"The Red Sox want to publicly apologize to Adam Jones and the entire Orioles organization for what occurred at Fenway Park Monday night. No player should have an object thrown at him on the playing field, nor be subjected to any kind of racism at Fenway Park," the Red Sox said in a statement. "The Red Sox have zero tolerance for such inexcusable behavior, and our entire organization and our fans are sickened by the conduct of an ignorant few."
Jones, who was one of 62 African-American players on MLB opening day rosters this season, was noticeably upset when describing the incident to reporters after the game.
"A disrespectful fan threw a bag of peanuts at me,'' Jones told USA Today. "I was called the N-word a handful of times tonight. Thanks. Pretty awesome."
"I just go out and play baseball. It's unfortunate that people need to resort to those type of epithets to degrade another human being. I'm trying to make a living for myself and for my family," Jones added.