MLB Names Blast Motion Official Bat Sensor Amid Tech Push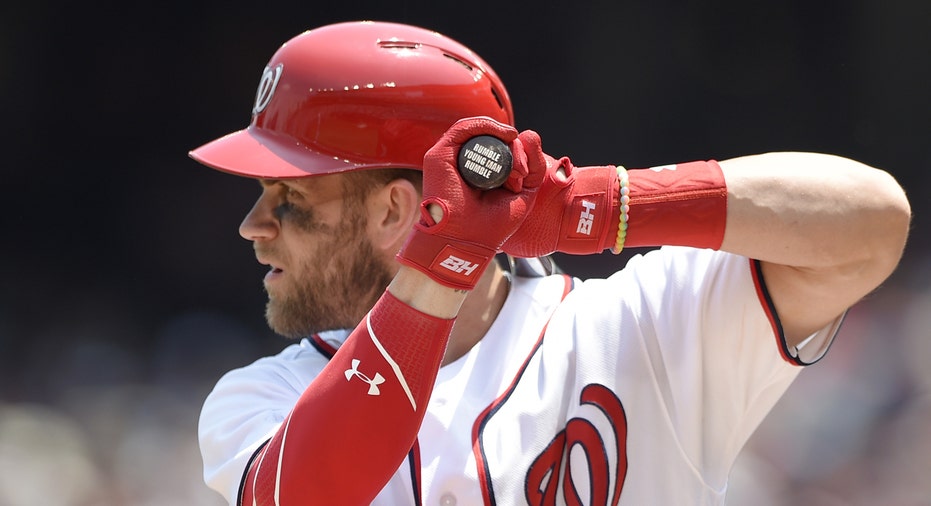 Major League Baseball has reached terms with Blast Motion on a deal that names the "Blast Baseball" swing analyzer as the league's "official bat sensor technology," the California-based tech company announced Thursday.
The Blast Motion sensor, which attaches to the end of a traditional bat, tracks various metrics related to the baseball swing, including swing speed, efficiency and point of impact. Under the deal's terms, "Blast Baseball" technology available to MLB teams for organizational development and to USA Baseball for use by youth players, the company said in a press release. Swing metrics will be displayed on the scoreboards at the 2016 MLB All-Star Futures Game on July 10 at Petco Park in San Diego and integrated into select MLB television broadcasts.
The "Blast Baseball" bat sensor, which currently sells for $149.99 on the company's website and at select retail stores, will eventually be sold through Major League Baseball's online store. Financial terms of the partnership were not disclosed, but Blast Motion CEO Michael Fitzpatrick said the deal will have a major impact on the company's business efforts.
"Becoming the official bat sensor of MLB, that's an exclusive relationship. That gives us the ability to use the MLB logo," Blast Motion CEO Michael Fitzpatrick told FOXBusiness.com. "You know how valuable that's going to be for marketing and sales activities. We're going to be able to put that logo on the packaging of our sensor."
Major League Baseball has placed an increased emphasis on the integration of technology and wearables in the sport, both on the field and during broadcasts, as part of a broader push to attract younger fans. Last March, the league announced plans to partner with Apple Inc. (NASDAQ:APPL) to place iPad Pro tablets in every MLB dugout, granting players and coaches real-time access to advanced analytics and scouting data.
"Partnering with Blast Motion will bring another integrated technology and developmental tool to young players of all levels and ages, such as those who compete in the USA Baseball Tournament of Stars, as they grow their skills in the game," an MLB spokesperson told FOXBusiness.com.
Earlier this month, MLB Commissioner Robert Manfred told the FOX Business Network that the league is looking to utilize virtual reality technology to target new fans.
Blast Motion's bat sensor was one of four tech devices that Major League Baseball officials approved for use in August. Two wearable devices – the Motus Baseball Sleeve, which tracks throwing metrics, and the Zephyr Bioharness, which measures heart and breathing rates – were granted approval for in-game use.
The other two products – bat sensors developed by Blast Motion and Diamond Kinetics, respectively – were approved for on-field use during pre-game workouts, but not for in-game use, purportedly because the devices can't yet be fully integrated into the bat.
Fitzpatrick said "quite a few" MLB teams have made use of the Blast Motion sensor for pre-draft analysis and coaching purposes, but declined to provide specifics. The Houston Astros named Blast Motion their "official swing sensor" last May.
The removable "Blast Baseball" sensor records up to eight hours of swing data. When paired with a companion app, the device can provide a slow-motion breakdown of the swing, helping coaches to scout prospects, identify potential flaws and assist players mired in hitting slumps.
"This technology is growing very rapidly. I don't think there's going to be any team without this kid of technology within a year," Fitzpatrick said.
It's unclear when – or if – MLB officials will approve the Blast Motion sensor or similar wearable technology for in-game use. But Fitzpatrick is optimistic that additional testing of the device will eliminate any lingering safety concerns.
"It's our hope, down the road, that we will be allowed to be in things like the Home Run Derby and the All-Star Game," Fitzpatrick said. "Eventually, it's my hope that, after more testing, that MLB may allow the sensor to be installed directly into the bat in the future, in which case it could be used in every game."