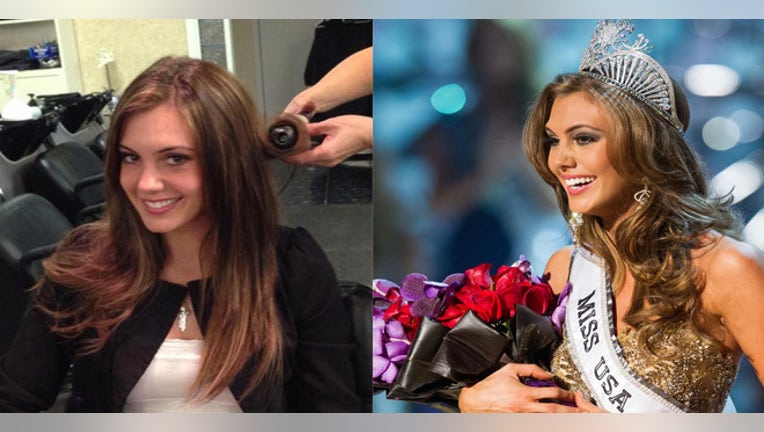 The salon owner who gave the new Miss USA Erin Brady a glamorous makeover says the beauty queen's win is already helping to transform business.
Francine Piscitelli, of Allusions Salon in Branford, Connecticut, became the official sponsor of the Miss CT USA program in 2012. The current Miss Teen USA Logan West is also her client.
"Since Logan won, I've gotten more likes on my Facebook page, and the phone is ringing off the hook," says Piscitelli, who says the attention on her business has hit a growth spurt again since Sunday's Miss USA competition. "I have a lot of people that are interested in working with me, and it helps the business to have two back-to-back title winners from Connecticut."
Piscitelli says Allusions became the sponsor thanks to her daughter Marie-Lynn's own involvement in the pageant circuit. Marie-Lynn Piscitelli, a makeup artist who also works at Allusions, won the Miss CT USA crown in 2012 – when the now-Miss USA 2013 Erin Brady took first runner-up.Behind-the-Scenes Makeover for Miss USA Piscitelli says she helps contestants "stand out." To prepare the new Miss USA for the competition, Piscitelli cut her hair and turned her dark brown locks into "medium brown with golden, soft highlights." Piscitelli says she also gave the contestant extensions, so it would look fuller on stage. By the end of preparations, Piscitelli says she was confident that Brady would take the crown. "I texted her the day before the competition, and I said, be prepared to give up your job, because you're going to win. She's beautiful and she's been through a lot, but she's so humble and a good person in and out," she says.
Piscitelli says she's already using Brady's win on her website to help market the salon, and she is hopeful the exposure will attract additional pageant clients. Thanks to their expertise with the Miss USA competition, Piscitelli says she and Marie-Lynn have valuable expertise to give to potential beauty queens. "This opportunity doesn't come around often, so I told Erin to have a blast and enjoy every moment!" says Piscitelli. And she already has her eye on the Miss Universe crown for her former client: "She's just as beautiful as the Miss Universe right now."