Mining for Goals and Gold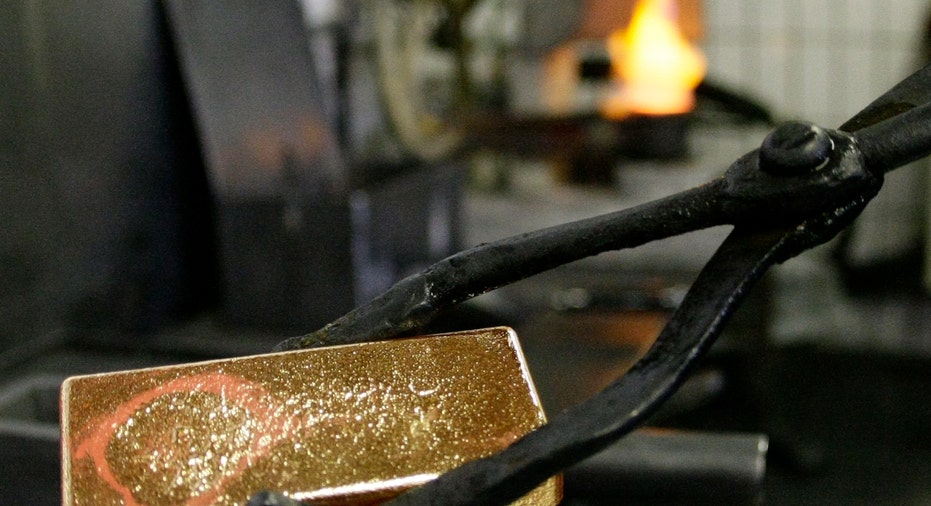 When you see the trucks, bulldozers, guns, dogs and mud on the reality show Gold Rush, it evokes images of quintessential childhood play for a little boy. Rough and tumble, up-to-the-elbows dirty, in on the action.
But when you add in the size of the machines, the real risk, the hard hats and the proud layer of legacy, it quickly becomes an adult's game. And the adult is – mostly – the American man. Whether he's sitting in an office on Madison Avenue, exterminating bugs in Illinois or developing web content in Atlanta, there's a pretty good chance he wants to play, or at least live vicariously through gold miner Todd Hoffman on Friday nights via the Discovery Channel.
"The American man needs to go ahead and attack his dreams," Hoffman tells me in our recent interview. "We've always been a beacon of light. I'm worried that we're going to lose that. I think we already are. I want to be one of those guys. I'm on Gold Rush to be a beacon of light. No, we're not professional miners. No, we don't do everything right. Yeah, we're under-capitalized. We're moving forward and we can kick some ass."
Yes, these men he's assembled -unemployed and ready for adventure - are really mining for gold in the Klondike. And it is that very reason he states, they're not professionals but men trying to make something work, that plays a big part in their rousing success with viewers.
The season two finale airs Feb. 24, and there is much on the line as the miners pile gold on a scale -- complete with drama music -- and try to meet their goals. When it comes to building a strong following, the show can already check that off the goal list with roughly five million viewers a week. According to The Hollywood Reporter, paired with another gold-themed series, Gold Rush has "propelled Discovery to the No. 1 network on TV on Friday nights among men [in the] 25-54 demo" and has been signed to a third season.
The show is so successful that Hoffman often wishes he could help all the men – at one point 10 to 20 a day – who come up to him looking for work.
"Even wounded veterans," he says with a tinge of sadness.
But there is still that beacon part and here is where Hoffman lives up to that. Sure, it's impressive that people can see him working hard in the mine. And being a leader. And persevering. But as I'm talking to him, what stands out is that if he is indeed a beacon for his fellow Americans, it is most glaringly obvious when he relates the genesis of the idea for the TV show.
A self-described Christian, but no "poster boy" for it, and a man with devout love of country, Hoffman could never shake the fact that his father's dream was to be a gold miner, that they'd tried it in the 1980s, his parents almost divorced over it, and they came back from Alaska with "our tail between our legs." He always wanted to try again to make his father's dream come true.
In the meantime, Hoffman accumulated a vast and varied resume that includes a near-B.A. in theology specializing in youth ministry, recruiting young men for basketball scholarships, venturing into "dot com" by selling dial-up service, welding, real estate and assorted entrepreneurial pursuits. He's been married for 16 years and has three children – boys ages 13 and 10 and a 4-year-old girl.
A few years ago, during what he calls a "dark time" where his wife left with their daughter, he turned to prayer. And it went something like this: "You know what? I feel like everything I touch right now turns to crap. I just need something to work. I want to go gold mining with my dad and I need you to help me." Answers came in a flurry.
"I was sitting there and I thought, you know what?" Hoffman says. "I'll bet you there's not too many idiots out there who are going to go gold mining right now. And I'm betting somebody would want to see this. And I'm thinking I bet you anything I can get 10 maybe 20 maybe even 50% of my fuel bill paid if they followed me and filmed it."
This was a guy used to people thinking his ideas were hare-brained, so what was one more? Late at night he wrote an email to Raw TV because he liked their work on Locked Up Abroad on the National Geographic channel. Not expecting a response, he was heartened to get one and a correspondence started.
"They didn't believe me because they're from London and they're like, nobody does [gold mining] anymore," Hoffman says. "They thought I was lying to them. Finally I said, 'You can come out here and meet me or forget it. I'm done sending you emails.' They came out. Two British guys show up and a camera and we film a pilot, shoot it like a taster tape. They took it to Discovery and away we go."
I tell him that's quite an enlightened leap from gold mining to gold mining on TV and he laughs.
"I just thought, this would be good television," he says. "I don't know why."
What Hoffman knows is he has one major strength – putting things together. And so what he has pulled off here is a chance to live that dream with his father, an integral part of Gold Rush, and bring some others along for the ride who needed a hand up. When you watch them work, you can't help but root for their success and of course the Alaskan vistas are stunning to boot.
That could all be enough for many a man, that he has lifted himself up and brought some friends along with him. But the beacon sees more. He sees his country in distress and the need for reinvention.
"How many times as a life coach do you see that fear is such a crippling power?" Hoffman asks me. "Fear has gripped and has stripped the American man in today's day and age."
At one point I wonder if I should stop him and interject that the women are taking a shellacking in this economy, too. But instead, I just listen and eventually appreciate that he is schooling me on the male psyche – my father's, my brother's, and every man I've ever dated, worked for or coached. Their identity is wrapped up in providing in a wholly different way from their female counterparts.
"When something happens and you're not able to [provide] as a man, you lose your confidence," Hoffman says. "You lose part of what makes a man, being able to provide for his family. You get into a corner and you have two decisions -- you give up or you come out fighting. In America I still believe most guys are going to come out swinging. Even if we have to take some of the hard medicine, I think we're going to make it. American men don't go that easy."
The swagger feels pure of heart. In fact, it compels me to want to share that I came back from a layoff in 2002, struggled but then emerged debt-free by 2009.
"Wow!" Hoffman shouts. "How did that feel? Amazing?"
Yes, I tell him. I learned to live simply.
"Instead of going out and buying a really hot car, the new Mercedes Benz is a paid-off mortgage," he says.
When we talked about whether the television show is his actual "gold mine," Hoffman quickly dispelled the notion that reality TV has him raking in the dough.
"We're not all getting rich on the deal but we do get paid some," he says, indicating that filming can slow down mining a bit and there needs to be some compensation for that.
As he embarks on the show's third season, he marvels at how much he loves gold because it "can't be debased," at how the recession has not touched the Klondike because it is maximizing its natural resources, and at all he and his team have managed to accomplish.
"What I'm doing is tough," Hoffman says. "It takes a lot of money and a lot of risk. But it's that same spirit that can be a crossover to anything you're doing. Really we didn't set the world on fire in gold mining. We still have so much to learn, but when you're talking about guys that come from such a different world and here we are in this whole new industry that's very secretive and there isn't a lot of information and people don't want to help you, to actually progress, I feel like we just hit one out of the park. And we're just getting started.
"Season three is either going to be a big success or a really brutal failure," he says. "I don't think it can be anything in between. I'm going big."
This definitely ain't no boy with a Tonka truck.
Nancy Colasurdo is a practicing life coach and freelance writer. Her Web site is www.nancola.com and you can follow her on Twitter @nancola. Please direct all questions/comments to FOXGamePlan@gmail.com.