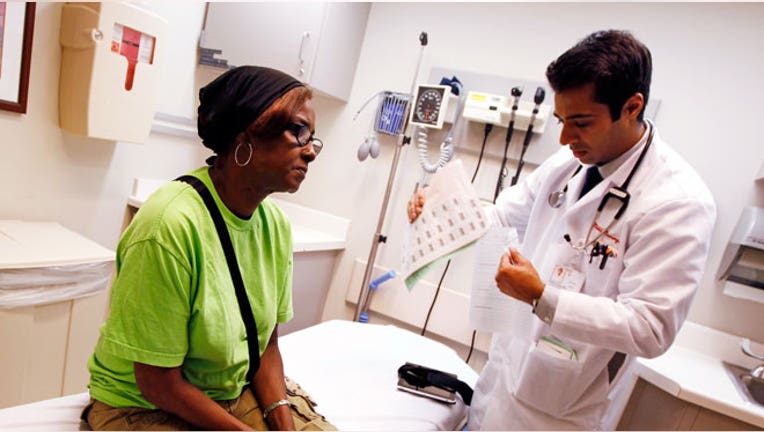 The White House is on track to hit its goal of having 7 million people signed up for coverage on a state or the federal exchange in year one of the Affordable Care Act's open enrollment period, but that's still a small drop in the uninsured bucket.
It remains to be seen how many of the new enrollees were previously uninsured or how many have paid their first month's premium.
The administration wanted 7 million enrolled in year one, with 2.7 million being between the ages of 18 and 34. Enrollment expectations were pared down to 6 million by the nonpartisan Congressional Budget Office (CBO) last month. Last week, President Obama announced 6 million have now selected plans on both state and federal exchanges, alongside 8 million to be added in 2014 to Medicaid and Children's Health Insurance Plan (CHIP) rolls.
But the bigger picture is jarring: The CBO estimates that in 2014, 47 million Americans will remain uninsured, that's roughly 15% of the U.S. population. This number is set to drop to 37 million in 2015, and down to 30 million in 2017.
A major factor impacting why ObamaCare has not been able to really move the dial on the uninsured population is costs, analysts say.
And prices won't be coming down anytime soon.
On "Sunday Morning Futures" with Maria Bartiromo on Fox News, Cleveland Clinic CEO Toby Cosgrove said, "About three quarters of [enrollees] find that their premiums are higher than they had been previously with other insurance."
Vishnu Lekraj, senior insurance analyst for Morningstar, says premiums may be higher, but are "underpriced" in the industry.
"As far as what the insurers are able to charge on exchanges, premiums are underpriced," Lekraj says. "WellPoint stated last week that they are looking to push through double-digit increases in some regions, and I expect that to be the case."
Nationwide, the Department of Health and Human Services reported in September that the average American would pay about $328 a month for a mid-tier silver plan, before subsidies. Subsidies are available for those making up to 400% of the federal poverty level—about $45,000 for an individual and $94,000 for a family of four.
Penalties, Subsidies Not Enough
Paul Howard, director of the Center for Medical Progress at the Manhattan Institute, adds the subsidies aren't high enough to make purchasing coverage cost effective for the uninsured.
"People are facing much higher prices. The actual cost of insurance is going up because Obamacare is offering a richer benefit package and tying insurers' hands in being able to price for risk in the way they could in the past. Potential value for the middle class is low," Howard says, in regard to those who fall just out of subsidy eligibility range.
Lekraj says the penalties are too small compared to the coverage costs. "It may be better off for them [in cost] to pay a penalty instead of paying for insurance," Lekraj says. "That is what it boils down to. Unless you stiffen penalties, it's tough to close that gap."
As premiums continue to climb, it also remains to be seen if the government will offset price hikes with higher thresholds for subsidies, he says.