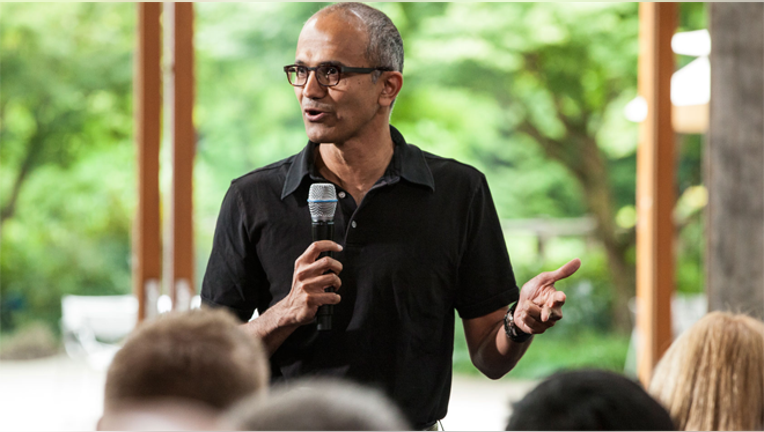 Microsoft (NASDAQ:MSFT) CEO Satya Nadella threw a barb at competitor Google (NASDAQ:GOOG) in an interview at Fortune's Brainstorm Tech Conference, as he discussed the software giant's future.
A participant asked Nadella what Microsoft could learn from Google's moonshot projects like driverless cars and Google Glass, which are products of Google X Labs.
Nadella retorted: "There's always a lot to learn from people who market themselves well."
The comment drew laughs from the audience and interviewer Walter Isaacson. Nadella continued to make the case for Microsoft's ongoing projects. He cited the "$6 billion business" of databases and the potential of Skype Translate.
As energized and animated as ever, Nadella acknowledged the questioner's point, adding that Microsoft could do "more" to have a wider impact with its research. He noted his approach would be different.
Nadella also said Microsoft will join the wearables category but offered no specifics.
"We have ambitions," he said on stage to Isaacson.
Among his other ambitions is fixing Microsoft's mobile strategy.
"I would say we have a lot of work to do," Nadella said. "We have 90% of the PC market but only 14% of device share...we are growing in tablets and phones but we are coming in from behind."
Success for Nadella is centered around achieving mass relevance for the company's mobile-first products. He said success will be achieved when Microsoft apps appear on the home screens of all Windows, iOS and Android devices around the world.
When asked about a lengthy memo he sent employees last week, Nadella said his primary focus is productivity. He defined the word as "the most secular category in life and work." Nadella did not provide details on the changes to come, but he reiterated they will be announced after Microsoft reports earnings on July 22.
Perhaps most interestingly, Nadella revealed he enjoys capturing recipes printed in newspapers with his smartphone camera and digitizing them so they become searchable text.
"That's productivity!" he exclaimed.