Microsoft Learns to Think Different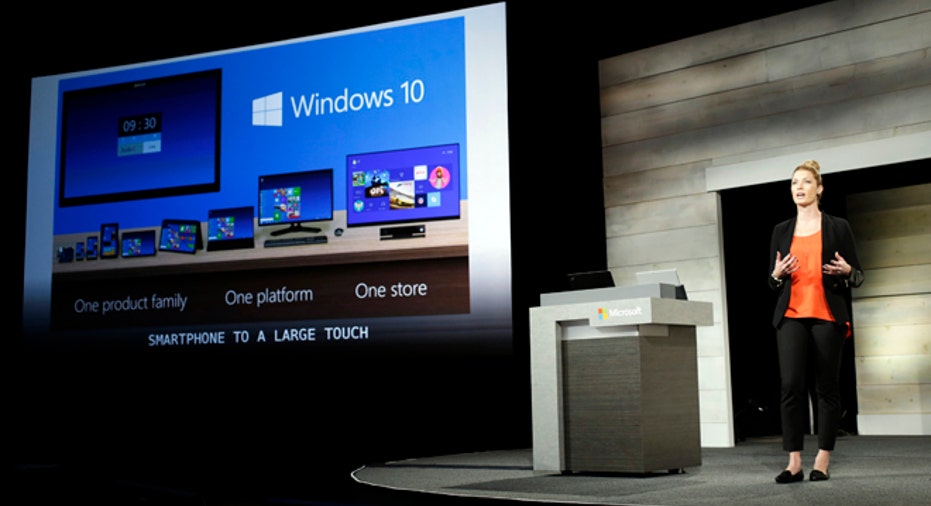 What's the coolest tech upstart out to change the world? Satya Nadella's Microsoft (NASDAQ:MSFT).
As phenoms go, this one's a little different. It boasts 1.5 billion users, counts nearly every enterprise on Earth as a customer, and generates nearly as much revenue and profits as Google (NASDAQ:GOOGL) and Oracle (NYSE:ORCL) combined.
Wednesday's Windows 10 event in Redmond signaled a change in thinking so different from the Microsoft of yesterday it's almost enough to forgive the sins of the past and give this Goliath-turned-David another chance. And that, I believe, is exactly what Nadella has in mind.
When the 47 year-old CEO who learned about leadership and teamwork from playing cricket in school says, "We want to move from people needing Windows to choosing Windows to loving Windows. That is our bold goal," he really means it. What might have sounded ridiculous just a year ago suddenly seems plausible.
Make no mistake, this company has enormous clout and resources. It always seemed that, if Microsoft ever stopped living in the past and started seeing the tech world for what it's become, if it ever understood that owning the PC wasn't as much a cash cow as an albatross, it could be an enormous threat to Apple (NASDAQ:AAPL) and Google.
Finally, Microsoft gets it.
It's on a mission to distance itself from the debacle of Windows 8 and unify a fragmented installed base. Today, more than half its users are on Windows 7 while the rest use various versions of Windows 8 and XP, making app development and support a costly nightmare for the company and third-party developers.
Nadella aims to change all that. He's freed Windows from the shackles of version hell by making Windows free. And he's done it in a way that will likely have a nominal impact on operating results: by making Windows 10 a free upgrade for users of Windows 7 and beyond while continuing to charge PC makers a license fee.
When Nadella said, "We have bigger hopes, higher aspirations for Windows," on Wednesday, he wasn't messing around. Microsoft is on a mission to transform Windows from an overly complex and kludgey PC operating system to a single platform for Internet and cloud services offering a consistent experience across all devices.
While Windows 10 still has to deliver the goods when it officially ships later this year, Microsoft demonstrated a host of new features that promise a more seamless and natural user experience and a few surprises that has everyone talking.
The next version of Microsoft's venerable operating system will solve the convertible laptop-tablet device dilemma that plagued Windows 8. A new feature called Continuum, will automatically switch the operating system between touch screen and keyboard and mouse modes on the fly.
Windows 10 will bring Microsoft's intelligent personal assistant, Cortana, to tablets and PCs. It will enable streaming of Xbox One games to PCs and device-independent multiplayer gaming. And popular apps like Word, Excel, PowerPoint, Calendar, Mail, and Messaging will become universal and operate more consistently on all devices.
It will also come with an all-new Web browser, code-named Spartan. With a brand-new rendering engine, reading mode, and clean design, Spartan does a pretty good job of catching up to Safari and Chrome. Spartan also features Cortana integration and the ability to mark up and share annotated Web pages.
As for coolness factor, Microsoft demonstrated HoloLens: powerful virtual reality glasses that can integrate high-definition 3D holographic images and spatial sound into the world around you. HoloLens ups the ante in the augmented reality space where Google recently opted out of selling Glass and led a mammoth $542 million round in the much talked-about startup, Magic Leap.
Finally, there's Surface Hub, an 84-inch 4K enterprise TV/command center that adds digital white boarding, Skype meetings, and Office 365 to any conference room. If you're wondering what to get the CEO that has everything next holiday season, look no further.
As a former PC industry executive who survived two decades of blue screens, security holes, network conflicts, device driver issues, and ten minute reboots -- don't even get me started on Vista -- I can finally say that Microsoft looks like it has its head on straight and pointed in the right direction.
While I don't think any of this will be enough to get everyone rushing to give up their Macs, iPads, and Droid phones and go running back to Microsoft, if Nadella can accomplish his goal of getting "the 1.5 billion people who are using Windows today to fall in love with Windows 10," he's got a better shot at the rest of us than Microsoft has had in a very, very long time.