Microsoft Counting on Tablets to Combat PC Sales Decline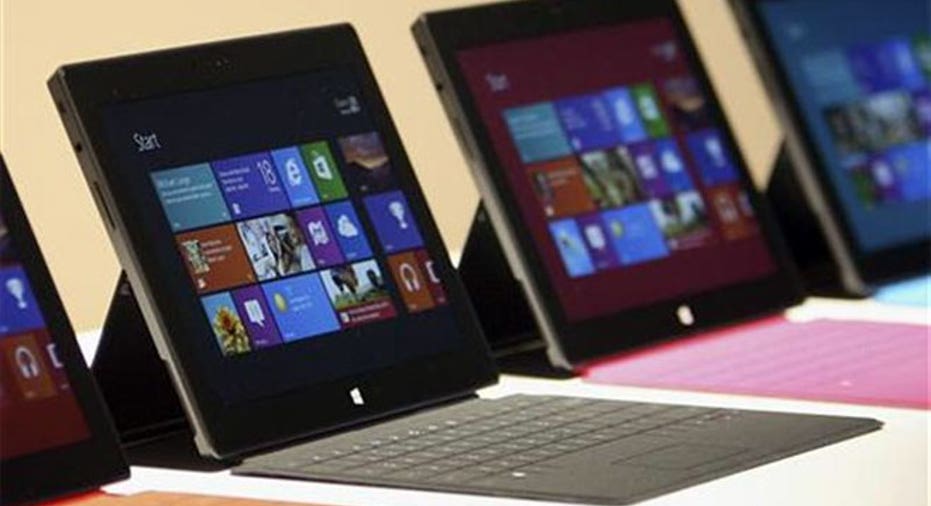 Microsoft (NASDAQ:MSFT) is reportedly developing a seven-inch tablet to strengthen its consumer products portfolio, as the industry continues to combat declining PC sales.
Microsoft is making an attempt to capitalize on consumer demand for smaller, cheaper devices amid a shrinking market for traditional PCs. The reported development of a new line of Surface tablets could help stem the tide.
Earlier this week, IDC reported the largest quarterly drop in PC sales since the research firm started tracking the data in 1994. Global shipments of laptops and desktops slid 14% in the first quarter versus the year-earlier period.
Gartner (NYSE:IT), another research firm, estimated worldwide shipments fell 11.2% on the growing demand for tablets and smartphones. According to Gartner, it was the worst drop in PC sales since the first quarter of 2001.
IDC was particularly blunt in its report, with Vice President Bob O'Donnell saying Windows 8, which was launched last fall, has actually slowed the market and made PCs "a less attractive alternative to dedicated tablets and other competitive devices."
In a note to clients, Goldman Sachs also linked the shrinking PC market to tablet sales. But analyst Heather Bellini also said there are four "Plan B" options "Microsoft could potentially consider to help offset headwinds from deteriorating PC shipment trends," although "a change to the status quo" is not expected in the near-term.
"The PC market is evolving and highly dynamic," a Microsoft spokesperson said, referring to the development of convertible laptops and tablets that run a full Windows 8 operating system. "Windows 8 sold over 60 million licenses in its first few months – a strong start by any measure. Along with our partners we continue to bring even more innovation to market across tablets and PCs."
After the two reports on PC sales and several downgrades, Microsoft shares fell about 4% Thursday to wipe out gains from earlier in the week. The stock was down another 17 cents at $28.76 in afternoon trading Friday.
March of the Smaller Tablets
Meanwhile, the Redmond, Wash.-based tech giant is working on a refreshed lineup of its Surface tablets, which first launched with a 10.6-inch version running Windows 8 RT.
The smaller tablet could go into mass production later this year, according to The Wall Street Journal. Executives didn't plan on releasing a seven-inch Surface until this year, when they concluded Microsoft needed to jump into the ring and compete with increasingly popular tablets like Google Inc.'s (NASDAQ:GOOG) Nexus and Amazon.com's (NASDAQ:AMZN) Kindle Fire HD. Last October, Apple (NASDAQ:AAPL) unveiled a 7.9-inch iPad Mini.
According to IDC, half of all tablets shipped in the fourth quarter last year were smaller than eight inches.
The launch of a smaller Surface wouldn't come as a surprise, analyst Colin Gillis of BGC Partners said. Microsoft is already competing in a tablet market that has expanded to include seven-inch devices, while a reported operating system update, called Windows Blue, includes support for the appropriate resolution.
But Microsoft is expanding its tablet footprint at a time when prices are already on the decline.
"Device makers had one lever to chase after Apple—that was price," Gillis said. "Price points are coming down."
He added that device makers have lowered prices since they can generate revenue over the life of a device, noting that Amazon moved the shopping icon to a more prominent position on its latest Kindle Fire. Similarly, users of Google tablets powered by Android are more likely to conduct more searches on Google.
Microsoft executives have publicly said consumers are looking for less expensive touch-screen devices. So far, the company and its hardware partners have only released devices larger than 10 inches.
Microsoft's Surface Pro, a tablet designed for enterprise use, takes a different approach altogether. Priced at a premium by tablet standards of $899, the Surface Pro features the full version of Windows 8 found on laptop and desktop computers.
"From Microsoft's perspective, the enterprise could provide a strategic foothold for the Surface Pro and Windows-based tablets," Bellini, the Goldman Sachs analyst, explained.
"They'll have a degree of traction with the Surface Pro," Gillis said. "On the consumer side, we're seeing a move to seven-inch tablets, for instance, the iPad Mini instead of the iPad. Microsoft will have a hard time competing in that space and commanding a premium."
Gillis suggested tablet sales overall could help replace lost PC sales, saying Microsoft needs to at least try.
"Microsoft needs to participate in these growth markets. Participation so far has been minimal," he said.