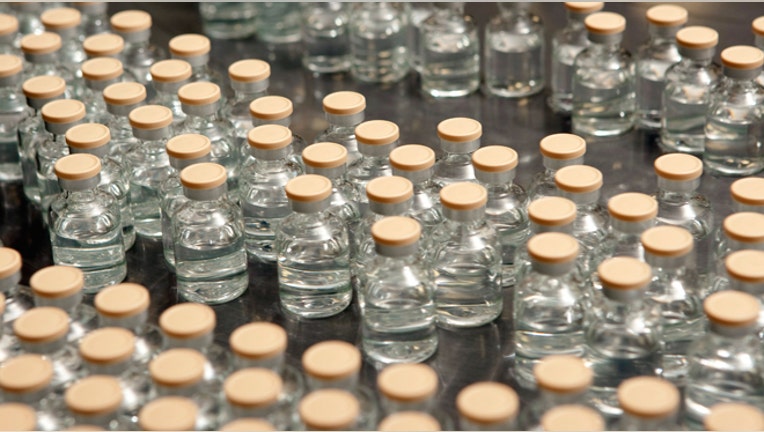 Chances are you've seen, read, or heard about the Ice Bucket Challenge, or have even partaken in dumping freezing cold water over your head to benefit ALS research.
Thanks to the unexpectedly viral nature of the challenge, the ALS Foundation says it has received tens of millions of dollars more in funding this summer than it did as a whole last year. But what the challenge represents is far bigger than a social media brotherhood, or even a donation to charity. It represents an increased focus on rare and incurable diseases.
Big pharmaceutical companies today are starting to focus on these "orphan" diseases – sicknesses that affect such a small number of individuals, they typically don't "appeal" to large companies because the cure won't be the next blockbuster drug.
Take this week's news of Roche Holding's agreement to buy U.S. biotech firm InterMune in an $8.3 billion cash deal. The acquisition positions Roche, a world leader in cancer drug manufacturing, to expand into treatment of rare and -- so far -- incurable diseases.
Meanwhile, startups like Berg Pharma and the Multiple Myeloma Research Foundation are some of the ones leading a charge to create new treatments and technologies to help patients diagnosed with rare diseases like multiple myeloma, MLS, and others live longer, and more importantly, find a cure to overcome the sometimes-certain death diagnosis.
A New Front in the Battle to Cure Disease
Drug development has always been a years-long process: Starting with a good hypothesis, a period of drug development, followed by years of clinical trials, and finally mass development and marketing.
Berg is taking that traditional scientific drug-development model and using artificial intelligence to flip it on its head.
"Instead of allowing hypothesis to drive this data, we're using artificial intelligence to let the data drive the hypothesis," said Niven Narain, Berg co-founder and president.
Rather than waiting until the end stages, Berg models the biology up front.
To do that, the firm uses tissue samples from people afflicted with whatever disease the company might be researching. Berg takes a radical micro view, delving into the patients' clinical records (genes, proteins, metabolites, lipids), putting the data into a supercomputing cluster that uses a math equation to divide out and predict factors that lead to certain malformations, or diseases.
To understand it better, Narain uses the example of New York City's five boroughs and the way they're all interconnected via bridges and tunnels.
"The AI is able to illustrate where those bridges and tunnels are, where the things are that connect Manhattan to Queens and all the different ways you can get from one to the other in a normal, healthy environment," he said. "But if there's gridlock, there's no way you're going to get over to Queens, right? So that's disease. We identify, well if it's the 59th Street Bridge that's causing the issue, how do you unclog it?"
For the last year, Berg has used part of its five-year partnership with the Department of Defense to build a database using AI to build a model for prostate cancer. It collected samples from enlisted soldiers, both with and without cancer. According to Berg, doctors can use that model to show many of the markers of prostate cancer, which can help more quickly diagnose it in new patients.
Narian said this new technology helps alleviate a lot of the guesswork and time spent on diagnosis alone. He said right now, doctors are scripted: When a patient presents with a certain disease like prostate cancer or pancreatic cancer, doctors know a first line, second line, third line of treatments in a pre-determined plan. But room to move outside that plan and custom fit a treatment option for each patient is very limited.
"You go back to the research labs and there's all this innovation, all this excitement, and then there's just this huge disjuncture," he said.
Narain says Berg is allowing the biology to be illuminated to help physicians formulate better treatment options more quickly and better than ever before through artificial intelligence.
Collaboration Becomes Key
Since the start of the year, mergers and acquisitions activity in the life science and biotechnology space has soared, thanks to low interest rates, a surge in investor confidence and a rise in a tax play called an "inversion." According to a global provider of virtual data rooms, Intralinks, and its quarterly deal-flow indicator, that trend is only likely to continue with another flurry of activity in the back half of the year, with particular emphasis likely in the fourth quarter.
"We expect to see more consolidation as big pharma companies think strategically and more cleverly. Partnerships with, and acquisitions of, biotech companies will continue, with most innovative biotech companies attracting much attention from big pharma. In general, we anticipate substantial deal flow over the next two to three years," Adrian Rainey and Tim Worden, partners at UK-based law firm Taylor Wessing, outlined in the Intralinks quarterly deal-flow commentary.
The bottom line: These deals are only likely to continue. And the MMRF is taking full advantage of that red-hot deal-making environment, even moving forward with partnerships with biotechnology firms like Sanofi, which begins a Phase One study of a myeloma drug candidate. With that partnership, the foundation intends to further the progress of its CoMMpass program, a 10-year clinical study that's gathered clinical data of patients diagnosed with multiple myeloma to uncover molecular segments and variations in the disease.
"They herald in drugs from completely different classes that are basically introducing new ways to attack myeloma that complement existing drugs and pick up where those drugs leave off. Once facet is that we're testing new ground with myeloma," the foundation's newly appointed president Walter Capone said.
He added the foundation's new drug-trial partnership, as well as two other new trials announced in conjunction with Millennial and Karyopharm, aim to determine specific mutations in myeloma patients, and develop drugs to attack them.
"Being able to build on that solid infrastructure that Kathy (Giusti, founder and CEO of the MMRF) had a vision for and rapidly convert some of these most recent efforts into trials to benefit patients today. Especially patients not controlled by therapies or transplants that have failed," Capone said.
He added the increased awareness of "liquid" tumors like the myeloma blood cancer, brought on by big pharma acquisitions of smaller rivals – like the recent Roche deal – is only helping the MMRF's cause.
"These deals are incredibly exciting," he said, noting they "help validate the move in immunotherapy direction, and to give up an important milestone and allow us to capitalize for myeloma."
But it's not just low interest rates and a hot M&A market that's spurring big companies to look into more partnerships with smaller firms and sometimes rivals. It's also the so-called patent cliffs big pharmaceutical companies face as their blockbuster drugs near the end of their exclusivity periods, allowing rivals to produce the same drugs but in a generic version for a cheaper price.
As those patents expire, drug companies with exclusivity are looking to the next big thing – or the next innovative idea – to capitalize on.
"The 'patent cliff' is still with us, as many big pharma companies are seeing their key drugs go off-patent. This is particularly problematic for companies that only have one or two blockbuster drugs in their portfolios, that account for substantial proportions of sales. Many of these pharma companies may need to turn to M&A in order to replenish their pipelines," Rainey and Worden wrote.
And that's where Capone sees plenty of opportunity for MMRF.
"The sweet spot from a drug development standpoint that MMRF serves is this: Large pharma is focusing on big wins and home-run indications and compounds, and they're looking for emerging firms and technologies coming out of academia trying to capture big pharma investment to move through the development process. Because we're able to help both ends of the spectrum," he said.