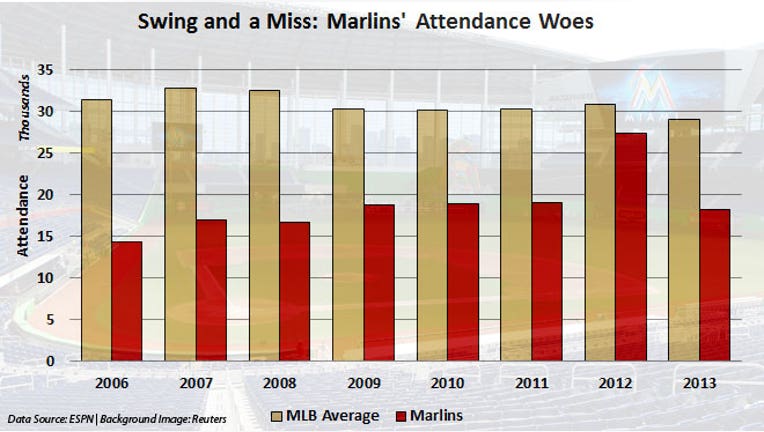 After nearly two decades of struggling to stay afloat in a stadium designed for football, in March 2012 the Miami Marlins excitedly opened the doors to a sparkling new $634 million ballpark that was supposed to be their ticket to economic stability.
The franchise shelled out almost $200 million in high-profile offseason signings, hoping to capitalize on the honeymoon period that used to consistently accompany the opening of a new baseball stadium.
But a horrible on-the-field performance in 2012 prompted management to clean house and slash some $55 million in payroll for this year, causing the honeymoon period to be declared conclusively over.
"Over? Oh my God, they're in divorce court. They've got to find counseling to get them back together," said Michael Cramer, former president of the Texas Rangers and Dallas Stars. "This is going to be a tough four or five years."
After enjoying a 44.2% spike in average attendance last season to a still-below-average 27,400, attendance has come crashing back to levels seen at the team's old ballpark, dropping 33.6% to 18,205 so far this season, according to data from ESPN. The team drew just 13,231 fans for Monday night's matchup against division rival Philadelphia Phillies.
Enthusiasm Quickly Fades
Those ugly 2013 attendance figures leave the Marlins in 28th out of 30 MLB franchises in the box-office race. Things have gotten so bad that the Marlins recently announced plans to shut down parts of the upper deck at Marlins Park during some weekday games to cut capacity by about 10,000 seats.
That's not exactly what Marlins owner Jeffrey Loria expected when ground broke on the 37,000-seat ballpark, which features an expensive retractable roof aimed at keeping fans dry and out of the heat.
"The fans felt cheated. They felt deceived."
In the 1990s and early 2000s, a slew of new ballparks created a crescendo of fan enthusiasm that led to huge jumps in attendance and prolonged sellout streaks, including for Camden Yards in Baltimore, Jacobs Field (now Progressive Field) in Cleveland and Coors Field in Denver.
"We had a long-held belief that the new stadium itself would be a draw. What we're finding now is while the stadium is an attraction, it can also price out some fans and if expectations and performance don't meet, it can cause attendance to drop," said Robert Boland, a former player agent and currently a sports business professor at NYU.
Marshall Glickman, former president of the Portland Trailblazers, said a new stadium "is not a panacea." He said, "The mere fact that exists doesn't create market demand. Market demand has to be earned, especially with sports franchises."
'Fans Felt Cheated'
The Marlins situation is complicated by long-standing distrust between fans and ownership as well as the region's history of trouble drawing fans (see: Jacksonville Jaguars).
In an effort to secure public financing from the city and county, Loria promised to spend money to build a credible baseball team once they moved into the new ballpark.
After splurging on free agents like Jose Reyes, the Marlins payroll inflated to $100 million in the 2012 season, setting expectations very high. However, the product on the field failed miserably, with the team losing 93 of 162 games.
"They finally got the financing, the team did in fact spend money in the first offseason," but "they made a bunch of horrible decisions," said Cramer, who is now a professor at the University of Texas at Austin.
Hurt by the weaker-than-anticipated attendance in the inaugural year in South Beach, the Marlins suffered an operating loss of $47 million in 2012, according to the Miami Herald.
That led management to embark on another fire sale -- the franchise's third high-profile dumping of star players in just 15 years -- in an effort to rebuild the team. Expectations, along with season tickets, plummeted.
"While the average fan doesn't pay much attention to outside-the-ballpark activities, in this one they did. They hated the idea of their team being stripped," said Cramer. "The fans felt cheated. They felt deceived."
Cramer defended the financial rationale behind "cutting the fat out" by dumping salary, but he said the Marlins "screwed up horribly how they handled the PR."
The Marlins didn't respond to a request for comment.
Not a Baseball Mecca 
Just over a year after opening a new stadium with a relatively excited fan base, sentiment has deteriorated significantly.
Due to the public financing tied to the stadium deal, taxpayers are still on the hook for some $2 billion in costs over the next 40 years, according the Herald.
"There's always local recrimination when a deal like that doesn't turn out," said Boland, who cautioned it's "too early to assess" the wisdom of the new ballpark.
Given the slumping attendance figures, the Marlins appear poised to suffer another operating loss in 2013.
"Obviously they're in a pickle. If revenues are going to be low because attendance is low, you can't expect the owner to dig into his pocket to spend an unlimited amount of money to try to buy a winner," said Glickman, CEO of G2 Strategic. "That formula generally doesn't work."
While those conditions would present a serious obstacle for almost any franchise, they are exacerbated by the already-challenging atmosphere for professional sports in Florida, a state full of transplanted fans from other baseball towns like New York.
"Look, Miami has never been a huge baseball city. It hasn't proven itself yet," said Cramer. "There's just no bench strength. There aren't two and three people waiting in line for that ticket."
What's Next?
Besides 2012, the Marlins haven't averaged more than 20,000 fans a game in any season since 2005.
"People want to be outside. I think baseball is a hard sell there. If baseball were a winter sport, I think it'd be better for Miami," said Glickman.
The Marlins also face competition from the presence of spring training sprinkled throughout the state, offering fans a cheap and close-to-the-field opportunity to watch the sport.
The road ahead appears challenging given the team's financial and performance struggles, but the franchise has bounced back from rock bottom before.
"They absolutely can do it. It's going to be tough," said Cramer. "They're going to have to earn that trust back."
Just don't expect any honeymoons in South Beach any time soon.