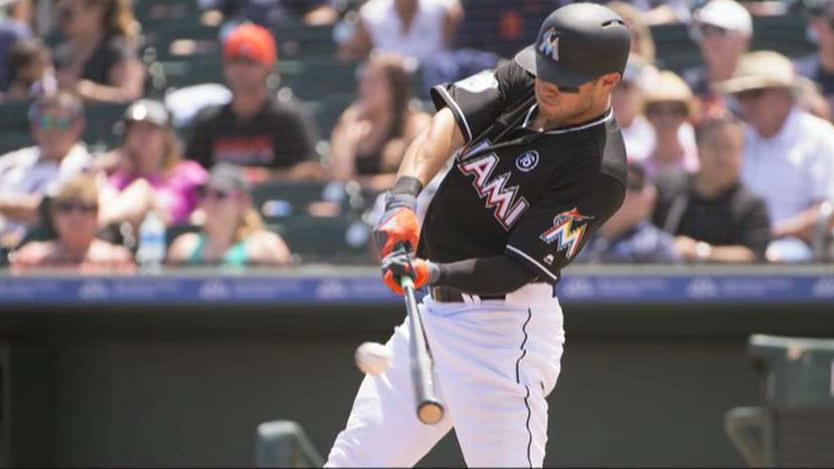 The seemingly interminable, and at times bizarre, bidding war for the Miami Marlins baseball team could be taking another turn as one of the major bidder appears ready to drop out of the sales process, possibly expediting the sale, FOX Business has learned.
Rival bidders say they've received word that the bidding group led by financier Wayne Rothbaum, which includes former Florida Gov. Jeb Bush and Shoney's restaurant chain chairman David Davoudpour—is indicating that it's dropping out of the competition for the money-losing baseball franchise that has attracted a slew of high-profile interested buyers and pushed the sales price to $1 billion or possibly more, according to people with direct knowledge of the matter.
Rothbaum didn't respond to numerous requests from FOX Business for comment but other investors in his group said the ensemble is no longer interested in the team, at least for now. Chris Graham, an attorney for Davoudpour, told FOX Business that Rothbaum called the other investors in the group on Monday and told them he decided to drop out of the bidding process.
"Wayne made the decision earlier this week," Graham said. "When we tried to work on the details of the deals [with management] we drifted apart and it wasn't doable."
A person close to Bush told FOX Business: "The Wayne Rothbaum-Jeb Bush group is standing down at this time."
Rothbaum's status was the talk of Major League Baseball on Wednesday as team executives prepared for the annual owner's meeting in Chicago on Aug. 16 and 17. Baseball Commissioner Rob Manfred is expected to ask for an update on the sales process that has now lasted for months with various bidders jumping out of the competition, or joining other groups, as team owner Jeffrey Loria angles for the highest possible price.
Indeed some baseball sources say Rothbaum remains somewhat interested in buying the team, which could complicate the sales effort even further. People close to Manfred say the baseball commissioner has grown anxious over the lengthy sales process that has left the team's future in limbo at a time when its attendance is falling, and it is said to be racking up tens of millions of dollars in operating losses (a Major League Baseball spokesman declined to say whether Manfred is anxious).
But if Rothbaum, a prominent hedge fund manager with deep pockets, is no longer interested in buying the team, it would mark a significant step toward ending the months-long beauty contest that began in April when FOX Business was first to report on the bidding war. Baseball executive say with fewer bidders interested in the Marlins a sale could be completed and announced in the coming weeks.
It would also place former New York Yankee all-star Derek Jeter one step closer to achieving his post-playing career dream of running an MLB franchise. Jeter would then be leading one of two competing groups still in the hunt to buy the team. The other group is headed by prominent South Florida businessman Jorge Mas, who is said to be the favorite among baseball executives, given his own massive net worth (he is said to be worth more than $1 billion) and his ties to the area's large Latin American community.
Both Jeter and Mas are said to be bidding below $1.2 billion at this time; Loria had initially received bids at or above $1.3 billion before the various groups disbanded.
Spokesmen for Mas and Jeter declined comment.
Since Loria has expressed interest in selling the Marlins, the bidding war for one of the league's more mediocre franchises (the team's record is 53-58 so far this season) has captivated Major League Baseball given the possible list of high-profile potential owners, and the massive sales price that those bidders appeared willing to pay.
At one point, Bush himself, led a bidding group, as did Tagg Romney, a hedge fund manager and son of 2012 GOP presidential candidate Mitt Romney. Jeter, a future baseball Hall of Famer, has long expressed his desire to run a team after his baseball days are over, and he hired veteran Wall Street investment-banking executive Gregory Fleming to cobble together hundreds of millions of dollars from outside investors to remain in the hunt.
Adding to the drama is what both baseball executives and bidders have described as the erratic nature of the sales process led by Loria and his team's president David Samson; some baseball executives say the two prolonged the process as they pushed for the highest possible price (a spokesman for the Marlins didn't return calls for comment).
"There was not a lot of meeting of the minds," said Graham, the attorney for Davoudpour. "We continued to be repositioned by [team management]."
But others have commended Loria and Samson for their hard-nosed tactics that squeezed the most money out of the remaining bidders for a team that has struggled in recent years both on the field and financially. In fact, any new owner will be inheriting a team with high levels of debt and operating losses, but given the scarcity value of Major League Baseball teams available for purchase, most baseball executives say the Marlins are likely to fetch Loria a hefty profit above the $158 million he paid for the team back in 2002.
Meanwhile, both Jeter and Mas are said to have big plans for the Marlins, given its status in Miami where it could emerge as Major League Baseball's "gateway to Latin America," attracting both attendance from the area's large Hispanic community and striking cross-border business deals.