Mets Great Mike Piazza on Business and Baseball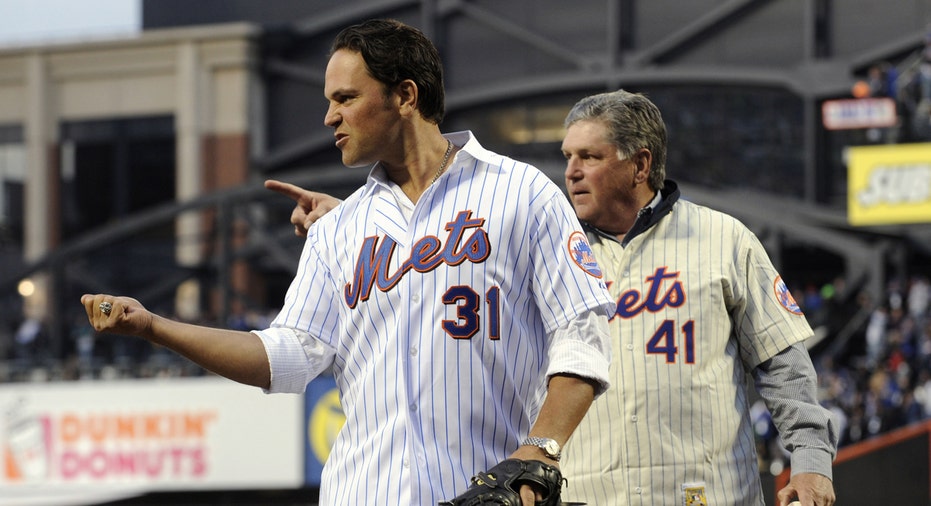 Business is in his blood. Mike Piazza, the all-time great catcher for the New York Mets, stayed close to baseball after closing the door on his playing career. But he did not jump in with both feet, instead choosing to pursue an entrepreneur's life after baseball.
Piazza's father, Vince, got the family's car business up and running. Vince started in used cars, and then he opened one of the first Datsun dealers in the country. Piazza Auto Group has grown into a chain of Honda (NYSE:HMC), Acura, Volkswagen, Hyundai and Mazda dealers in southeastern Pennsylvania.
The Hall of Fame candidate also serves as Chairman of Company.com's advisory board, offering insights based on his experience on the field and in the office.
For Piazza, his interest in business served him well as retirement loomed. While some players return to the daily grind of baseball as coaches or scouts, Piazza found an opportunity to take a different path.
"I like spending time with family. I've been blessed. I came from an entrepreneurial family, and I invested pretty well," Piazza told FOXBusiness.com.
"I have a great relationship now with the Mets. They have been very gracious to me and my family," he added. "I have a lot of things pulling at me. Eventually I may do some more."
The Mets advanced to the World Series for the first time since Piazza helped lead the team into the 2000 Fall Classic. This year, as the Mets prepare to face the Kansas City Royals, pitching is the story.
Matt Harvey, Jacob deGrom, Noah Syndergaard and Steven Matz have given the Mets a formidable starting rotation for the postseason, and with historical contributions from second baseman Daniel Murphy, they carried the Mets to a National League pennant.
When you have like-minded people around you who have that business vision, I think anybody can succeed.
The rise of the Mets' pitchers is quite remarkable considering their lack of experience. Harvey is pitching in the first full season of his career, not to mention his first year after Tommy John surgery. DeGrom had just one big-league season under his belt before 2015, while Syndergaard and Matz are rookies.
That also means the Mets have built one of the best pitching staffs on the cheap. The four starters made approximately $2 million combined during the regular season, based on data from Cot's Baseball Contracts and Baseball Prospectus. Edinson Volquez, the Royals' Game 1 starter, made $7.5 million alone.
Baseball insiders believe the Mets have created a formula for sustained success.
"[Mets General Manager] Sandy Alderson has a knack for sort of finding that balance between young talent and veteran talent," said Piazza, who played under Alderson during the executive's tenure in San Diego. "In this day and age, there are so many numbers to putting a team together, but you still need to find those character guys."
The Mets added several key players leading up to the July 31 trade deadline, most notably Yoenis Cespedes, and the moves coincided with an offensive turnaround that propelled the Mets to a division title.
"It's really been, as a former Met, fun to watch," Piazza said, "and the fans take a lot of abuse, so it's great for them."
Piazza was impressed by the development of Travis d'Arnaud, the Mets' young catcher who was tasked with handling the young guns on the mound.
"To watch the evolution of Travis d'Arnaud, to see him take the bull by the horns, that has been nice to see. I can't take credit for that. I wish I could," Piazza said with a laugh, recalling a conversation he had with d'Arnaud last year.
Piazza has assumed a similar advisory role in the business world. At Company.com, which provides businesses with payroll, marketing and other services, Piazza is involved with the firm's branding focus and client engagement. His career as an athlete required patience and execution, and the same principles can be applied to growing a business.
"I've always felt really successful businesses identify a need in the marketplace, unless you're going to build a better mousetrap like in the restaurant industry. I found that people lose traction because they can't have a decent payroll system, or they can't organize their human resources and things like that," Piazza said.
"When [Company.com] created this whole one-stop-shop process, I thought that was really interesting. In this day and age, there are so many quality companies out there. You have to stand out and be something special."
As for the car business, low interest rates have encouraged consumers to purchase new vehicles, and automakers have become "very connected to what customers want," Piazza explained.
Coming from entrepreneurial roots, Piazza learned a lot about the car business, and baseball, from his father.
"My father didn't go to Wharton Business School or anything like that. He made a lot of mistakes, but he put those mistakes behind him and learned from them," he said. "When you have like-minded people around you who have that business vision, I think anybody can succeed."