Messy Breakup Ends Citi's Rocky Relationship With Vikram Pandit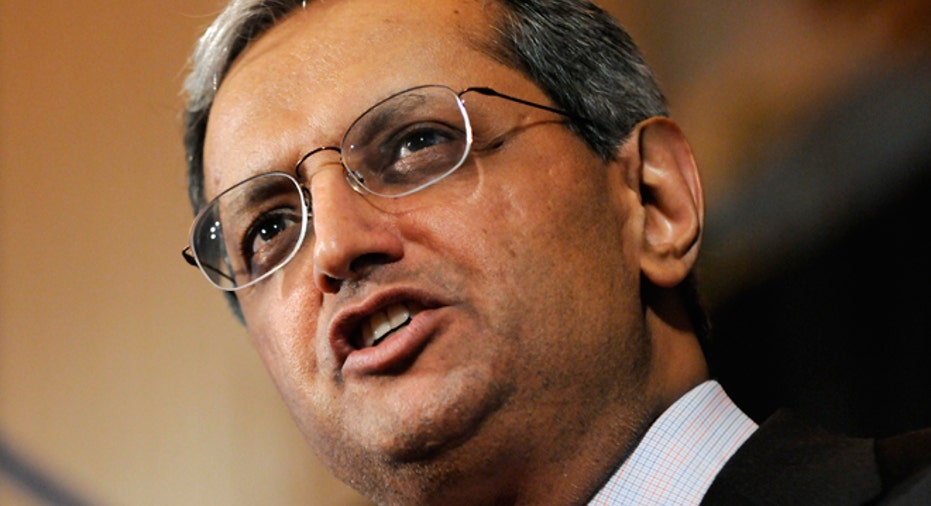 Fed up with a slew of blunders and the bank's share performance, Citigroup's (NYSE:C) board of directors finally pulled the trigger on Tuesday by ousting CEO Vikram Pandit and his top lieutenant in a move whose timing shocked Wall Street.
The decision to give Pandit the boot after five often-turbulent years in the captain's chair signals that Citi's board didn't have much faith he would be able to lead the bank to the next stage in its recovery from a near-death experience in 2008 and 2009.
"The fact that his No. 2 walked the plank with him suggests that Pandit did not leave voluntarily and it looks more like a housecleaning," said David Yermack, a finance professor at NYU.
Awkwardly, the housecleaning comes just a day after Citi -- led by Pandit -- reported an 88% plunge in third-quarter earnings.
"This is a ludicrous CEO transition. I've never seen one like this in my 25 years of covering the industry," Mike Mayo, an analyst who covers Citi at Credit Agricole, told FOX Business.
The one hint that Citi could make a change came last April when Pandit suffered a rare defeat in a say-on-pay vote, a likely signal of shareholder dissatisfaction.
"I'm surprised he lasted as long as he did," said Charles Geisst, a professor at Manhattan College.
Long List of Stumbles
Shareholders clearly were not happy with Citi's financial performance as its shares had plunged almost 90% since Pandit became CEO in December 2007. By comparison, shares of J.P. Morgan Chase (NYSE:JPM) and the Dow Jones Industrial Average are down own 8% and less than 1% respectively over that span.
There's a long list of setbacks on Pandit's watch, including most recently a $4.7 billion charge tied to an overvaluation of Citi's stake in the Smith Barney joint venture, which it is selling off in pieces to Morgan Stanley (NYSE:MS). Citi had pegged the JV's price tag at $22 billion, well north of an eventual settlement at $13.5 billion.
Also, Pandit and Citigroup were embarrassed in March after the Federal Reserve gave the bank's plan to return capital to shareholders a red light, leading some to say it had failed the government's stress tests.
"The corporate governance, whether it's been in the last few years or the last few hours, has been awful," said Mayo.
None of this is to mention the initial awkwardness of Pandit's hiring in 2007. Citigroup agreed to buy Pandit's struggling hedge fund for a whopping $800 million -- only to see the fund implode in the crisis.
Credit the Board?
Pandit almost lost his job during the Wall Street implosion amid pressure from Sheila Bair, then the chair of the Federal Deposit Insurance Corp.
Not surprisingly, Bair applauded Citi for ousting Pandit. "The Citi board should be commended for the decision they announced today. This is a new chapter for Citi, and I wish them well," she said in a statement to FOX Business.
Others also believe Citi's board deserves credit for the move, which includes the exit of John Havens, the company's president and chief operating officer.
"Any time a CEO leaves and is pushed out, you have to give great deference to the board. It's very, very difficult for any board to take that action. You have to give them credit," said Charles Elson, a corporate governance expert at the University of Delaware.
Thomas Saporito, CEO of RHR International, said the Citigroup episode underscores how boards have become more careful, especially in the wake of the costly J.P. Morgan Chase (NYSE:JPM) London Whale trading blunder earlier this year.
"They are very much trying to stay on top of things, stay vigilant. They want to avoid a black eye," said Saporito.
His Decision?
Some observers were more positive about Pandit's performance at Citi, given the sinking ship he inherited from former CEO Chuck Prince.
"I think Pandit's done a pretty good job, yet he's been heavily criticized. It could be he's just fed up," said Jim Sinegal, an analyst at Morningstar who covers Citi.
Sinegal pointed to Citi's third-quarter earnings, which he said were "pretty decent," as well as its drastically improved capital levels amid successful efforts to slim down the bank's size.
Pandit told Bloomberg on Tuesday that "the bank is actually in damn good shape," confidence has been restored and capital rebuilt.
He also insisted it was his decision to leave Citi, saying: "It was never my ambition that this would be the last thing I do in my life."
Awkward, Messy Transition
Still, the fact that Pandit was ousted just a day after Citi reported results is highly unusual. The company didn't telegraph its intention to make a change and the sudden switch leaves no transition time at all.
Mayo noted that just hours before leaving Pandit was explaining to analysts the company's long-term financial strategy, one that he evidently won't be a part of.
"This situation was frankly somewhat shocking. It's not the typical way boards go through CEO succession," said Jeffrey Cohn, author of Why Are We Bad at Picking Good Leaders? "Typically when there is some tension between the directors and vision of the CEO, they work these things out. This makes me think there really was a pretty drastic fight in the boardroom."
To fill Pandit's shoes, Citi's board is turning to Michael Corbat, who at one time led the bank's efforts to shrink itself. Most recently, Corbat served as CEO of Citi's Europe, the Middle East and Africa segment.
The question now is whether Corbat, who played football at Harvard, will be the long-term answer to take Citi to the next level of growth.
"At least the board had its eye on developing successors and relying on an internally groomed candidate rather than a much more risky shotgun wedding with someone from the outside," said Cohn.
Shareholders definitely remember Citi's last major external hire: Vikram Pandit.