Mercedes, Porsche to join Formula E electric racing series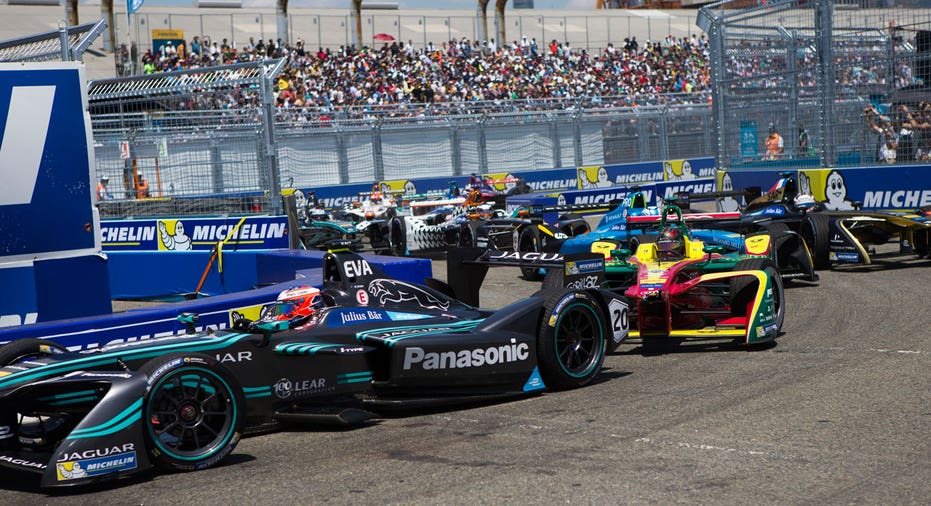 Overtaking looks far away but Formula E is gradually entering the slipstream of its older and faster rival Formula 1 after getting a major boost from Mercedes and Porsche.
Ahead of the Formula E series ending this weekend in Montreal, Canada, the two traditional racing giants have announced that they will compete in the series from 2019. It is a sign that Formula E - that's E for Electric - will continue to gain in popularity, especially if it gets quicker and more exciting.
Formula E street races include Berlin, Buenos Aires, Hong Kong, Mexico City, Paris and New York, offering easy access to fans who can simply walk to watch. Both Montreal and glamorous Monaco also host F1 races.
Jean Todt, president of motorsport's governing body, FIA, calls Formula E "a relevant laboratory for developing electric vehicle technologies," that offers innovative prospects for the future of car racing.
Mercedes, which has won the last three drivers' and constructors' championships in F1, is enthusiastic about joining in.
"Formula E is like an exciting start-up venture, it offers a brand new format, combining racing with a strong event character, in order to promote current and future technologies," Mercedes head of motorsports Toto Wolff said. "Electrification is happening in the road car world and Formula E offers manufacturers an interesting platform to bring this technology to a new audience."
So what are the key issues facing Formula E?
GREEN AND QUIET
Formula E has environmentally friendly cars and is quieter than the ear-splitting, fuel-guzzling F1 engines. An FE car is 80 decibels compared to about 130 for an F1 car.
Its innovative driving concepts come without F1's carbon emissions.
The series runs on fully electric cars and, right now, is hardly electrifying to watch and far slower than F1. That hasn't put off Porsche and Mercedes.
Porsche, which has won the last two editions of 24 Hours Le Mans, announced Friday it was backing out of the world endurance championship and turning its attention to Formula E as from 2019.
Four days earlier, Mercedes said it was quitting the DTM touring car series to compete in Formula E, also in the 2019-20 campaign.
Porsche and Mercedes will get the chance to race against each other, and against Jaguar and Renault.
"If somebody told me when we started this project five years ago, that we'd be announcing a partnership with a brand like Porsche, I wouldn't have believed it," said Alejandro Agag, the founder and chief executive officer of Formula E.
DRIVERS THE KEY
Todt and Agag began Formula E in 2014, with a race around the grounds of Olympic Park in Beijing.
There will be an increase to 12 teams competing in 2019, compared to 10 currently in F1. Andretti Formula E and Faraday Future Dragon Racing are the American teams in the series, but there are no American drivers this season.
There are big-name teams, but what the sport really needs to reach a far wider audience is big-name drivers.
The current Formula E leader is Swiss driver Sebastien Buemi, who never placed above seventh in a 55-race F1 career. Second-placed Lucas di Grassi's F1 career lasted one season with a best result of 14th.
German veteran Nick Heidfeld, sixth in the standings, enjoyed a decent F1 career - with 13 podium finishes - but at 40 years old is no longer in his prime. Behind him, Frenchman Jean-Eric Vergne's F1 career lasted 58 races for Toro Rosso with a best of sixth.
Then there's Nelson Piquet Jr. - the son of three-time F1 champion Nelson Piquet - who had an underwhelming two-year spell with Renault in F1.
'E' FOR EXCITING?
Great locations, great sights and some famous names, including actor Leonardo DiCaprio, an investor in FE and a member of its sustainability committee. Those are plus points. But can Formula E become exciting to watch?
"I don't have a strong opinion because I never saw the real car," two-time F1 champion Fernando Alonso said. "They race in the best cities in the world and they are promoting this Formula E in a very good way. It's clear it's attractive for some of the big manufacturers, as Mercedes showed."
Nico Hulkenberg, a German driver with the F1 Renault team, says "I've never been to a race or seen the car," but adds that it "will be interesting to see where it goes in the next couple of years."
Formula E reaches speeds of 140 mph (227 kph), compared to 230 mph (373 kph) in F1. The quiet aspect, too, is almost the opposite of what fans have wanted roaring racing to be.
The visual aspect is not helped by the fact drivers swap cars mid-race, simply because the batteries run out and need to recharge. But that could change as technology improves.
SPEED UP
Formula E remains a growing market and there is room for potential, once some issues are improved, according to Red Bull's F1 teen star Max Verstappen.
"It can be a bit faster ... There are some exciting races, absolutely. I try to watch it," the 19-year-old Dutch driver said. "I think you also have to get rid of the pit stop where you have to jump in another car, but of course that's going to happen."
Formula E can be pleasing on the eye, offering sweeping city views of Brooklyn's waterfront or the Hotel des Invalides in Paris, a magnificent set of buildings ordered by King Louis XIV in the 17th century.
If the two sports merge somewhere down the line, the interest level could rocket with Verstappen or Lewis Hamilton chasing titles in both series.
That prospect still seems a long way off, however.